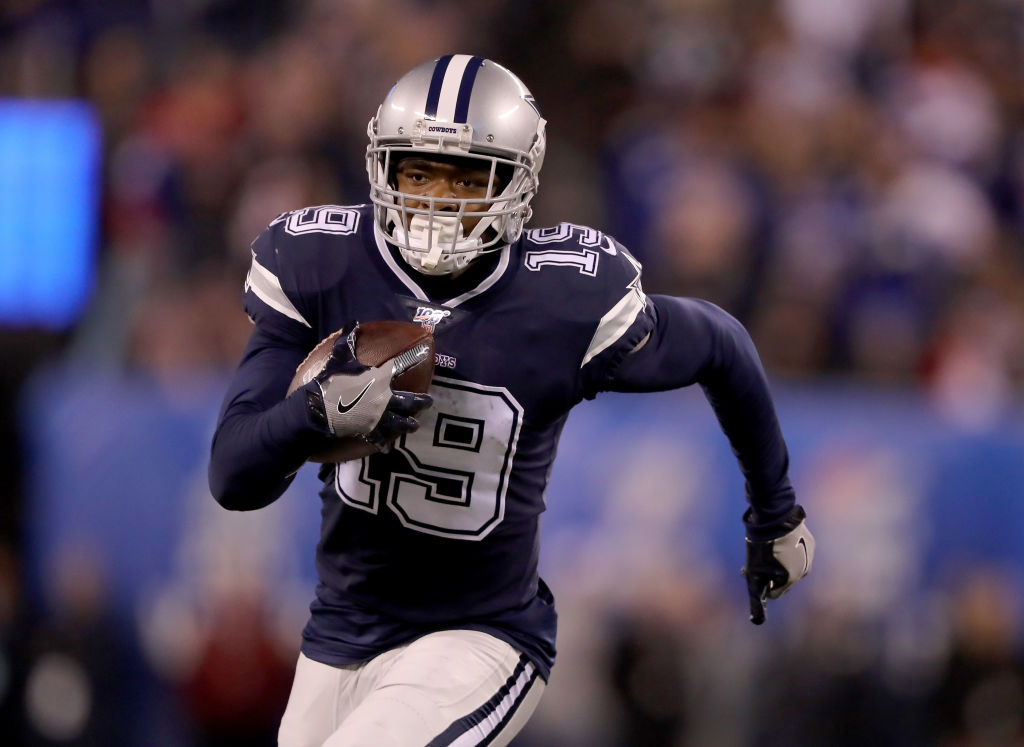 Why Amari Cooper Is in a Class of His Own
Amari Cooper is one of 18 wide receivers drafted in the first round since 2015. The Cowboys receiver is the only one to make a Pro Bowl.
Amari Cooper entered the NFL with a ton of hype after a prolific college career at Alabama. Heading into the 2015 NFL draft, he was one of several first-round receiver prospects. The Oakland Raiders smartly selected Cooper with the fourth overall pick and watched him put up back-to-back 1,000-yard campaigns.
While he drew criticism from Raiders fans, it turns out that Cooper just needed a change of scenery. Once he arrived in Dallas, he showed everyone why he's the best receiver to emerge from that draft class. However, a deeper dive into the first-round receivers selected since 2015 reveals that Cooper is not just the best from his draft class but the best overall. In fact, he's the only receiver drafted in the first round since 2015 to earn a Pro Bowl selection.
Drafting a Pro Bowl receiver in the first round is a rarity
With the NFL becoming a passing league, it's only logical that more receivers have been drafted in the first round in recent years. Since 2015, 17 wideouts have gone in the first 32 picks. While they have all had varying degrees of success, none of them have stood out like Cooper.
If you include Kelvin Benjamin and Brandin Cooks from the tail end of the 2014 first round, Cooper is the only wideout to earn a Pro Bowl selection. On the other hand, there have been a number of flat-out busts, including Kevin White, Laquon Treadwell, John Ross and Josh Doctson.
A few players have carved out complementary roles since getting selected in the first round. Mike Williams has operated as a serviceable second option behind Keenan Allen in Los Angeles. DeVante Parker broke out with a monster 2019 season after looking like a bust. And Calvin Ridley, D.J. Moore and Marquise Brown have shown plenty of promise since entering the league. But is one out of 19 an acceptable Pro Bowl hit rate?
Amari Cooper signed $100 million extension with Cowboys
Cooper joining the Cowboys has proven to be a match made in heaven. Following a bitter breakup with the Raiders, he immediately emerged as a go-to weapon in Dallas. The route-running technician played nine games with the Cowboys in 2018 and provided a huge boost to a struggling passing game. Operating as Dak Prescott's No. 1 target, Cooper racked up 53 receptions for 725 yards and six touchdowns. With Cooper in the mix, the Cowboys went 7-2 after the bye week and won the NFC East crown.
Last season, Dallas struggled to find a rhythm, but Cooper did not. Playing in all 16 games for the first time in his career, he racked up 79 catches and set new career-bests in yards (1,189) and touchdowns (eight). With four 1,000-yard seasons in five years, the Cowboys locked up Cooper on a five-year, $100 million deal with $60 million guaranteed. And though Dallas still has to figure out a long-term deal with Prescott, Jerry Jones did well to retain one of the NFL's best receivers.
NFL teams have found impact receivers later in the draft
Despite Cooper's success, the fact remains that he's an outlier. It is incredibly difficult to project a receiver's fit in an NFL system. Many college passing games do not require detailed route-running knowledge. To make matters worse, many receivers do not get experience going up against NFL-quality cornerbacks.
It can be a massive risk to take a receiver in the first round, yet many NFL teams have done well to unearth Pro Bowl talent later on in the draft. Michael Thomas, the 2019 Offensive Player of the Year, went 46th in the 2016 NFL draft. Breakout star Chris Godwin (86/1,333/9) went in the third round a year later. So did Kenny Golladay, who just put posted his second straight 1,000-yard campaign while leading the NFL with 11 touchdown receptions.
Just take a look at the 2019 rookie class and it's evident that teams can find productive receivers well after the first 32 picks. Second-rounders A.J. Brown (52/1,051/8) and Deebo Samuel (57/802/3) played pivotal roles for their respective teams. And let's not forget about Mecole Hardman, whose 4.33 speed played a pivotal role in the Kansas City Chiefs winning the Super Bowl.
According to NFL draft experts, the 2020 receiver class is historically loaded. But if the odds remain the same, teams would do better to wait till Day 2 to invest in a wideout.