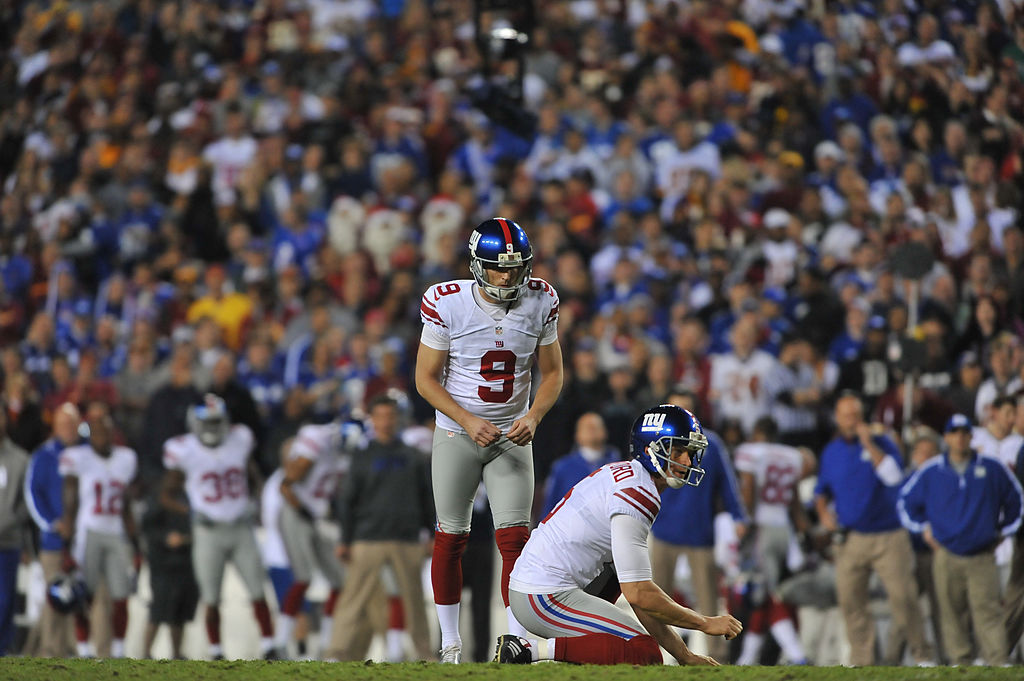 Lawrence Tynes Sued Buccaneers For $20 Million Infection
Lawrence Tynes won two Super Bowls with the Giants before signing with the Buccaneers. So why did he sue Tampa for $20 million?
Rarely do NFL kickers make headlines. After all, they typically see the field a few times a game and get paid quite well to do so. But in the case of former New York Giants kicker Lawrence Tynes, he became one of the few NFL kickers to be surrounded in controversy. And ironically, it had absolutely nothing to do with booting a ball through the uprights.
But when you file a $20 million lawsuit against your own team, you're bound to become a national story. That was the case for Tynes, who went from winning Super Bowls with the Giants to watching his Tampa Bay Buccaneers career end before it began because of MRSA.
Lawrence Tynes won two Super Bowls with the Giants
To say Lawrence Tynes had to scratch and claw his way to success would be quite an understatement. The Scottish-born kicker didn't play football till high school. He walked-on at Troy before earning a scholarship. And though he proved to be the best kicker in the program's history, he didn't even get drafted. Tynes settled for a free-agent deal with the Kansas City Chiefs and then spent the next few years honing his craft in NFL Europe and the CFL.
Finally back in the NFL in 2004, Tynes spent three years as the Chiefs' placekicker. He led the NFL with 60 successful extra-point attempts in his first year in Kansas City. After converting a pedestrian 78.2 percent of his field-goal attempts, the team flipped him to the Giants for a seventh-round pick.
The deal turned out to be well worth it. In his debut season in New York, Tynes transformed into a highly reliable weapon. He nailed a career-high 85.2 percent of his field-goal attempts—a mark he would never top again. More importantly, he played a pivotal role in sending the Giants to Super Bowl XLII by nailing a 47-yard game-winner against the Green Bay Packers in the frozen tundra. He nailed his only attempt in the Giants' stunning victory over the Patriots. Four years later, Tynes drilled two third-quarter field goals to give the Giants a second Super Bowl win over Bill Belichick and Tom Brady.
Buccaneers had a serious MRSA problem
When it comes to player health and safety, few realize just how dangerous a team's own facility can be. With so many moving bodies, the chances of a contagious infection spreading can get magnified. Unfortunately for Tynes and two other Buccaneers players, they learned that lesson the hard way.
In 2013, three Tampa players got diagnosed with methicillin-resistant Staphylococcus aureus, more commonly known as MRSA. Tynes and star guard Carl Nicks became the first two victims. Sadly, both players watched their NFL careers essentially end because of the notoriously difficult bacterial infection.
Nicks had signed a huge five-year, $47.5 million contract in 2012 after establishing a reputation as one of the NFL's top guards with the New Orleans Saints. But between injuries and his MRSA complications, he played just nine games for the Bucs. He never suited up again after that 2013 season. While cornerback Johnthan Banks resumed his NFL career, Tynes suffered the same fate as Nicks. Only he was determined to make the Buccaneers pay.
Tynes filed $20 million lawsuit against Tampa
Because the MRSA infection prematurely ended his NFL career, Lawrence Tynes took the Buccaneers to court. In 2015, he sued his former team for a stunning sum of $20 million. In his lawsuit, he claimed the team facility's unsanitary conditions contributed to the MRSA infection that kept him from every kicking in the NFL again. ESPN provided more context of Tynes' pricey lawsuit:
The lawsuit claimed that the Bucs failed to disclose and actively concealed ongoing incidents of the infection among other individuals who used and visited the team's facilities. It also alleged that the Bucs failed to employ necessary sterile techniques and routinely left therapy devices, equipment and surfaces unclean.
On February 10, 2017, Tynes and Tampa reached an undisclosed settlement. When he signed with the Bucs in that fateful 2013 offseason, he received a measly $65,000 signing bonus.