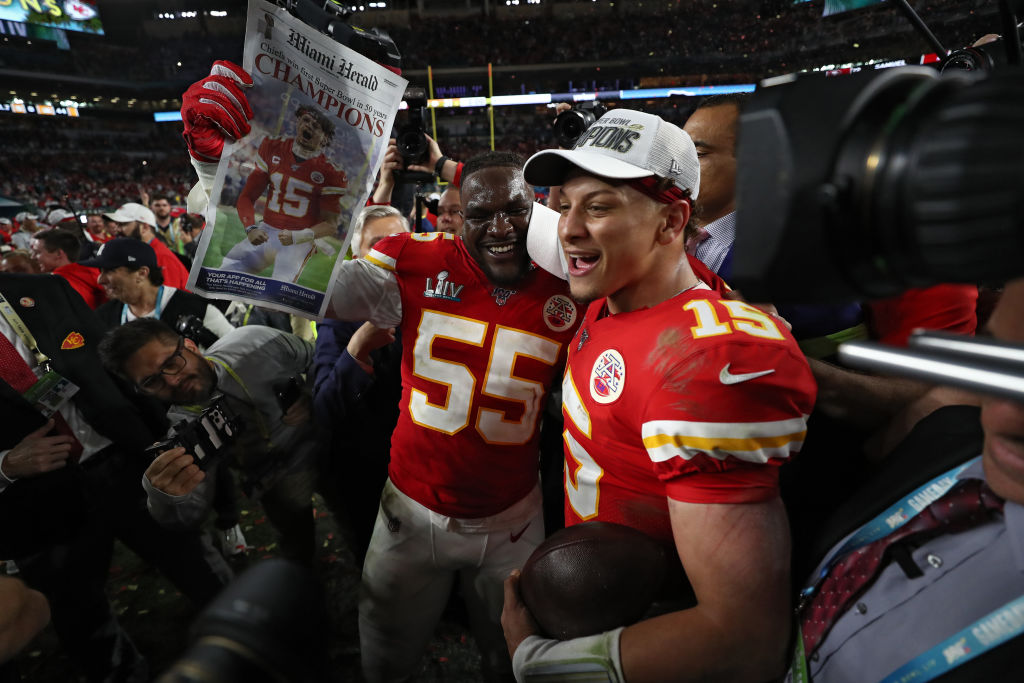 Why Patrick Mahomes and the Chiefs Are Set Up for Another Super Bowl Run
Patrick Mahomes and the Kansas City Chiefs are in a great position to make another Super Bowl run in 2020.
Patrick Mahomes is just getting started, folks. In just two seasons as a starter, the Kansas City Chiefs quarterback has captivated the NFL world with his prodigiously powerful right arm. Once viewed as a boom-or-bust NFL draft prospect, there's no doubt the Chiefs made the right call to trade up for the Super Bowl LIV MVP.
But as we've seen in the past with Aaron Rodgers and Drew Brees, getting back to the Super Bowl can be a mightily difficult task. Unless you're the New England Patriots, achieving a dynasty in today's NFL is next to impossible. Now that TB12 resides in Tampa, the Chiefs are positioned to become the NFL's next dynasty. And if Mahomes continues his current career path, we could be witnessing the emergence of the greatest player in NFL history.
Patrick Mahomes has the NFL's best set of weapons
If you don't believe weapons matter, just ask Tom Brady. Unlike his more experienced counterpart, Mahomes has no shortage of artillery from which to choose. Chiefs general manager Brett Veach has carefully, yet aggressively constructed a track team capable of scoring from anywhere on the field. Of course, it matters that Mahomes runs the show now instead of perennial playoff disappointment Alex Smith.
Speed kills, and Kansas City's arsenal of explosive playmakers simply overwhelms most NFL defenses. Everything starts with Tyreek Hill, whose ability to turn a routine slant or screen into a 50-yard touchdown makes him one of the NFL's biggest mismatches. Despite his small stature, he's the perfect fit for the rocket-armed Mahomes.
Chiefs tight end Travis Kelce may not be a great blocker, but that hardly matters when he puts up four consecutive 1,000-yard seasons. As a receiver, few can match his combination of speed and run-after-the-catch ability. Kansas City also boasts a deep group of secondary options, including former top-five pick Sammy Watkins and 2019 second-rounder Mecole Hardman. The former returned on a restructured deal after catching 52 passes for 673 yards and three TD in the regular season. Watkins shined in the postseason, as he caught five passes for 98 yards in the Super Bowl victory. Hardman's 4.33 speed translated into a ridiculous 20.7 yards-per-catch average on 26 receptions as a rookie.
Chiefs return 20 starters from Super Bowl team
Continuity is key, and with Mahomes and his weapons returning, the Chiefs already have a leg up on the rest of the AFC. It gets better, though. Kansas City projects to return 20 of its 22 starters from its Super Bowl team. That familiarity and ability to grow together should help the Chiefs avoid a fate many Super Bowl champions can't seem to avoid: regression.
Putting aside the Patriots and their historic 20-year run, it's nearly impossible to find a Super Bowl champion capable of sustained success. The Packers won a title in 2010 and have never returned to the big game. Ditto for the New York Giants, who have posted six losing seasons since winning Super Bowl XLII.
Denver took home the title in 2015 in Peyton Manning's final season. Since then, they've never made the playoffs and have won just 18 games since 2017. More recently, the Philadelphia Eagles showed just how difficult it is to get back to the Super Bowl. After Nick Foles shockingly torched the Patriots' defense in 2017, the Eagles haven't advanced past the NFC Divisional Round.
Kansas City should benefit from new NFL playoff format
The NFL recently expanded its playoff format to include 14 teams beginning this fall. However, that comes with a major caveat. Instead of two teams from each conference qualifying for a first-round bye, only the No. 1 seed will enjoy that privilege. That's a huge win for Patrick Mahomes and the Chiefs.
For two decades, the Patriots routinely earned the top spot in the AFC. But with New England undergoing a significant roster overhaul, that will no longer be the case. That should only strengthen Mahomes' ability to take over as the king of the conference. Kansas City plays in one of the NFL's weakest divisions, so that gives them a significant advantage when it comes to the win column. In addition, the rest of the contenders have holes that could prevent them from challenging the Chiefs for the coveted first-round bye.
Chiefs have fewest holes of AFC Super Bowl contenders
Baltimore lost Marshal Yanda to retirement and still needs to add another playmaker or two for Lamar Jackson. Pittsburgh has to hope Ben Roethlisberger can find the fountain of youth after undergoing elbow surgery. Tennessee has a solid roster but Ryan Tannehill can't match Patrick Mahomes throw for throw. The same can't be said about Deshaun Watson, but Bill O'Brien managed to destroy Houston's Super Bowl chances by trading DeAndre Hopkins for an overpriced running back and a second-round pick.
All of that leads us back to Patrick Mahomes and the Chiefs. They boast the league's best quarterback, the fastest group of weapons and a starting lineup largely intact. It might be a little early to call them the NFL's next dynasty, but if Mahomes keeps wowing us as he has in his first two seasons, the Chiefs will be a Super Bowl mainstay for years to come.