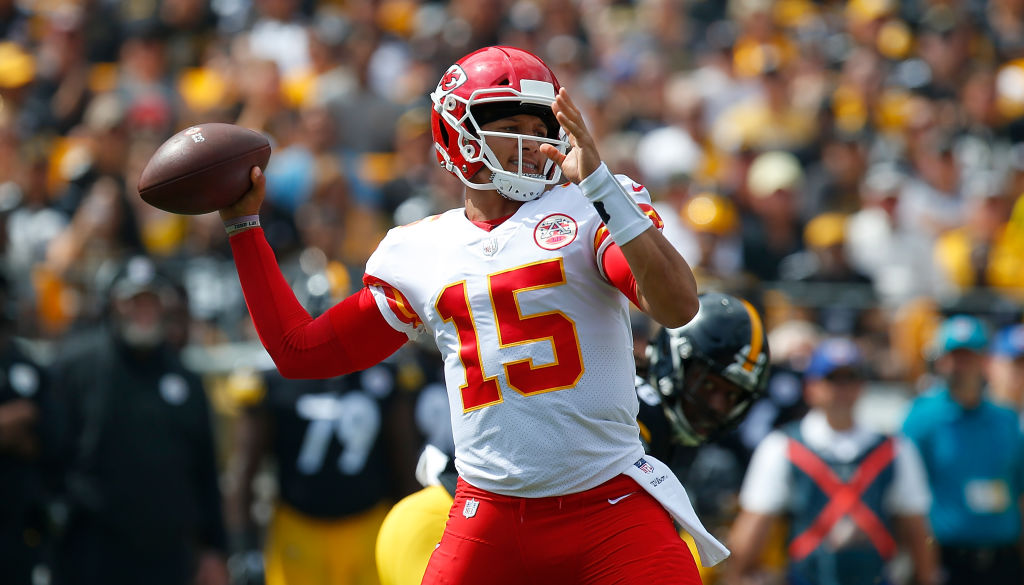 Patrick Mahomes Completed This Rare Feat in Third NFL Start
Patrick Mahomes accomplished a rare feat against the Steelers in just his third NFL start. The Kansas City Chiefs star set the stage for an MVP campaign.
When the Kansas City Chiefs drafted Patrick Mahomes with the 10th pick in the 2017 NFL draft, no one knew what to expect. Though he racked up monster numbers at Texas Tech, the Red Raiders don't exactly have a great track of producing NFL quarterbacks. Physically gifted beyond all measure, Mahomes still needed time to acclimate to the NFL and smartly sat on the bench behind Alex Smith as a rookie.
The Chiefs did give Mahomes an opportunity to start the 2017 season finale. And while he failed to throw a touchdown pass, he finished his NFL debut with 284 yards and a victory. However, by the time he took over the starting job that summer, Mahomes began teasing NFL fans with his extraordinary capabilities. And it turns out, it didn't take long for him to start establishing a reputation as the NFL's most gifted quarterback.
Patrick Mahomes threw more touchdowns than incompletions against Steelers
Dial the clock back to the 2018 NFL season. At the time, Mahomes garnered a lot of hype, but he had yet to prove anything…yet. Following a four-touchdown performance in a season-opening victory over the Chargers, the Chiefs traveled to Pittsburgh to take on the Steelers. And in just his third NFL start, Mahomes put up a magical performance rarely seen in NFL circles.
In what turned out to be an old fashioned shootout, Mahomes battled Ben Roethlisberger throw for throw, and boy did he make every one count. In fact, by completing 23-of-28 attempts for 326 yards and six touchdowns, Mahomes became the first quarterback since Teddy Bridgewater to throw more touchdowns than incompletions in a single game.
Kansas City's newest star simply picked apart Pittsburgh's overmatched secondary. Travis Kelce led the way with seven catches for 109 yards and a pair of scores. Sammy Watkins also hit the 100-yard mark on six catches. Four other Chiefs pass-catchers recorded touchdown grabs that day, including Tyreek Hill (5/90/1) and Chris Conley (2/17/1). The performance definitely alerted the rest of the NFL that Mahomes had arrived.
Chiefs quarterback won 2018 NFL MVP award as a first-year starter
That Pittsburgh performance was simply the beginning of what turned out to be a historic season for the young gunslinger. Mahomes captivated the NFL world with his ability to make throws from any angle. His accuracy and playmaking ability outside of the pocket became legendary almost overnight.
The former top-10 pick really hit his stride in the middle of the season. From Weeks 7-11, Mahomes completed at least 70 percent of his passes in every game. In that stretch, he racked up 19 touchdown passes, including another six-touchdown effort in a highly entertaining showdown with the Los Angeles Rams. That game featured two of the league's most talented offenses and ended with Mahomes and the Chiefs falling short by a final score of 54-51.
By the time the regular season ended, the Chiefs had earned the No. 1 seed in the AFC. Mahomes wrapped up his first season as a starter by throwing for 5,097 yards and 50 touchdowns. He led the NFL with a ridiculous 80.4 QBR and took home the 2018 NFL MVP award at age 23. As it turns out, it simply set the stage for more hardware.
Mahomes led Chiefs to Super Bowl LIV victory
Battling injuries, the reigning MVP had a down 2019 by his lofty standards. Mahomes missed two games and watched his numbers fall dramatically. He barely eclipsed the 4,000-yard mark and watched his touchdown total get cut nearly in half. However, he cut down significantly on his turnovers (just five interceptions) and still quarterbacked the Chiefs to the No. 2 seed.
Once the postseason began, Mahomes looked much like the 2018 version that took the NFL by storm. In the AFC Divisional Round, the Texans jumped out to a commanding 24-0 lead early in the second quarter. Deshaun Watson—who also once threw more touchdowns than incompletions—threw two touchdowns and looked to be in command. Yet, Mahomes and the Chiefs showed off their firepower by storming back with 41 unanswered points. Ultimately, Kansas City outscored Houston 23-7 in the second half. Mahomes ended the contest with 321 passing yards and five touchdowns.
In the AFC Championship, the Titans played a much closer game, but their offense simply couldn't keep up. Mahomes threw for 294 yards and three scores and added another rushing touchdown. While his final stat line in Super Bowl LIV didn't jump off the page, he made enough plays in the second half to help the Chiefs win their first title in 50 years.
Patrick Mahomes's third NFL game showed his immense potential. As it turns out, it didn't take him long to reach QB1 status in a league filled with talented passers. If his first two years are any indication, we are witnessing perhaps the greatest quarterback talent in NFL history.