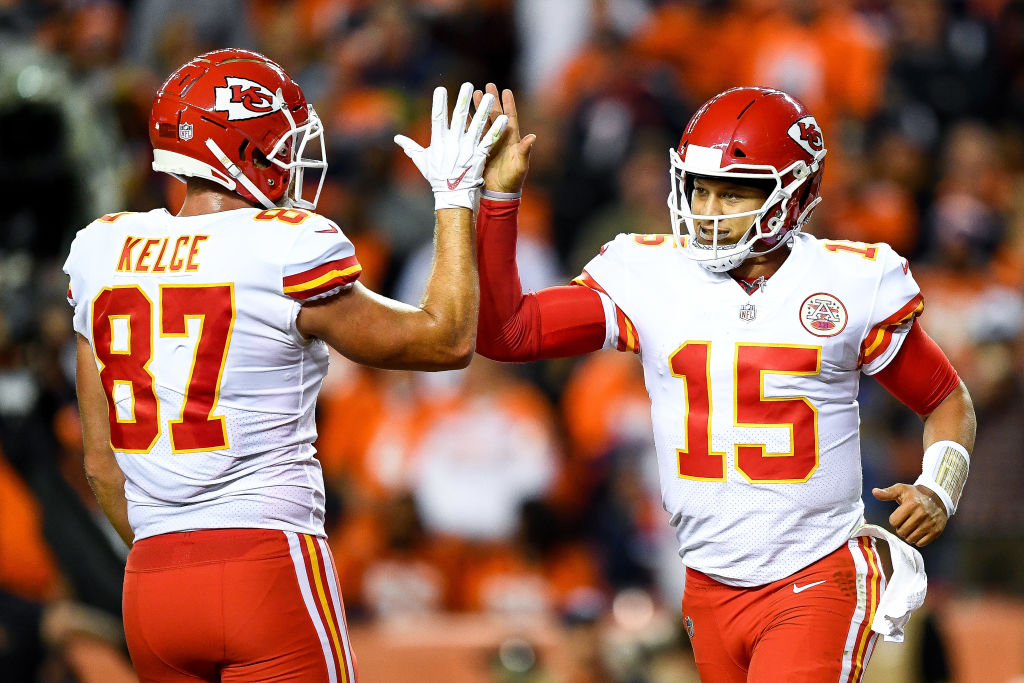 Patrick Mahomes and the Chiefs Are Helping Kansas City in the Best Possible Way
It might be the NFL offseason, but Patrick Mahomes and his Chiefs teammates are still making a major impact in Kansas City.
While Tom Brady may still rule the roost as the greatest quarterback of all-time, Patrick Mahomes has already made quite a name for himself. In two full seasons as the Kansas City Chiefs starter, the young quarterback has led his team to a Super Bowl title and changed the franchise forever.
Although he's quite the player on the field, Patrick Mahomes' impact doesn't end there. In fact, he and his fellow Chiefs are helping Kanas City in an even more important way.
Patrick Mahomes has won Kansas City over
For decades, the Kansas City Chiefs seemed to be stuck in limbo. The club couldn't seem to put everything together at once; even if the team posted an impressive regular season, everything fell apart in the playoffs. After two seasons under center, Patrick Mahomes changed everything.
During his first season as a starter, Mahomes could do no wrong. While the quarterback posted MVP-quality numbers, the Chiefs defense couldn't get a stop; after an infamous offsides penalty, they crashed out of the playoffs in the AFC Championship game. During the 2019 season, however, things were different. Mahomes' number might have been slightly more ordinary, but he still worked his magic at the biggest moments and helped the Kansas City Chiefs break a 50 year-long title drought.
Chiefs fans, however, don't only love their quarterback for his on-field performances. While Patrick Mahomes is an elite quarterback, he and his girlfriend have embraced Kansas City; the couple owns a house in the city and gives back to the community. That reality, combined with this past season's Super Bowl victory, has made the quarterback a local hero.
Patrick Mahomes and his teammates are still helping during the offseason
During the NFL season, Tyreek Hill, Travis Kelce, and Patrick Mahomes lead the Kansas City Chiefs high-flying offense. This offseason, however, they're making a bigger impact off the field.
All over the country, communities are shutting down due to the coronavirus pandemic. While social distancing is the right thing to do from a public health perspective, it doesn't make things easier on a personal level; without school, many children are missing out on free breakfast and lunch each day. The Chiefs players, though, are trying to remedy that.
Tyreek Hill recently announced that he would donate 6,000 meals to the local community; in his announcement, he asked his teammates to step up to the plate, too. Travis Kelce and Patrick Mahomes did just that. The tight end contributed 12,000 meals, plus another 15 weeks' worth of food and supplies for another charity. Mahomes followed suit, giving 15,000 meals and committing $100,000 to those in need.
Once things return to normal, the Kansas City Chiefs are in a good spot
It goes without saying that everyone's health and safety takes priority over professional sports. Once things stabilize and the NFL season gets underway, however, the Kansas City Chiefs will be looking to lift the Lombardi Trophy again.
While it might seem like an oversimplification, the Chiefs have a dynamic young star under center; that reality alone gives them a chance to win every game. When you combine Patrick Mahomes with Andy Reid's offense and an improving defense, however, you've got a legitimate shot at the title.
On the field, Patrick Mahomes has established himself as a Kansas City hero. His off-field actions, especially in these unprecedented circumstances, will only make him more of a local legend.