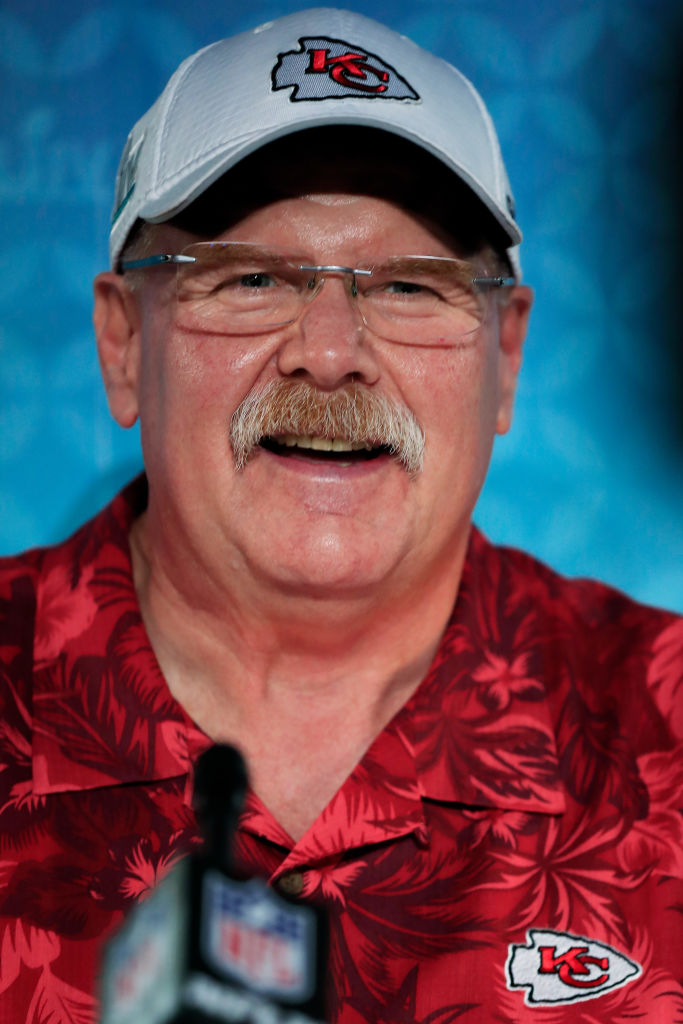 Did Andy Reid Just Clinch His Place in the Hall of Fame?
Does the victory in Super Bowl LIV change the perception of Kansas City Chiefs coach Andy Reid enough to put him in the Pro Football Hall of Fame?
Making decisions when caught up in emotions can be more dangerous than sitting at the poker table across from four guys nicknamed Ace. If you'd asked a casual football fan his opinion of Andy Reid the day before and day after Super Bowl LIV, you would likely get wildly different takes.
It's the nature of sports, where fans fall in love with pitcher Justin Verlander after each American League Divisional Series because of his 8-1 lifetime record. And then they curse him for an 0-6 record and 5.68 earned run average in World Series appearances.
Sergio Garcia starts his career by going 21 consecutive seasons without winning a golf major but captures the 2017 Masters to change the narrative from "perennial also-ran" to "never count him out." And then he misses the cut in seven of the next nine majors.
With that as the backdrop, the question of the day is whether the Kansas City Chiefs' 31-20 victory over the San Francisco 49ers puts Reid over the top for induction into the Pro Football Hall of Fame.
The case against Andy Reid
Andy Reid's detractors have always pointed immediately to his postseason coaching record with the Philadelphia Eagles and Kansas City Chiefs.
Even with the run to victory in Super Bowl LIV, his teams are only 15-14 in the playoffs. There were no playoff victories in his final four seasons in Philadelphia and just one in his first five seasons in Kansas City after arriving in 2013. While qualifying for the postseason is more difficult in the NFL than in the NBA or NHL, the critics labeled Reid as the guy padding his regular-season record but incapable of finishing the job.
The Eagles lost three straight NFC Championship Games before getting to Super Bowl XXXIX, where the loss to the New England Patriots subjected Reid to substantial criticism from a notoriously impatient fan base only too happy to tack clock management onto his list of shortcomings.
There would be only one more trip to a conference final in the next eight seasons before Reid moved on to the Chiefs.
Reid has yet to have a losing season in six years in Kansas City, but the postseason futility remained a constant theme. The narrative began to change slightly after the 2018 regular season as fan disappointment over a loss to the Patriots in the AFC Championship Game was mitigated by the realization that Reid was grooming a future star in quarterback Patrick Mahomes.
The case for Andy Reid
It's been suggested more than occasionally that winning changes everything, and that figures to be true in the case of Andy Reid, whose supporters have always suggested there was unfair bias.
Marv Levy posted a significantly lower winning percentage in the regular season with the Kansas City Chiefs and Buffalo Bills, never won a Super Bowl and finished only slightly better than Reid in the playoffs at 11-8.
Bud Grant was enshrined in Canton with just one Super Bowl victory to his name, and Levy's Bills infamously lost their four consecutive trips to the title game.
Winning Super Bowl LIV removes the most compelling argument against his election to the Hall of Fame once Reid, 61, leaves the sideline. The overall body of work justifying enshrinement was already in place.
Reid already ranks seventh in the sport with 207 regular-season victories and should pass Paul Brown (213) in 2020. And though there are more playoff teams now than in past generations, only Bill Belichick, Tom Landry, and Don Shula have coached more postseason contests.
Consider Andy Reid's legacy, too
Andy Reid can't be credited with innovation on offense on the scale of past greats like Bill Walsh, but he's always been aggressive in the passing game and adapted over the years to make the most of the skills of quarterbacks Donovan McNabb, Alex Smith, and Patrick Mahomes.
On top of that, Reid has a history of identifying assistant coaches who could adopt and embrace his coaching philosophy. Former assistants John Harbaugh, Sean McDermott, Matt Nagy, Doug Pederson, and Ron Rivera hold down current head coaching positions. Steve Spagnuolo could get another chance soon, and current assistant Eric Bieniemy looks to be next on the list for a promotion.
That speaks well for what rival teams think of Reid and is another reason why he doesn't need to do anything more to assure his place in Canton.