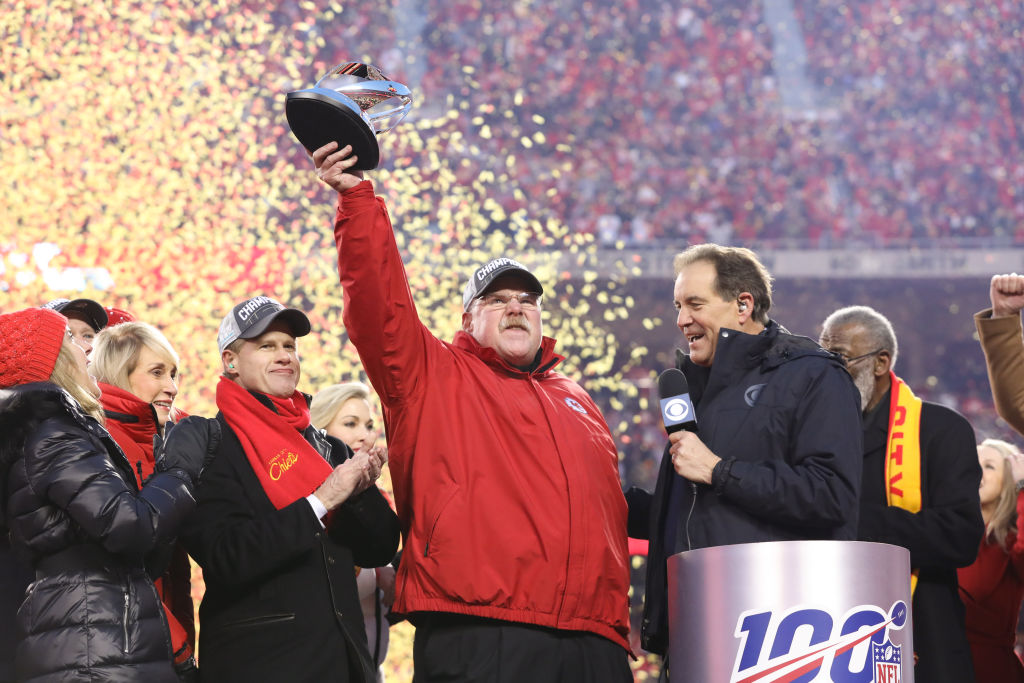 How Long Has Andy Reid Been Coaching Football?
Andy Reid will have another shot to win a Super Bowl. But it's not his first trip to this game. Reid has coached football for many years.
This week, Andy Reid will have yet another shot to win a Super Bowl. It's not his first trip to the big game. Whether Reid wins or loses, this game won't define him. He has a long career as one of the best head coaches in NFL history regardless. Let's look at Reid's illustrious coaching career, especially when it started. 
Andy Reid's establishes himself in Philadelphia
In 1999, Reid took over a struggling Philadelphia Eagles team, going 5-11 in his first season. What followed was a historic run: five seasons with no less than 11 wins. This culminated in a 13-3 season where Philly won the 2004 NFC championship. Unfortunately, they came up short in the quest for the Lombardi Trophy, losing to the Patriots. 
In 224 games in Philadelphia, Reid finished 130-93-1 for a winning percentage of .563. He also coached in 19 playoff games with a record of 10-9. In 14 seasons coaching the Eagles, he got the team to double-digit wins eight times. 
In 2011, the Eagles went 8-8 under Reid followed by a 4-12 season. It was the first time during Reid's tenure that the team missed the playoffs in back-to-back seasons. Philadelphia fired Reid, and he moved on to the Kansas City Chiefs. 
Andy Reid adds to his legend in Kansas City
In 2012, the Kansas City Chiefs were a rudderless ship coming off a 2-14 season. They hired Reid as head coach in 2013 and this time, he got results even faster than he had in Philadelphia. In Reid's first year as coach the team went 11-5. The team went 9-7 the following season, missing out on a wild card spot. Since then, however, they've made the playoffs five years in a row. They've also achieved double-digit wins in each of those seasons. 
While Reid was able to accomplish a lot with former San Francisco 49ers quarterback Alex Smith, he decided to draft Texas Tech quarterback Patrick Mahomes. After letting him sit for a season, he dealt Smith and inserted Mahomes as the starter. It paid immediate dividends. The Chiefs went to the AFC championship game for the first time under Reid during the 2018-2019 season. Reid again came up short to Bill Belichick's Patriots, missing a trip to the Super Bowl. 
For the 2019 season, Reid finally got the Chiefs over the hump and qualified for Super Bowl LIV against the San Francisco 49ers. 
How long has Reid coached football?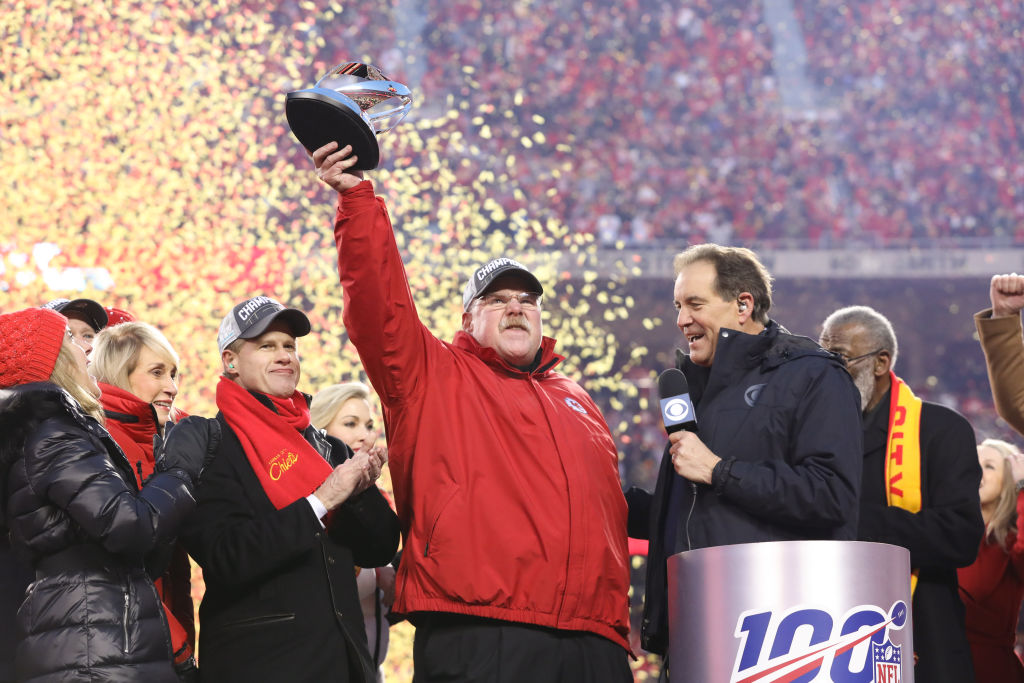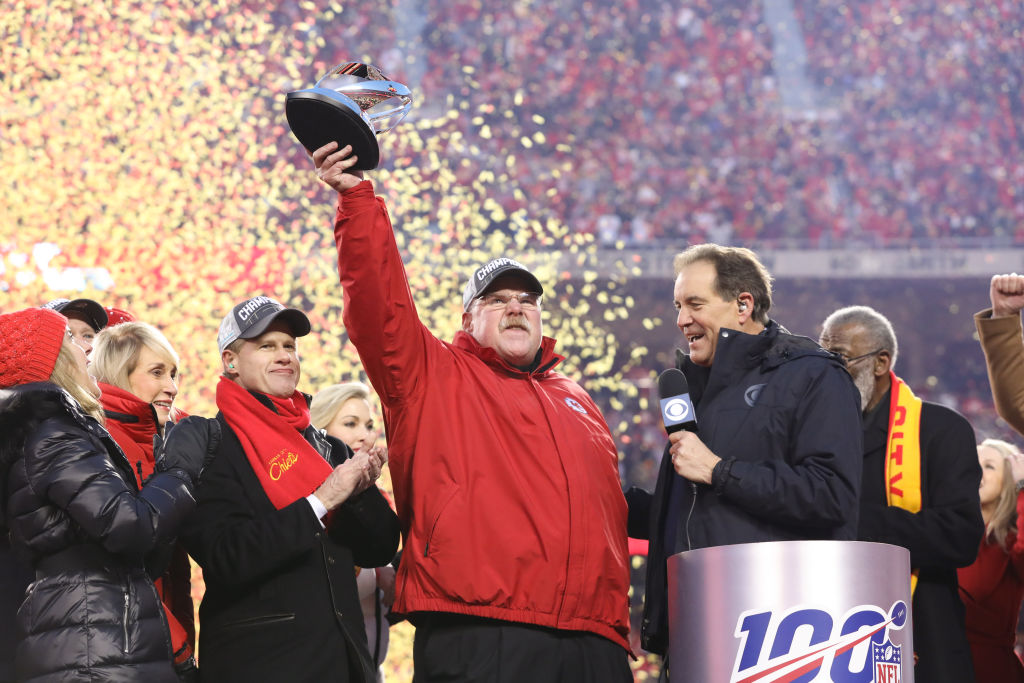 Reid is best known for his coaching stints in Kansas City and Philadelphia. But he coached long before then — since 1982. Here are the other football coaching jobs he's held: 
1992-97: Green Bay Packers (tight ends/assistant offensive line, quarterbacks)
1989-91: Missouri (offensive line)
1987-88: University of Texas at El Paso (offensive line)
1986: Northern Arizona (offensive line)
1983-85: San Francisco State (offensive coordinator/offensive line)
1982: Brigham Young (graduate assistant)
While Reid has obviously held many jobs over the years, he's made his biggest mark as a tutor of quarterbacks. The 61-year-old has aided in the careers of Donovan McNabb, Michael Vick, Nick Foles, Alex Smith, and Patrick Mahomes. 
Reid is also known as one of the nicest people in football. He's been maligned during his career for his game clock management as well as his inability to win a Super Bowl. But behind those criticisms — one is fair; one is simply a matter of circumstance and bad luck — lies one of the truly great NFL coaches.
Follow more updates from Sportscasting on our Facebook page.