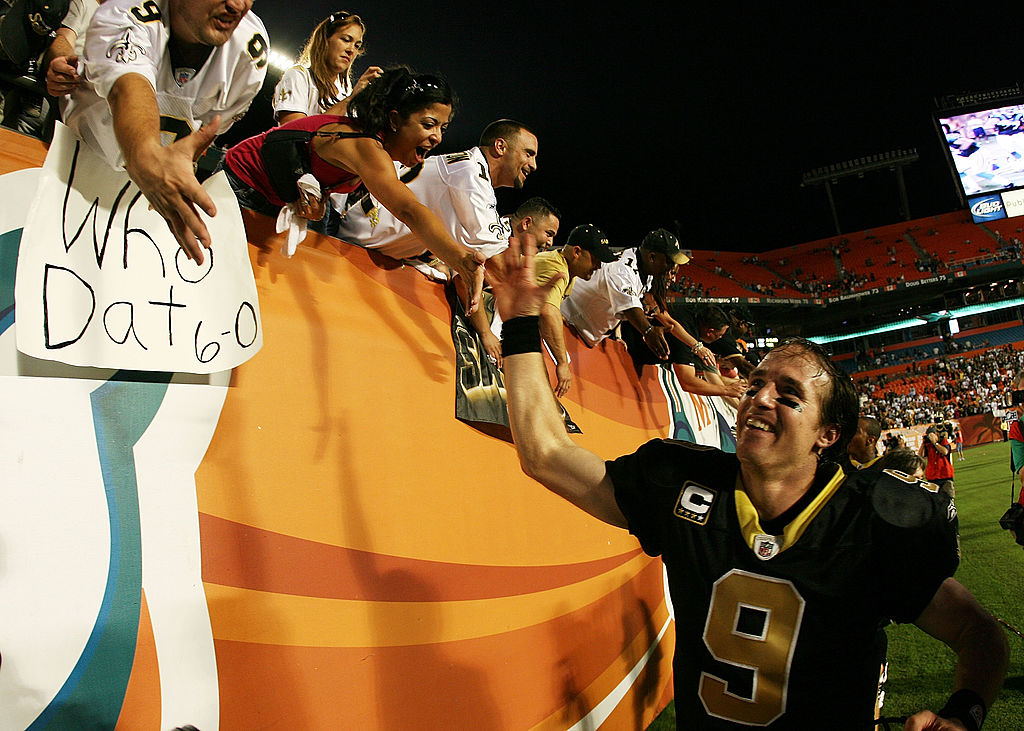 Dolphins Can Find Their Own Drew Brees in 2020 NFL Draft
The Miami Dolphins can make up for their Drew Brees mistake in the 2020 NFL Draft by going after the left-handed version of the future Hall of Fame QB.
The Miami Dolphins had two chances to make Drew Brees their franchise quarterback. But in typical Dolphins fashion, they flopped. But armed with three first-round picks in the 2020 NFL draft, Miami can finally atone for its franchise-altering sin in passing up one of the best quarterbacks in NFL history.
Ironically, Miami's medical staff will once again play a major role in determining the direction of the franchise. And in fitting fashion, they will have to assess whether the modern-day, left-handed version of Drew Brees is worth going all-in on in the first round of the NFL draft.
Dolphins passed over Drew Brees in 2001 NFL draft
Dial the clock back nearly 20 years ago to the 2001 NFL draft. The Dolphins owned the 26th pick and were coming off their four consecutive playoff berth and first under new head coach Dave Wannstedt. They had just replaced the iconic Dan Marino with Jay Fiedler. However, the journeyman had done little to inspire confidence in his first season under center.
That stacked 2001 draft class famously featured Michael Vick, LaDainian Tomlinson, Richard Seymour, Reggie Wayne and a number of future All-Pros. Of course, that group also included Purdue quarterback Drew Brees. A three-year starter for the Boilermakers, Brees' size caused concerns for NFL teams. Despite needing an obvious upgrade at the most important position, the Dolphins passed over the talented quarterback for cornerback Jamar Fletcher.
Current Vikings general manager Rick Spielman served as the Vice President of Player Personnel at the time. Looking back at the decision, he explained the team's thought process to Armando Salguero of the Miami Herald:
"We thought Drew would be an upgrade over Jay," Spielman said. "But we don't think he is that much better. We feel good about Jay. Plus we think we really upgraded our secondary with Jamar. He can play press. He can help on special teams. He's going to play sooner. He's going to help us more."

Fletcher started six games for the Dolphins in three years and recorded just two interceptions. Fiedler would hold on to the starting gig until 2004 but never posted a quarterback rating above 85.2.
Miami infamously opted for Daunte Culpepper in free agency
Passing on Drew Brees before he became an NFL star makes some sense in hindsight. But when the Dolphins had another shot at making him the face of their franchise, they infamously went in a different direction that forever shaped the course of NFL history.
After acquiring Philip Rivers in the 2004 NFL draft, the Chargers pivoted to making him QB1. That decision only got easier once Brees went down with a nasty shoulder injury in the final game of the 2005 season. He had to undergo arthroscopic surgery to repair a torn labrum in his throwing shoulder. Though Dr. James Andrews gave him a clean bill of health, Miami's medical staff didn't feel so confident.
Though they did take a long look at Brees, the Dolphins opted to go for another quarterback coming off a major injury. Despite suffering a devastating knee injury, the Dolphins traded a second-round pick for Daunte Culpepper. The longtime Minnesota Vikings star made four starts for the Dolphins and was out of the league just a few years later. Meanwhile, Brees signed with the New Orleans Saints, won a Super Bowl title and has been a mainstay ever since.
Dolphins can atone for Brees blunder with Tua Tagovailoa
Somehow, someway, the Dolphins never managed to get the quarterback position right. They tried with 2012 first-round pick Ryan Tannehill. However, he never quite lived up to his NFL draft pedigree before breaking out last season in Tennessee. The 2020 NFL draft represents a real opportunity for the Dolphins to atone for their Drew Brees blunders. And what better way to make everyone forget about their infamous mishaps by taking the closest thing to Brees we've seen in years: Tua Tagovailoa.
Though the #TankforTua campaign didn't yield the No. 1 overall pick, the Dolphins still own the fifth, 18th and 23rd selections in next week's NFL draft. That's more than enough ammo to trade up for the former Alabama star. Sure, he comes with serious health concerns of his own. But the Dolphins tore down their roster specifically to build around a franchise quarterback of his caliber.
Nobody can predict if Tua will stay healthy. But considering their current starter is Ryan Fitzpatrick, the risk-reward ratio has to fall in the Dolphins' favor. For a franchise that passed on Drew Brees twice, Miami can right those wrongs by going all-in on the southpaw version of the legendary Saints quarterback. Hopefully, the third time's the charm.