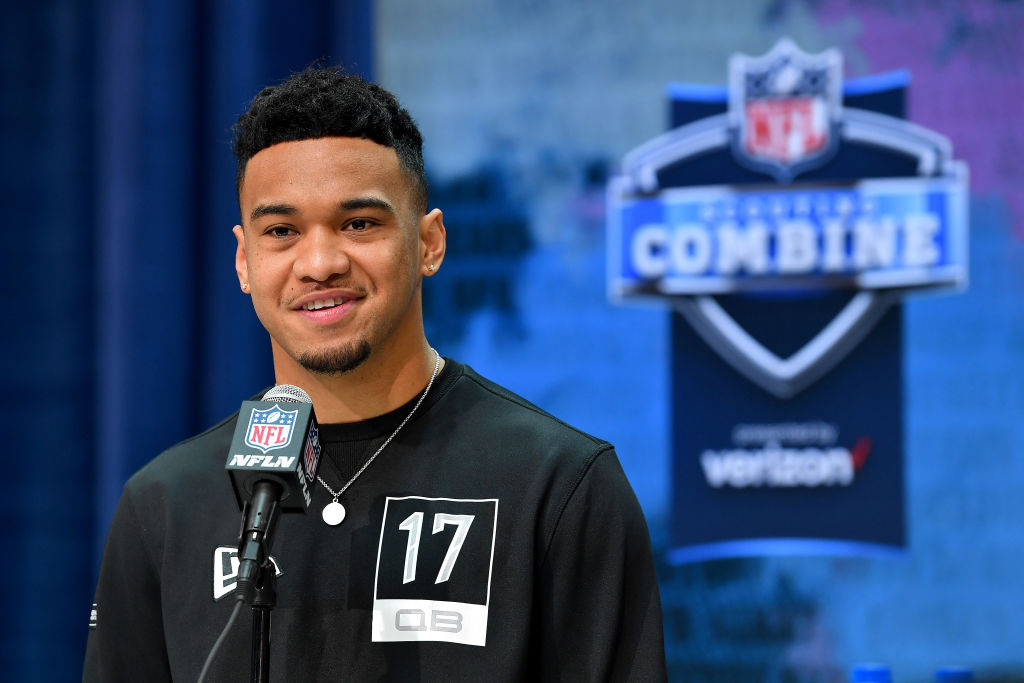 The Dolphins Have the Worst QB Situation in the NFL, but That Could Change Soon
The Dolphins have the worst quarterback room in the NFL, but that can easily turn around in the near future thanks to the NFL draft.
Many teams will be looking to revamp their quarterback situations in the 2020 NFL draft, and the Miami Dolphins are surely one of them. The Dolphins haven't had a top-ten passing offense in the NFL since 2015. Ryan Tannehill threw for 4,208 yards that season, but he's now with the Tennesee Titans. Miami, on the other hand, followed Tannehill with a washed-up Jay Cutler and an aging Ryan Fitzpatrick. The Dolphins went 5-11 last season with Fitzpatrick at the helm. So, where do the Dolphins stand at the QB position and how can they improve their situation?
The Dolphins have the worst QB room in the NFL
Miami has three quarterbacks on its present roster. Ryan Fitzpatrick, the starter last season, is currently backed up by Josh Rosen and Jake Rudock. No NFL team would be thrilled with any of these quarterbacks on their roster, let alone all three.
Fitzpatrick is by far the most accomplished of the bunch, but he's a turnover machine. He's also almost 40 years old, so his NFL days are limited. Fitzpatrick was respectable last season for the Dolphins, throwing for 3,529 yards and 20 touchdowns. He did have 13 interceptions and nine fumbles, though.
Rosen is only 23 years old, but he hasn't shown anything in his young career to prove he's capable of becoming a quality starter. The UCLA product was drafted 10th overall in the 2018 NFL draft by the Arizona Cardinals. He threw more interceptions than touchdowns in his rookie year, and the Cardinals dumped him after one season. Rosen started three games last year for Miami. He threw five picks and just one touchdown.
Rudock has actually been in the NFL since 2016, but you would never know it. He's only thrown five passes in his career, and one of them was an interception. Rudock is just a third-stringer occupying space in the locker room.
The Dolphins have been searching for a franchise QB since Dan Marino
The last time Miami had a reliable long-term quarterback was way back in 1983. Dan Marino, the greatest Dolphins QB of all time, threw for 61,361 yards and won 147 games in Miami. No one in Dolphins history has come close to Marino's passing greatness.
After Marino, the Dolphins went through a slew of quarterback options that rarely lasted more than three years on the team. From Chad Pennington to Chad Henne to Matt Moore, and even a Brock Osweiler experiment, the Dolphins couldn't find an answer to their QB woes.
Miami thought it had its new franchise QB in 2012 when it drafted Tannehill, but he only recorded one winning season in six years. Tannehill moved on to the Titans last season and had a breakout year in Tennessee.
Miami's long-awaited franchise QB could be in the 2020 NFL draft
The Dolphins are in a great position to bring their quarterback situation from hopeless to hopeful in 2020. Miami has the fifth pick in the 2020 NFL draft, and they're expected to use it on a promising QB.
The Bengals will most likely snag Joe Burrow with the first pick, so that leaves Miami with a choice. It will probably be forced to choose between Alabama's Tua Tagovailoa and Oregon's Justin Herbert. Both have question marks attached, but both also have the potential to lead the rebuilding Dolphins back to their glory days.
Tagovailoa is the likely choice, but his hip injury still scares some NFL owners. Many believe he'll never be the same player he was in college. If he can return to that form, the Dolphins will get an NFL-ready thrower with a keen football mind. Most importantly, Tagovailoa is a winner. He famously relieved starter Jalen Hurts in the 2018 national championship game and led the Crimson Tide to a comeback victory.
Herbert, on the other hand, doesn't have the same injury concerns Tagovailoa carries. He improved every season of his college career. As a senior, Herbert threw 32 touchdown passes and just six interceptions. He also impressed scouts at Oregon's Pro Day last month, which vaulted him into the top-5 pick conversation.
The Dolphins will complete their due-diligence and chose the quarterback they like most for their future. If they choose right, it can be the start of a prosperous decade in Miami.