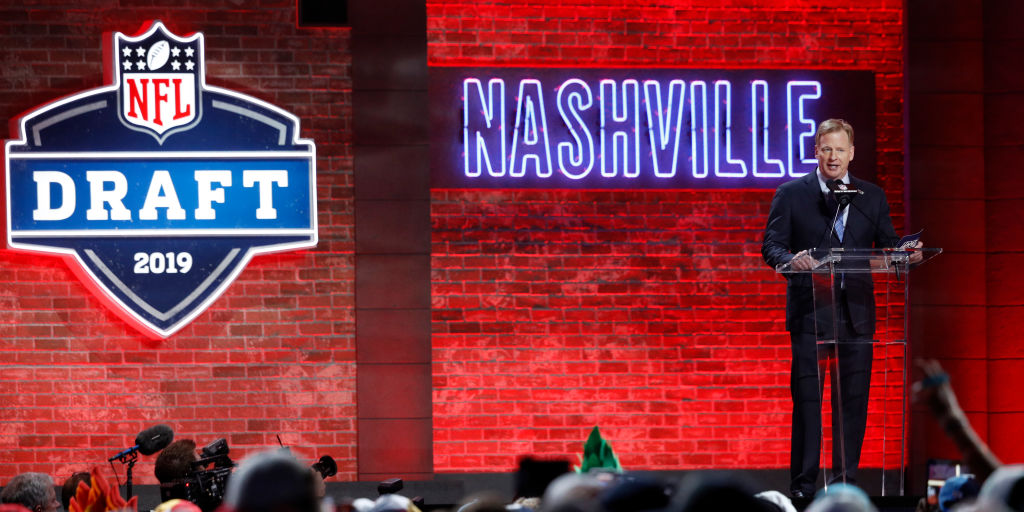 Are NFL Mock Drafts Ever Accurate or Should You Just Ignore Them?
The 2020 NFL Draft is less than a month away. With so many mock drafts popping up, who can you trust and just how accurate are the experts?
Welcome to peak NFL mock draft season. With the 2020 NFL Draft scheduled to take place in just three weeks, experts from all around the media landscape are chiming in with their predictions. Who will be the No. 1 pick? Which team will get the steal of the draft late in the first round? Will any teams trade up? All these questions and more attempt to be answered without much background information this month. Mel Kiper Jr. and Todd McShay of ESPN are perhaps the most popular draft experts in the game, but how accurate are they really? Accurately predicting what every NFL front office will do from April 23-25 is impossible, but many experts can get pretty close.
How accurate are NFL mock drafts?
You've probably seen a ton of mock drafts pop up recently predicting who your favorite team is going to draft in the first round. It can be an exhilarating feeling when you see an expert project a great player to go to your squad. On the other hand, it can be deflating to see a player you don't like projected to go there.
As fun as mock drafts are to dive into, they are never 100 percent accurate. No draft expert knows what every general manager is thinking.
FantasyPros concocted an analysis of the best mocks from 2019, and the results might shock you. The most correct landing spots any expert accurately predicted was 13. Kevin Hanson of EDSFootball beat the field in that category. Only one other expert correctly predicted 12 picks.
The winner of the 2019 FantasyPros accuracy test was Charlie Campbell of Walter Football. Campbell accurately predicted 10 picks and scored 171 points on the accuracy scale. The scale was out of a possible 320 points.
In short, you can't take any expert's mock as gospel. Only a few mockers will correctly predict 10 picks or more, so maybe hold off on celebrating one expert predicting your favorite college player to land with your favorite NFL team. Mock drafts are an inexact science.
Whose NFL mock drafts should you trust?
As mentioned earlier, the biggest names in the mock draft world are Mel Kiper Jr. and Todd McShay. Even though they might be the most well known, they are far from the most accurate.
In last year's FantasyPros accuracy test, McShay came in 16th place and Kiper Jr. came in 52nd among all experts. McShay had eight exact predictions and Kiper Jr. had seven.
ESPN might be more popular, but Walter Football has had a much better track record predicting NFL drafts in recent years. Campbell had the most accurate mock last year, with Walter Football's Walter Cherepinsky coming in second place. Cherepinsky has come in second place in two straight years.
Campbell has Joe Burrow going first overall to the Bengals in his 2020 NFL mock draft. Burrow is followed by Ohio State's Chase Young and Jeff Okudah in order. Campbell has Tua Tagovailoa going fifth to the Dolphins.
The safest bets for the 2020 NFL Draft
No two mock drafts are ever the same, but almost everyone in the mock draft world has LSU's Joe Burrow going to Cincinnati. It's as close to a sure thing as you'll ever find going into a draft. Burrow won the Heisman Trophy and the national championship last season. He's the best player in the 2020 draft and will be selected first overall.
Chase Young might also be a lock to go No. 2. Young is the best defensive player in the pool and the Redskins need a difference-maker badly.
Behind the first two players, though, the rest of the draft is up in the air. Tagovailoa is expected to go No. 5 to the Dolphins, but they could opt for the healthier Justin Herbert. Another team could always trade up at any time. Predicting the NFL Draft beyond the first few picks has shown to be impossible for even the most informed football minds.
Mock drafts are great for entertainment and to see where your favorite team might be leaning, but you can't put too much stock into them. Even the brightest NFL personalities can't predict more than 10 picks correctly.