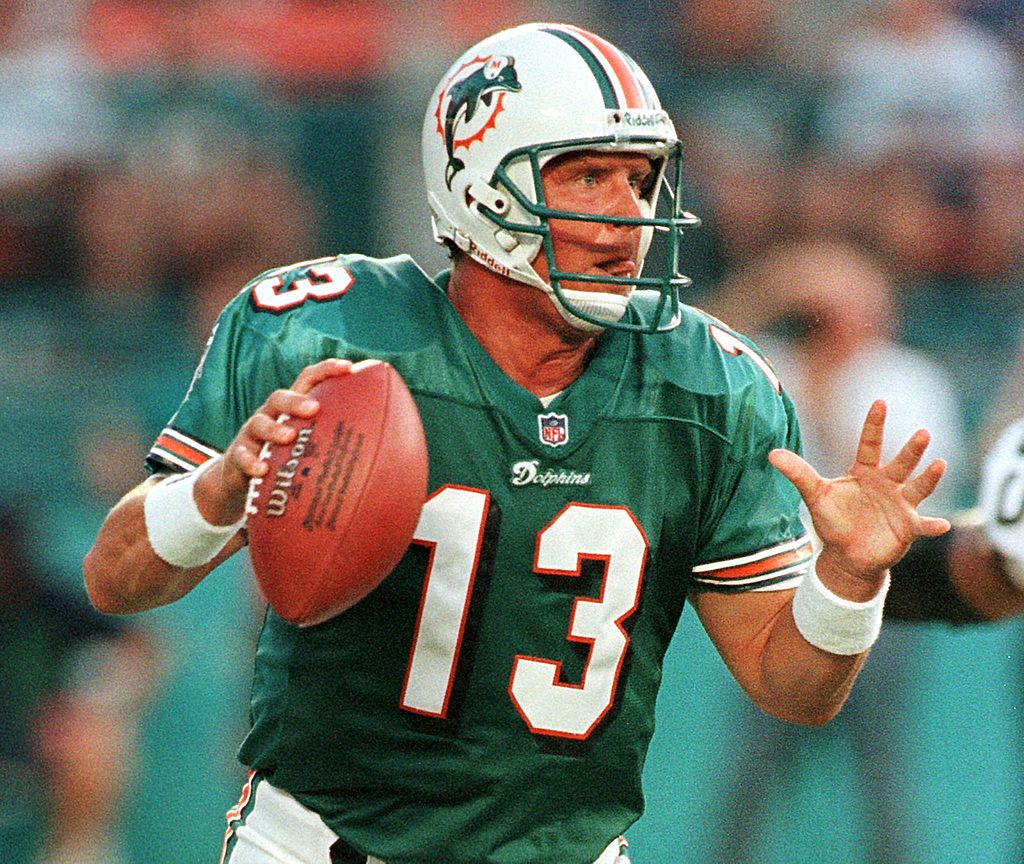 Dan Marino Lost Millions by Backing 'Titanic' Director's Company
Dan Marino thought he had invested in a winner, but the production company founded by director James Cameron went bankrupt less than a year after its IPO.
Former Miami Dolphins quarterback Dan Marino was never hit as hard scrambling from the pocket on the football field as he was in his checking account off the field.
The tale of how the Hall of Fame quarterback lost millions of dollars in what looked like a sure-fire winner with its connection to big names in the entertainment industry should be a cautionary one for other pro athletes.
Dazzling show connects Dan Marino to famed director's company
A company named Digital Domain Media Group, Inc., made waves in April 2012 when the hologram it produced made it appear that rapper and actor Tupac Shakur, who had died in a 1996 shooting, was singing live alongside Snoop Dogg at the Coachella Valley Music and Arts Festival.
DDMG had been founded by James Cameron, who directed The Terminator, Alien, and Titanic, and went public on the New York Stock Exchange in November 2011. Cameron was in large part responsible for killing the company's planned initial public offering in 1998 when he walked away from the company in a dispute with the board of directors over its selection of outside investors.
The 2011 IPO raised $40 million and valued the company at approximately $400 million, but that would prove to be its high-water mark.
Despite the company's glowing reputation for its work on Titanic, Pirates of the Caribbean, The Avengers and the Transformers movies, virtually everyone who invested following the Coachella triumph lost big when the company filed for bankruptcy in September 2012.
Company's rapid expansion leads to bankruptcy
Among the investors in Digital Domain was Dan Marino, who retired from the Miami Dolphins in 2000 after a 17-year NFL career. The company issued approximately 5 million shares at its IPO and Marino became its largest investor.
The quarterback put in $14.5 million of his money when the stock was near its peak price of $9.20 a share thanks to the excitement over the Tupac Shakur hologram, but lost about $13.6 million of his investment when the company went bust less than a year after the IPO.
At the time of the Chapter 11 filing, DDMG cited $50.7 million in losses as funding collapsed in the midst of an ambitious expansion plan that included financing films, opening an animation studio, backing a college degree program in animation, and helping to run film studios in China and Abu Dhabi.
DDMG was forced to close its animation studio in Florida, putting more than 200 employees out of work.
Dan Marino was an exceptional NFL quarterback
Dan Marino was selected by the Miami Dolphins in the first round of the 1983 NFL Draft that also produced Hall of Famers John Elway and Jim Kelly. Tony Eason and Todd Blackledge rounded out the list of five quarterbacks taken in the first round.
Marino played 17 seasons and was selected All-Pro eight times. He was the first QB in NFL history to throw for 5,000 yards and threw a then-record 48 touchdowns in a season. He finished his career with 61,361 yards and 420 touchdown passes. He had an 8-10 playoff record with 32 touchdown passes but 24 interceptions.
The Dolphins retired Marino's No. 13 in 2000. He was inducted into the College Football Hall of Fame in 2003 and the Pro Football Hall of Fame in 2005.