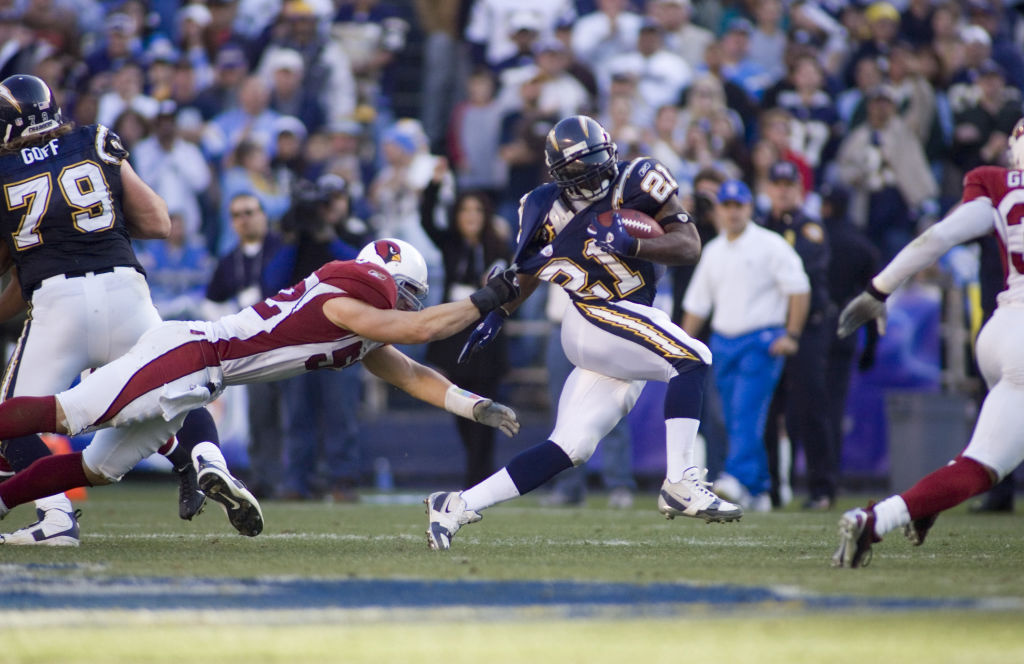 Where is Former Chargers Star LaDainian Tomlinson?
LaDainian Tomlinson broke numerous NFL records with the Chargers during his Hall of Fame career. Where is the former Chargers star now?
LaDainian Tomlinson was a fantasy football player's dream. He ran for at least 1,100 yards in his first eight NFL seasons. He caught at least 51 passes in each of those prolific years with the Chargers (back when they were still in San Diego). And he certainly knew how to find the end zone.
Though Tomlinson faded in his final few years, he dominated the era unlike any other running back. By the time he hung up his cleats, he had set numerous NFL records, earned three first-team All-Pro honors and established himself as one of the best players in Chargers history. It's crazy to think Tomlinson last played in the NFL almost a decade ago. So let's see where the five-time Pro Bowl running back is today.
LaDainian Tomlinson became NFL's premier running back with the Chargers
Few people remember that the Chargers actually entered the 2001 NFL draft with the first overall pick. But when the Atlanta Falcons called to trade up to select Michael Vick, the team dropped back a few spots and wound up with arguably the better player of the deal. Tomlinson wasted no time establishing his reputation as one of the NFL's best running backs.
As a rookie, the 22-year-old ran for 1,236 yards and 10 touchdowns. That rushing total would end up being his lowest mark until his age-29 season. By his second season, Tomlinson transformed into the most unstoppable weapon in both NFL and fantasy football circles. The following year, he set a career-high with 100 receptions—a rarity for a running back.
Tomlinson's best year came in 2006, when he set an NFL record with 28 rushing touchdowns. Amazingly, only Peyton Manning threw more touchdowns that season. That magical season also included an NFL and career-high 1,815 rushing yards and an NFL MVP award.
Incredibly, he led the NFL in rushing yards and touchdowns the following year for an 11-5 Chargers squad. Unfortunately, the Patriots ended their Super Bowl hopes in the AFC Championship. For all of Tomlinson's individual success, the Chargers never advanced to a Super Bowl in his nine-year run out west.
Tomlinson inducted into Pro Football Hall of Fame in 2017
Tomlinson eventually moved on from the Chargers and finished his playing career with the New York Jets. Though he no longer possessed the same speed and quickness that made him a matchup nightmare, he actually ran for 914 yards in his penultimate NFL season.
In 2017, the Texas native rightfully took his place next to the NFL's all-time greats in the Pro Football Hall of Fame. Tomlinson was also named to the NFL 2000s All-Decade Team, which was a testament to his remarkable sustained success.
By the time he was elected, Tomlinson had totaled 13,684 rushing yards (seventh all-time) and 162 total touchdowns (third). The all-purpose back totaled 3,798 touches, which ranks fifth in NFL history. There simply wasn't a role that Tomlinson couldn't fit, and he deservedly earned a bust in Canton for his incredible 11-year NFL career.
Former Chargers running back transitioned to NFL Network role
Since retiring, Tomlinson has stayed quite involved with the NFL. In fact, he took his talents to television with the NFL Network. As a studio analyst, he brings unique insight not only on the running back position but the game in general. Viewers can catch Tomlinson on NFL GameDay Prime alongside fellow Hall of Famer Deion Sanders.
In addition to his TV work, Tomlinson's post-playing career has also included a role on the big screen. Finally released in 2018, God Bless the Broken Road features Tomlinson as a pastor. While the film wasn't a major financial success, it was just another example of
LaDainian Tomlinson's trademark versatility.