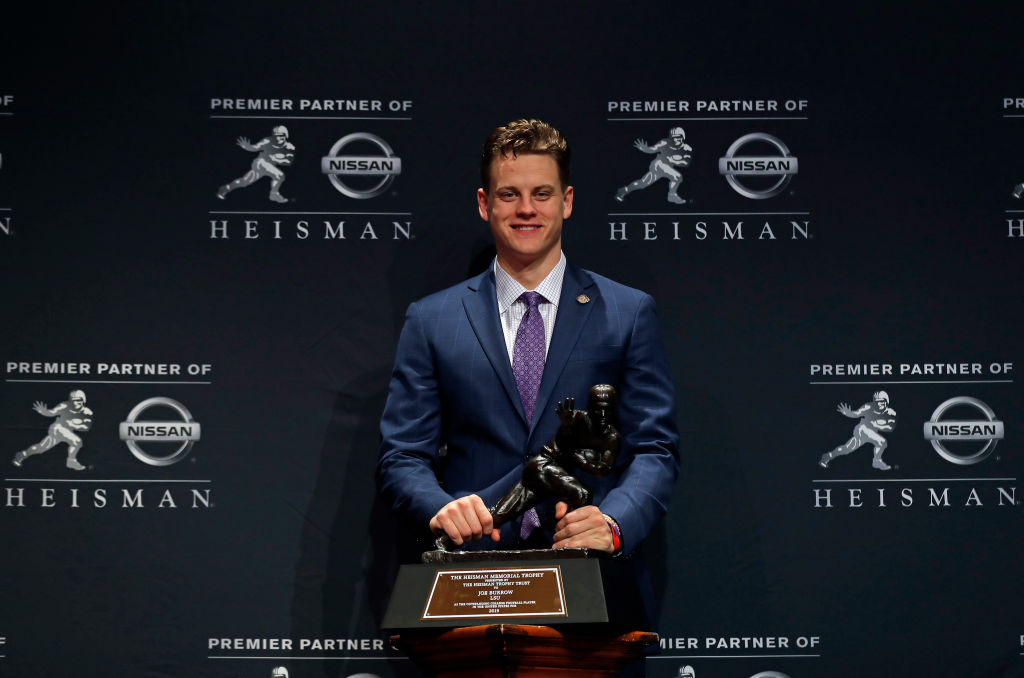 Joe Burrow Will Make More Than $35 Million as Soon as the NFL Draft Begins
Joe Burrow will be the No. 1 pick in the 2020 NFL draft. When the Cincinnati Bengals call his name, the Heisman winner will cash in big time.
In less than two weeks, Joe Burrow will officially become the No. 1 pick in the 2020 NFL draft. And barring an unforeseen trade, Cincinnati Bengals fans should be lining up to buy his jersey. It's been a meteoric rise for the former Ohio State transfer. Before the 2019 college football season, Burrow's NFL draft prospects didn't look too bright. But after teaming up with Joe Brady, his stock skyrocketed thanks to a truly historic season.
The Heisman Trophy winner has every quality necessary to become the NFL's next great quarterback. From his incredible accuracy to his legendary leadership skills, Joe Burrow is as close to a can't-miss prospect as you can get. And when Roger Goodell officially puts the Bengals on the clock, the former LSU star will instantly become a multi-millionaire.
Joe Burrow's rise to become the No. 1 NFL draft prospect
Before Burrow and Brady found each other, the former wasn't exactly a coveted NFL draft prospect. That's not surprising considering his lackluster production. He spent three years as a backup with the Buckeyes before transferring to LSU. As a junior, he flashed some ability, but nobody viewed him as a first-rounder, let alone a candidate to go No. 1 overall.
Everything changed once LSU transitioned from an archaic offense to a modern-day RPO-based attack. The 6-foot-4, 216-pound signal-caller turned out to be a picture-perfect fit for Brady's system. Utilizing a deep array of skill players, Burrow set numerous records and cemented his status as one of the best quarterbacks in college football history.
No matter what stat you choose, Burrow simply shined. He threw 60 touchdown passes in 15 games—an astounding jump from his 16-TD effort in 2018. The cool, calm and collected kid from Ohio also set SEC single-season records for yards (5,671) and completion percentage (76.3). His individual brilliance helped the Tigers achieve their first national title since 2007.
Burrow can transform Bengals into immediate contenders
Joe Burrow possesses every quality to turn the Bengals into a playoff contender. That's right, folks. He's that impactful. From a talent perspective, Cincinnati's roster is nowhere near the bottom of the league. The Bengals have had a surprisingly aggressive offseason approach that's included franchise-tagging A.J. Green and signing free-agent defenders Vonn Bell, D.J. Reader and Trae Waynes to massive contracts.
Making Burrow their franchise QB should put the Bengals in contention a conference that's undergoing transition. Tom Brady's departure severely weakens the Patriots' stranglehold on the AFC. Bill O'Brien may have torpedoed the Texans' Super Bowl chances with a bizarre series of trades. Philip Rivers moving from the Chargers to the Colts may also have trickle-down effects when it comes to the playoff bracket.
Don't sleep on Cincinnati challenging the rest of the AFC North for a coveted playoff spot, either. Pittsburgh's Super Bowl hopes rest on 38-year-old Ben Roethlisberger's surgically-repaired elbow. Cleveland made sweeping regime changes yet again. And will Lamar Jackson and the Baltimore Ravens be the same offensive juggernaut without All-Pro Marshal Yanda and former first-round pick Hayden Hurst?
Top NFL draft pick will receive nearly $25 million signing bonus
Though NFL draft prospects no longer possess the same earning potential they did before the 2011 collective bargaining agreement, they're still in line for massive paydays. After all, becoming a multi-millionaire overnight couldn't be more of a dramatic shift from the life of a college athlete. And for Joe Burrow, he'll start cashing in as soon as the 2020 NFL draft kicks off on Thursday, April 23.
Based on the rookie salary slots, Spotrac projects the No. 1 pick will receive a rookie contract totaling $37.1 million. That also includes a whopping $24.6 million signing bonus. Last year, No. 1 overall pick Kyler Murray signed a four-year, $35.2 million contract that included a $23.5 million signing bonus. For Joe Burrow, his sensational senior season at LSU is about to turn into a lucrative NFL deal. Let's just hope he takes care of his money better than some other former NFL stars.