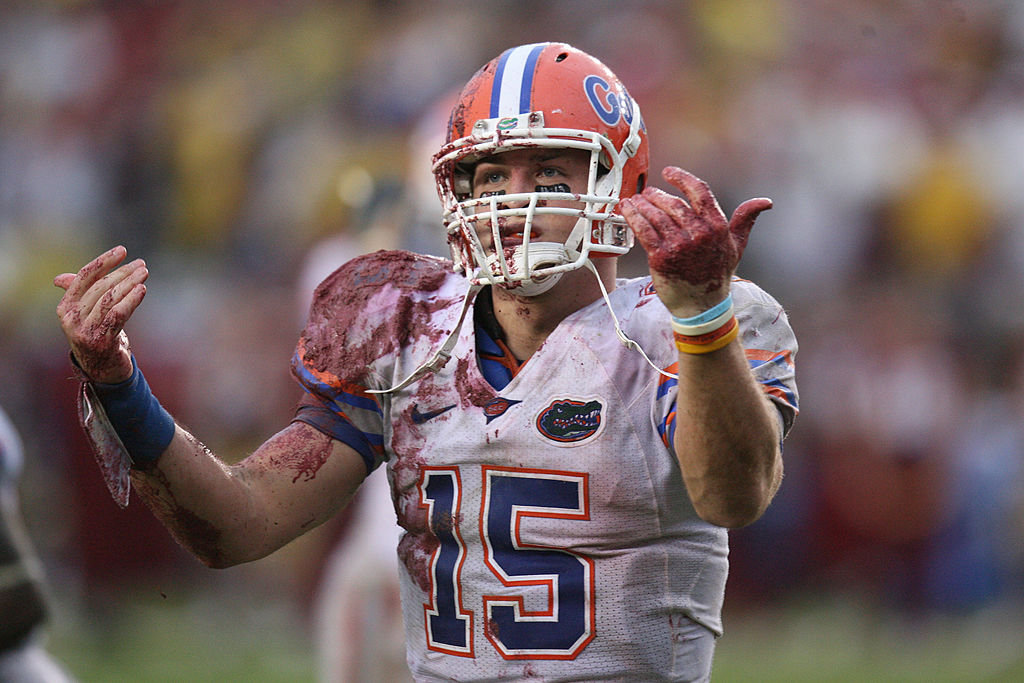 Is Tim Tebow the Best Quarterback in College Football History?
Tim Tebow established a reputation as one of the best quarterbacks in college football history. The two-time national champion and former Heisman Trophy winner has some stiff competition from other SEC greats.
For Florida Gators fans, Tim Tebow represented everything right about college football. The two-time national champion and former Heisman Trophy winner embodied the values that coaches could only dream about. A consummate leader with a unique physical skill set, Tebow captivated the college football landscape throughout his time with the Gators.
But for all his accomplishments, is Tebow truly the best quarterback in college football history? After all, the SEC alone has produced some fantastic players at the position, including a few current NFL stars. Let's finally settle the debate and look at the top contenders for the all-time college football quarterback title.
Tim Tebow won two national titles and the Heisman at Florida
If you could have drafted a college quarterback on your fantasy team, Tebow would have been the top pick. A true dual-threat machine, he played a pivotal role in Florida's 2006 national title run as a true freshman. Tebow formed a two-headed QB tandem with Chris Leak and actually finished second on the team in rushing yards (469) and first in rushing touchdowns (eight).
However, Tebow truly became an SEC legend after a stunning sophomore season. The left-handed signal-caller threw for 3,286 yards and 32 touchdowns while adding 895 yards and 23 touchdowns on the ground. He followed up with 42 total touchdowns in the Gators' 2008 title run.
Tebow's senior season saw a slight dip in production, but after finishing his collegiate career with 88 passing touchdowns and 57 rushing touchdowns, there's no doubt he's an all-time great.
Cam Newton won national title and Heisman in 2010 at Auburn
Ironically, Cam Newton actually began his college career at Florida. And if things had worked out differently, perhaps the sports world would have never heard of Tebow. Ultimately, Newton had to go the junior college route before landing back in the SEC at Auburn. And though he spent just one season with the Tigers, he made it count.
In terms of pure value, no single player deserves as much credit as Newton. Built like a defensive end, he torched SEC defenses with his rare ability to bully defenders as a runner and torch defensive backs as a deep-ball thrower. Newton's lone season at Auburn included 2,854 passing yards and 30 touchdowns plus another 1,473 yards and 20 touchdowns on the ground.
He essentially singlehandedly dragged a massively undermanned Tigers team to a national title. He also became the school's first Heisman Trophy winner since Bo Jackson accomplished the feat in 1985.
Joe Burrow put together greatest single season at LSU in 2019
Like Newton, Joe Burrow was essentially a one-year wonder. The LSU quarterback famously transferred to the SEC after spending his formative years buried on the depth chart at Ohio State. As a junior, Burrow put up rather pedestrian stats in an archaic offense. But playing in a spread system designed by new Carolina Panthers offensive coordinator Joe Brady, Burrow broke nearly every passing record in FBS history en route to a national title.
Burrow's Heisman-winning campaign seems almost unfathomable when looking at his final stat line. The presumptive No. 1 overall pick completed 76.3 percent of his attempts for 5,671 yards and 60 passing touchdowns. He routinely elevated his game in primetime SEC matchups against Alabama (393 yards, 3 TD) and Georgia (349 yards, 4 TD).
And of course, he toppled Clemson in the national title game by throwing for 463 yards and five more scores. Burrow should bring Bengals fans plenty of hope for the future.
Johnny Manziel electrified college football at Texas A&M
Once Tebow and Newton moved on to the NFL, the SEC found a new dual-threat sensation to root for in Johnny Manziel. Unlike his Heisman predecessors, the Texas native did not possess rare physical attributes. Built much smaller than Newton and not as strong as Tebow, Manziel's moxie and uncanny ability to extend plays frustrated Nick Saban and the rest of the SEC for two years.
After redshirting as a freshman, Manziel took over for Ryan Tannehill and put together one of the best single seasons in college football history. Relying on future NFL star Mike Evans, Manziel threw for 3,706 yards and 26 touchdowns in his first season. More impressively, the 6-foot-1, 210-pounder racked up 1,410 rushing yards and 21 touchdowns.
With Manziel operating the offense, Texas A&M went 11-2 and finished fifth in the final AP rankings. He also became the first freshman to ever win the Heisman Trophy. Manziel enjoyed another monster campaign in 2013 before moving on to the NFL, where he famously flamed out.
Deshaun Watson led Clemson to national title over Alabama
Despite never winning a Heisman Trophy, Deshaun Watson did just about everything possible in three years at Clemson. A prolific passer who also did damage with his legs, Watson showed tremendous poise and ability to perform under pressure throughout his collegiate career. The two-time Heisman Trophy finalist was sensational as a sophomore, throwing for 4,109 yards and 35 touchdowns while rushing for 1,105 yards and another 12 scores. However, that season ended in a heartbreaking loss to Alabama in the national title game.
Watson returned for his junior season and set out to re-write the narrative. While his rushing numbers regressed, he increased his passing production to 4,593 yards and 41 touchdowns (he did throw 17 interceptions). Most importantly, he helped the Tigers return to the College Football Championship in a rematch against the Crimson Tide. This time around, Watson delivered the game-winning touchdown to Hunter Renfrow to wrap up one of the most successful careers in college football history.
And the winner is…
Selecting the best quarterback in college football history is a nearly impossible task. Newton and Burrow put together historic individual seasons and took home hardware. Manziel never captured a national championship, but he became one of the most popular players in NCAA history. Watson and Tebow stand out in that they put up tremendous stats across multiple seasons and led their teams to national titles.
Though Tebow did not succeed in the NFL, he played a major role in two national championships. He won a Heisman Trophy. And he became a national icon for his incredible leadership and culture-changing ways. Despite his NFL failures, Tim Tebow takes home the title of the greatest quarterback in college football history.