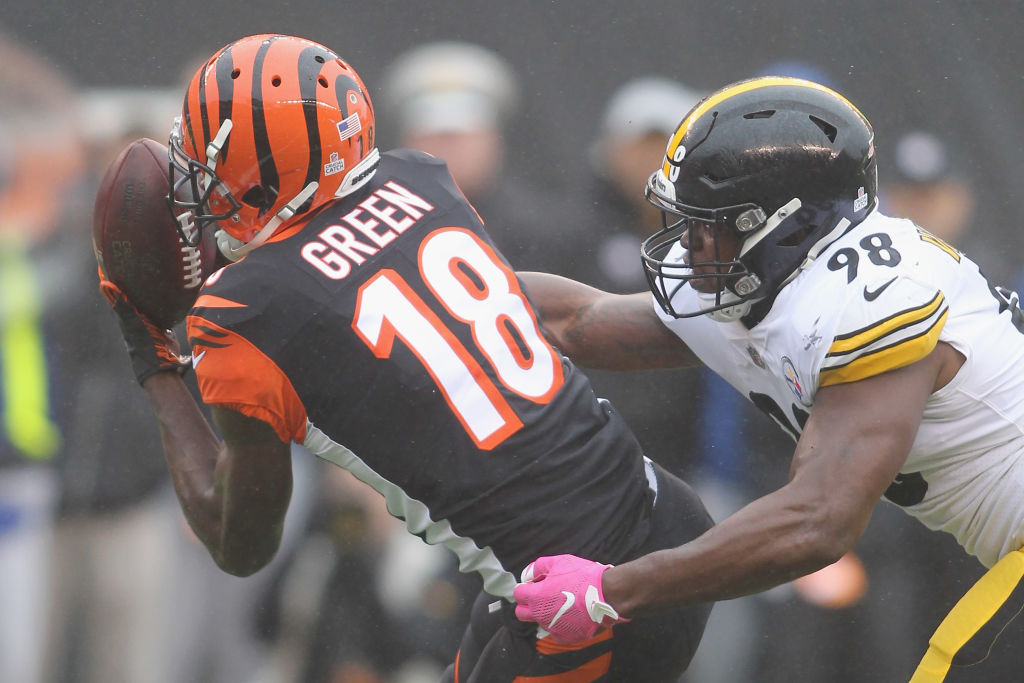 By Franchise Tagging A.J. Green, the Bengals Probably Made Joe Burrow Pretty Happy
The Cincinnati Bengals franchise tagged A.J. Green. While the wide receiver probably isn't thrilled, it's a safe bet that Joe Burrow is.
While most of the sports world has ground to a halt, the NFL's offseason is going ahead more or less as planned. While there have been some changes—in-person visits aren't happening and this year's draft won't be a public event—franchise tags were handed out on Monday morning as usual. The Cincinnati Bengals tagged wide receiver A.J. Green, who missed the entire 2019 campaign with an ankle injury.
Beyond the obvious boost of keeping Green on the roster for next season, the move could carry an added benefit for the Bengals. Joe Burrow might not be on the team yet, but he'll be licking his chops.
A.J. Green's recent injury problems
During his time at the Univesity of Georgia, A.J. Green established himself as one of the nation's top wide receivers. After racking up 2,619 receiving yards and 23 touchdowns over his three seasons with the Bulldogs, he entered the NFL draft.
The Cincinnati Bengals snagged him with the fourth overall pick in 2011 draft; he promptly teamed up with fellow rookie Andy Dalton and posted a 1,057-yard campaign. Over the next several seasons, Green grew into one of the NFL's most dynamic receivers.
Over recent years, however, injuries have started to slow Green down. He missed a few games in 2014 with a toe issue; after a healthy 2015, he tore his hamstring in 2016. His next two seasons followed the same pattern: an injury-free season, followed by a shortened 2018.
Last summer, Green tore ligaments in his left ankle. While he was expected to miss about six to eight weeks, he ended up sitting out the entire season.
A.J. Green isn't thrilled about being franchise tagged
On Monday, the Cincinnati Bengals officially franchise-tagged A.J. Green. While we haven't heard from the wide receiver lately, he previously said that he wasn't thrilled with the idea of receiving an automatic one-year contract, but he wasn't about to hold out, either.
"I have no problem with the franchise (tag). I don't like it, but I'm not a guy that's going to sit out the whole year," Green told the Bengals' official website in December. "But at the end of the day, that shows me they're not committed to me. That's fine. They have a business they have to run. As the player, I have my own business, so if you do that I have to protect myself."
Green might not be happy about the move, but one player is probably feeling a bit more optimistic: Joe Burrow.
Joe Burrow reportedly wanted the Bengals to keep their top receiver under contact
While there was initially some speculation about his future, Joe Burrow seems to be destined to join the Cincinnati Bengals. If that's the case, Monday's transactions should make him a happy man.
Earlier in the offseason, Peter King reported that Burrow "made it clear here [at the NFL combine] he wants the team to sign free-agent wide receiver A.J. Green." Although the franchise tag might be ideal—as King points out, the receiver might not participate in offseason workouts with his young QB—it does ensure that Burrow and Green will spend at least one season working together.
While the deal won't give Green any long term security, it should put the Bengals and their presumptive quarterback in a good position. Burrow will get a full season to work with Green, Tyler Boyd, and John Ross; the team will also get a chance to ensure that Green is back to full health without shelling out a long-term deal. In an ideal world, the veteran will provide a safe pair of hands for the new quarterback to lean on. In a worst-case scenario, Green will be a year's worth of dead money.
As a general rule, players don't want to be franchise tagged. A.J. Green might not be thrilled, but Joe Burrow, assuming he becomes a Bengal, will be pretty happy when they take the field together.