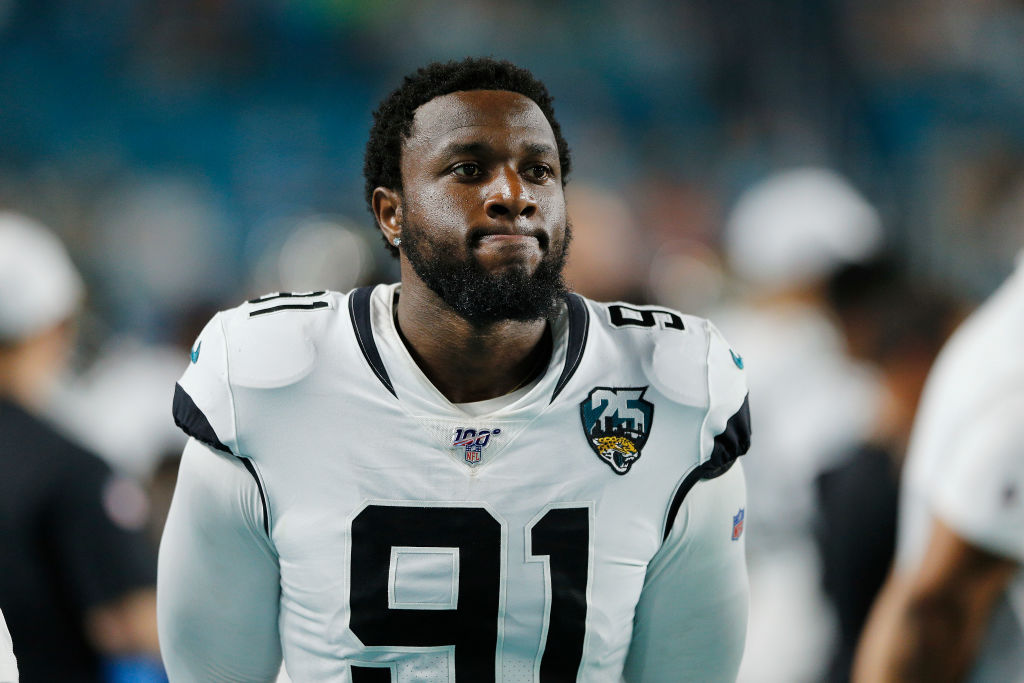 Why Don't NFL Players Want to Be Franchise Tagged?
While the NFL's tag might sound like a compliment, it's not an honor to receive it. In fact, most players hate being franchise tagged.
It might be the NFL offseason, but there's still plenty of business taking place. Between the league's scouting combine, offseason surgeries, and impending free agency, there's plenty of action taking place behind the scenes. Some deals, however, are based around a contractual concept unique to the NFL: the franchise tag.
While a franchise tag might sound like a compliment, NFL players don't usually take it that way. In fact, most players never want to be franchise tagged at all.
What is an NFL franchise tag?
While the NFL has existed for quite some time, the league's franchise tag is a relatively recent invention. The concept only originated in the early 1990s.
Normally, once a player hits unrestricted free agency, they have complete control over their own destiny. In 1993, however, Denver Broncos owner Pat Bowlen was afraid that he wouldn't be able to keep John Elway on his roster. In order to hammer out a new collective bargaining agreement, a compromise was forged. Teams could select one player bound for free agency, and franchise tag him; while the club would have to pay him handsomely, he would be theirs for another year.
While the franchise tag was originally imagined as a tool to keep star quarterbacks from fleeing to greener pastures, teams began using it on all sorts of players. Today, the rule still stands in the face of free agency. While there are different types of tags with slight variations, a franchised tagged player receives a one-year contract worth the average of the top salaries at his position, but cannot test the open market and sign with a team of his choosing.
Why do NFL players hate the franchise tag?
While franchise tags can seem unintuitive, one thing is clear. Players hate the tag because it removes all of their bargaining power.
No matter the sport, players count down the days until they can hit unrestricted free agency. At that point, they can truly cash in on their prior performances; if you put up big numbers, you'll take home a higher salary. The franchise tag, however, throws a monkey wrench into the entire process. The player is handed a one-year contract with a salary based on his peers; free agency is simply kicked down the road to the next offseason unless the team chooses to apply another, albeit more expensive, franchise tag.
The franchise tag is even more painful given the realities of the NFL. A football player only has a limited lifespan to earn a living; there's a risk of catastrophic injury on every play. Free agency provides an opportunity to cash in on a nice signing bonus if nothing else. If a player gets hurt on a franchise tag contract, however, they may never get to reap the rewards of their success.
It might seem obvious, but it's worth remembering that NFL players are people, too. Free agency should give guys like Yannick Ngakoue the ability to play where he wants; the franchise tag, however, will force him to stay in Jacksonville, even if he has no intention of playing.
Unsurprisingly, the rule creates plenty of discontent
While a franchise-tagged player and the team can hammer out a new contract before the start of the season, that's not incredibly common. In reality, most players have two options: play on the one-year deal, or hold out.
Unsurprisingly, plenty of stars choose the latter option. While there have been a few exceptions, players aren't happy to be franchise tagged. Refusing to report may be a nuclear option, but it allows them to reclaim control of their own career; if nothing else, you can't get hurt if you hold out.
It's understandable that NFL teams want to keep their best players around for as long as possible. Using the franchise tag might accomplish that goal, but is neither fair to the players or conducive to long-term roster construction.