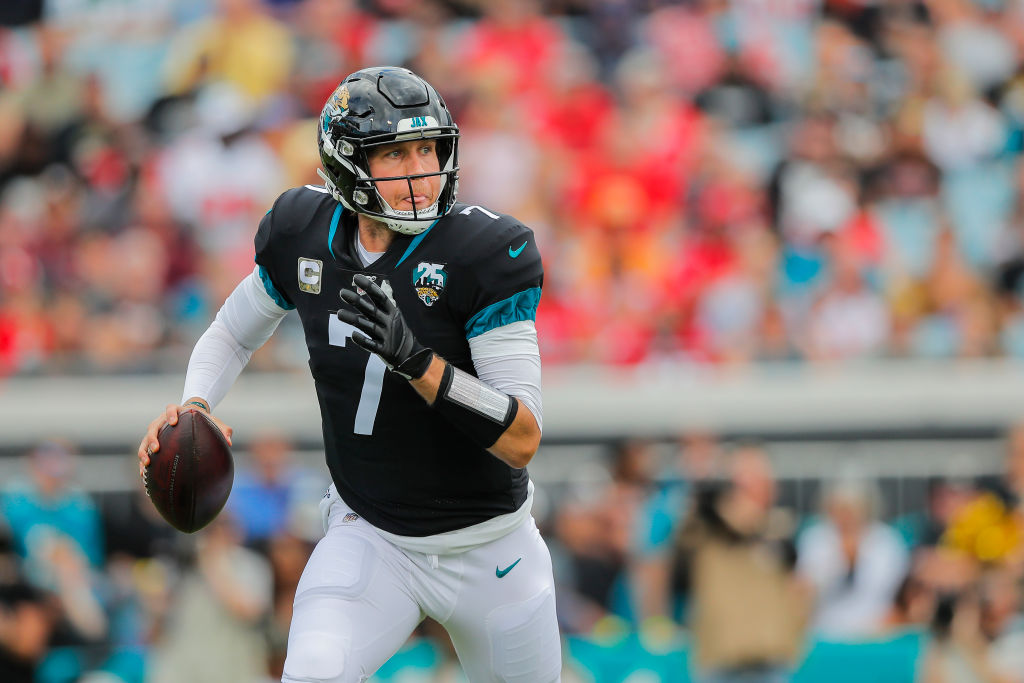 The Bears Bailed the Jaguars out of the NFL's Worst Quarterback Contract
The Chicago Bears saved the Jacksonville Jaguars by trading for quarterback Nick Foles. The deal helped bail the Jaguars out from the NFL's worst contract.
The Jacksonville Jaguars thought they had found a franchise quarterback last offseason. But after just one year, they have already turned the page on the Nick Foles era.
After watching their $88 million investment spend most of the year on the sidelines due to injury, Jacksonville managed to unload Foles' contract by trading him to Chicago. The move frees the rebuilding franchise from an expensive commitment and shifts the focus to Gardner Minshew.
For the Bears, the trade signals that the Mitchell Trubisky era is also likely over. But if Foles fails to live up to expectations (again), it could be a costly gamble by the Bears.
Jaguars signed Nick Foles to $88 million contract just a year ago
After finally calling it quits on Blake Bortles, the Jaguars needed to reset the quarterback position in 2019. They turned to Super Bowl LII hero Nick Foles. The journeyman became a legend in Philadelphia after replacing an injured Carson Wentz and leading the Eagles to an upset victory against the Patriots. In what should have been a lopsided battle against Tom Brady, Foles stunned the football world by throwing for 373 yards and three touchdowns in the 41-33 win. With Wentz battling injuries yet again, Foles started five games in 2018 and completed 72.3 percent of his 195 attempts for 1,413 yards and seven touchdowns.
Jacksonville decided that Foles' 26-22 career record as a starter was worth $88 million, including a whopping $50 million guaranteed. The 30-year-old appeared to be a solid fit given his recent big-game experience and leadership qualities. Unfortunately, the newly minted starter suffered a broken collarbone in a season-opening loss to Kansas City. Foles did return and started three more games before ceding the throne to Minshew.
Bears trade fourth-round pick for Nick Foles
Finding a franchise quarterback has been a nightmare for the Bears. Chicago actually traded up to draft Mitchell Trubisky with the second overall pick in 2017. That decision stings even worse considering Deshaun Watson and Patrick Mahomes went several picks later. Three disappointing seasons later, the Bears once again had to go back to the drawing board.
On Wednesday, Chicago traded a fourth-round compensatory pick for Foles. While he may only represent a marginal upgrade, the move should send a clear signal that Trubisky's job is no longer safe. The former North Carolina signal-caller has thrown just 48 touchdowns and 29 interceptions in 41 starts (23-18 record). His mobility and athleticism have served him well, but his overall lack of development has played a major role in Chicago's shortcomings.
Jaguars moving forward with Gardner Minshew
With the Bears taking Foles' bloated contract off their books, the Jaguars are ready to move forward with Minshew. The 2019 sixth-round pick captivated Jacksonville fans (if there are any left) with a unique combination of confidence and gamesmanship that led to six wins. The Washington State product threw 21 touchdowns and just six interceptionshttps://www.sportscasting.com/meet-breakout-star-gardner-minshew-the-nfls-most-interesting-man/ and even added another 344 yards on the ground. His infectious personality won over both teammates, coaches and the fans—a difficult thing to do given Minshew's status as a late-round flyer.
Minshew and his legendary mustache also come with a team-friendly contract. The second-year pro carries identical $722,721 cap hits in 2020 and 2021. That number increases to just $897,721 in 2022, the final year of his rookie deal. Jacksonville has already shipped several veterans out of town, and Minshew will now get a chance to prove that he's capable of being the face of the franchise.
In one swift move, the Jaguars went from having the NFL's worst quarterback contract to the league's most affordable starter. Now Foles will have to show Chicago whether he was worth the gamble.