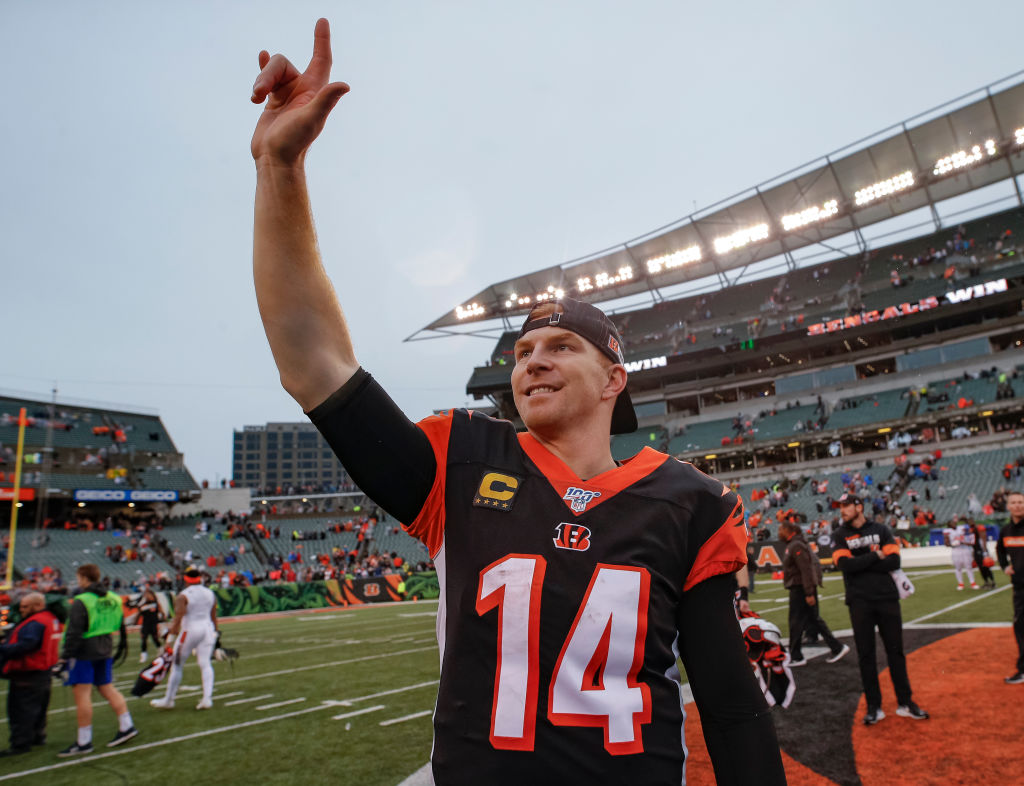 Andy Dalton Made $83 Million Despite Never Winning a Bengals Playoff Game
Andy Dalton made $83 million as the starting quarterback for the Cincinnati Bengals. Yet, he never won a single playoff game.
Before Andy Dalton arrived in 2011, the Cincinnati Bengals had made just two playoff appearances in the last 20 years. That all changed once the former TCU standout replaced Carson Palmer as the face of the franchise. For nine years, the NFL's most prominent ginger held down the starting quarterback spot.
But after missing the playoffs in each of the last five seasons, the Bengals smartly drafted Joe Burrow with the first pick in the 2020 NFL draft. And on Thursday, Dalton officially got released by the Bengals after $83 million in career earnings and zero playoff wins.
Andy Dalton's Bengals career
In a loaded 2011 NFL draft class that saw Cam Newton go No. 1 overall to the Carolina Panthers, Andy Dalton had to wait till the second round to find out his NFL destination. Despite getting drafted after Jake Locker, Blaine Gabbert and Christian Ponder, Dalton far outplayed those first-round flameouts. Taking over a team that just went 4-12, the 6-foot-2, 220-pounder proved to be an immediate hit. Though his raw numbers didn't blow anyone away, Dalton teamed up with fellow rookie A.J. Green to lead the Bengals to a 9-7 record and a spot in the playoffs.
Dalton would lead the Bengals to five straight playoff appearances to start his career. Cincinnati surrounded its franchise QB with a wealth of weapons, including Tyler Eifert, Marvin Jones, Jeremy Hill and Giovani Bernard. That allowed Dalton to earn three Pro Bowl trips. One of Dalton's chief calling cards was his durability. He started all 16 games in six of his first seven seasons. While he didn't ascend to elite status, he provided the Bengals with stability and occasional flashes of brilliance with a healthy supporting cast. Yet, despite posting a winning record in each of his first five seasons, Dalton and the Bengals never quite lived up to the hype.
Cincinnati lost all four of his playoff starts
Considering how awful the Bengals were throughout the '90s and early portion of the 2000s, Andy Dalton looked like a savior. However, his solid regular-season performances couldn't make up for Cincinnati's postseason flops. Dalton led the Bengals to double-digit wins every year from 2012-2015. Yet, once the postseason arrived, Cincinnati routinely shot itself in the foot thanks to some bone-headed plays by Vontaze Burfict and Adam "Pacman" Jones. Of course, Dalton himself didn't exactly look like Tom Brady under the playoff microscope.
A truly well-balanced team, the Bengals somehow manage to lose five consecutive Wild Card games. Dalton may not have been responsible for the 2015 debacle against the Steelers, but he certainly didn't impress in his four postseason starts. In fact, he was downright terrible. Cincinnati's franchise QB completed just 55.7 percent of his attempts for one touchdown and six interceptions. His 57.8 quarterback rating in the postseason represented a nearly 30-point drop from his regular-season average of 87.5. When it mattered most, Andy Dalton didn't deliver.
Bengals released Dalton after he earned $83 million
Dating back to last season, there was no doubt that Andy Dalton's time had run its course. An injury-laden Bengals squad finished with the NFL's worst record (2-14) and earned the No. 1 overall pick in the 2020 NFL draft. Cincinnati drafted Burrow to be their new face of the franchise. And on Thursday, the team officially released its longtime quarterback.
Andy Dalton's nine-year Bengals career may have ended, but he certainly made a ton of money as an above-average starter with a winless playoff record. According to Over the Cap, the 2011 second-round pick earned $83.5 million from the Bengals. His $5.2 million rookie deal paled in comparison to the gigantic six-year, $96 million extension he signed in 2014.
With seemingly no starting quarterback jobs open, it'll be interesting to see where the veteran lands. The New England Patriots seem like a logical spot with Brady playing in Tampa. Jacksonville could also be in play, as Dalton could compete with Gardner Minshew and even serve as a mentor. Wherever he ends up, Andy Dalton won't have to worry about the money after he made $83 million despite delivering zero playoff wins for the Bengals.