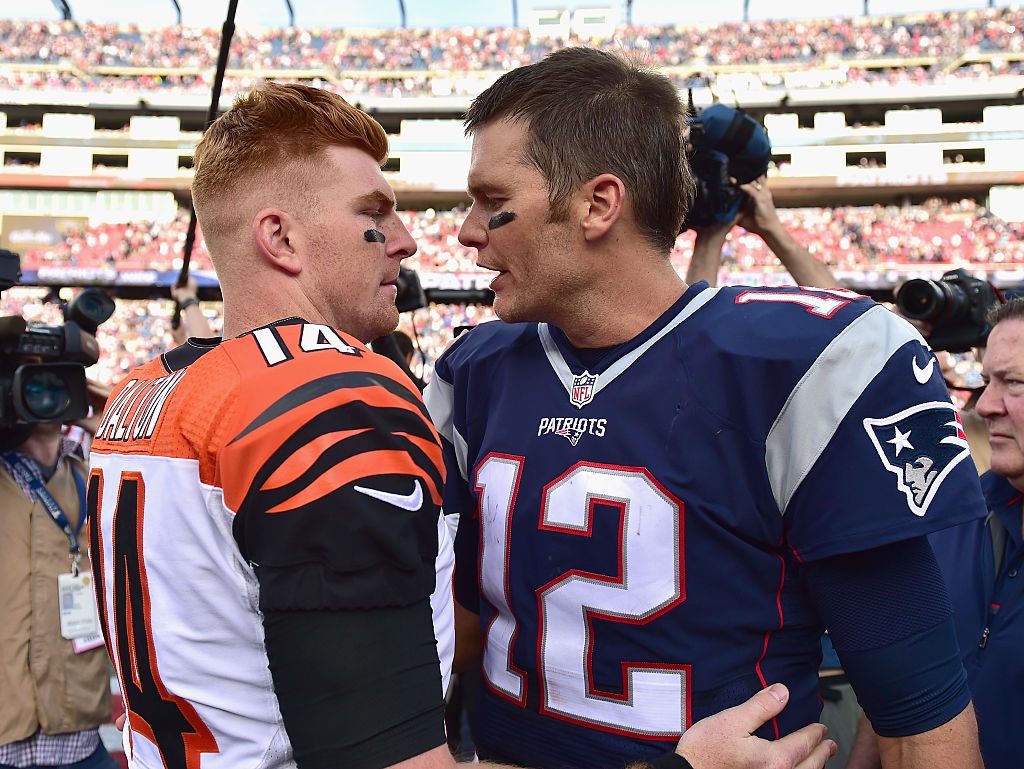 Could Andy Dalton Be a Viable Replacement for Tom Brady?
One former Patriots coach believes Andy Dalton can capably run the New England Patriots' offense if Tom Brady leaves.
On the surface, Tom Brady and Andy Dalton don't have a lot in common.
Brady has six rings. Dalton has none.
Brady has won three MVP awards. Dalton has none.
Brady will be a first-ballot Hall of Famer. Dalton isn't even the best quarterback in his own division.
Despite their marked differences, that doesn't mean they don't have some similarities. They both play quarterback. And both play in the AFC.
And if Brady intends on leaving New England, it could be Dalton who lines up behind center in Foxboro this season. At least that's what one former Patriots coach thinks.
Dalton experienced early success with strong surrounding cast
While he has yet to lead the Cincinnati Bengals to a Super Bowl, Dalton has provided much-needed stability to a franchise that had a bad reputation for many years.
A second-round pick in the 2011 draft, the former Texas Christian University standout stepped in as a rookie and started all 16 games. On his way to leading the Bengals to a 9-7 record and a playoff berth, Dalton threw for 3,398 yards, 20 touchdowns and 13 interceptions. He followed up with four consecutive double-digit win seasons.
During that four-year stretch, Dalton took a major leap forward as the talent around him improved. Cincinnati produced excellent draft results during that time, bringing in building blocks like Kevin Zeitler (2012 first-round pick), Mohamed Sanu (2012 third-round pick), Marvin Jones (2012 fifth-round pick), Tyler Eifert (2013 first-round pick), Giovani Bernard (2013 second-round pick) and Jeremy Hill (2014 second-round pick). Oh, they also had A.J. Green already in the fold.
That group gelled quickly into a perennial playoff contender and a legitimate threat to the Baltimore Ravens and Pittsburgh Steelers in the AFC North.
Dalton's best season came in 2015 when he threw 25 touchdowns and just seven interceptions in 13 games. He also set career-bests in quarterback rating (106.2), completion percentage (66.1) and yards-per-attempt (8.4).
Dalton is coming off his worst season as a pro
Unfortunately, the Bengals experienced multiple personnel losses over the last four years. Eifert and Green couldn't stay healthy. Hill and Bernard flashed quickly before fading. Sanu and Jones departed in free agency.
Dalton has also missed some time with injuries the last two seasons, but has still been fairly productive when on the field. However, the offense never matched its explosive form again.
It finally bottomed out last season due in large part to injuries. Green missed the entire season with an ankle injury. First-round pick Jonah Williams tore his labrum in OTAs. With their personnel decimated, the Bengals went 2-11 in head coach Zac Taylor's first year at the helm.
Dalton posted the worst stat line of his career in his fourth consecutive losing season.
Former Patriots offensive coordinator believes Dalton is the best fit
Despite Dalton's shortcomings and recent injuries, he has one big fan in Charlie Weis. The former New England offensive coordinator has intimate knowledge of the team's system; he engineered most of its principles after all.
In the event Brady does depart for greener pastures, Weis pegs Dalton as the perfect system fit.
Weis credited Dalton for his winning pedigree and pointed at the recent run of injuries to his weapons for Cincinnati's shortcomings.
How the Patriots proceed in a post-Brady world is a complete unknown. The team does have promising second-year quarterback Jarrett Stidham already in the building. Do they feel comfortable with him as a starter after essentially redshirting as a rookie?
Dalton does seem like the ideal bridge quarterback who isn't too washed up to make an impact for at least the next few seasons. The Patriots would likely have to execute a trade for the veteran QB provided the Bengals don't outright cut him.
Of course, this may all be moot if Brady comes back.
Don't keep Patriot Nation waiting, Tom.