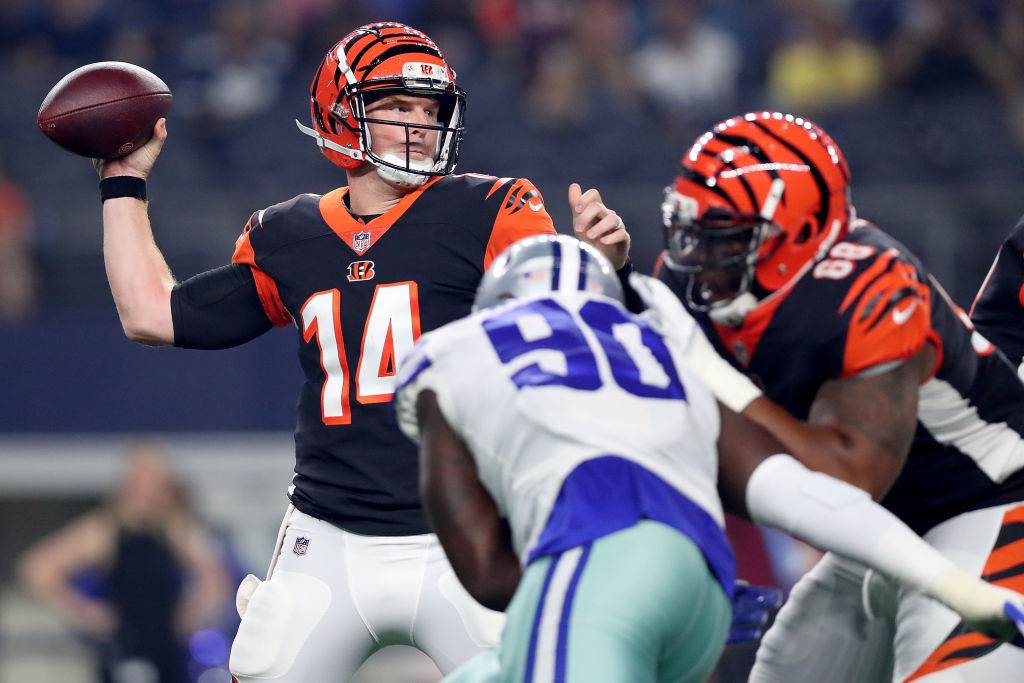 Andy Dalton Gives the Cowboys Better Bang For Their Buck Than Dak Prescott Ever Will
The Cowboys have more than enough weapons to win with Andy Dalton on a cheap deal rather than paying Dak Prescott a record-setting contract.
The Dallas Cowboys surprised everyone by signing Andy Dalton to a one-year deal late Saturday night. Though he banked with the Cincinnati Bengals, the Red Rifle failed to deliver a Super Bowl title during his nine-year tenure. Still, Cowboys owner Jerry Jones showed no qualms about putting the pressure on Dak Prescott while also securing a more-than-serviceable backup who could very well start for some NFL teams.
While Prescott's contract negotiations have been the overarching storyline this offseason in Dallas, the lack of a long-term contract may be a blessing in disguise. There's no doubt that the incumbent starter has more talent than his new red-headed teammate. But given the Cowboys' plethora of weapons, Andy Dalton provides far more value on his cheap one-year deal than Dak Prescott ever will on his projected record-setting contract.
Andy Dalton joined the Cowboys after an underrated Bengals career
Originally a second-round pick in the 2011 NFL draft, Andy Dalton spent nearly a decade as the Bengals' starting quarterback. A few notches below elite status, he still carved out a respectable career. Considering he played for one of the worst franchises in football, Dalton's 70-61-2 career record should impress Cowboys fans. The three-time Pro Bowler began his Bengals career by leading the team to five straight playoff berths. Neither Tony Romo nor Dak Prescott can make that claim, though Prescott still is in the infancy stage of his NFL career.
As the NFL's worst team in 2019, Cincinnati utilized the No. 1 overall pick in the 2020 NFL draft on LSU star Joe Burrow. A highly proficient passer with understated swagger, the Heisman Trophy winner made Dalton expendable. Cincinnati released its longtime starting quarterback last Thursday, but he didn't have to wait long to find a new NFL home.
In a move that no one saw coming, the veteran QB signed a one-year deal with the Cowboys on Saturday. Adam Schefter reported that Dalton's deal includes $3 million guaranteed with another $4 million in incentives. Considering Jameis Winston received just $1.1 million from the New Orleans Saints to be Drew Brees' highly-paid intern, it represented a decent payday for the nine-year vet. More importantly, Andy Dalton landing in Dallas could be viewed as a message from Jerry Jones to Prescott that the team has a more than serviceable starting option on a ridiculously cheap deal.
Jerry Jones still hasn't signed Dak Prescott to a long-term contract
Dak Prescott's contract situation has been a hot topic dating back to the beginning of the 2019 season. He turned down a big offer, bet on himself, and set career-highs in passing yards and touchdowns. Earlier this spring, Prescott turned down a $33 million annual offer. With no agreement in sight, the Cowboys smartly placed the franchise tag on their talented quarterback.
Prescott will turn 27 this summer and still has room to grow. But given his 1-2 playoff record and inconsistent four-year career, it's easy to see why Jerry Jones has yet to acquiesce to his demands. Dallas has already handed out massive contracts to Ezekiel Elliot and Amari Cooper. The offensive line is also one of the most expensive in the NFL. Can the Cowboys remain competitive by making a quarterback who's probably closer to a top-10 player at his position rather than a top-five one the highest-paid player in the game?
Cowboys can win with Dalton at a much cheaper price
There's no world in which Andy Dalton is objectively a better quarterback than Dak Prescott. However, from a value standpoint, the argument changes. Dallas has a fantastic offensive infrastructure in place. You could argue the Cowboys have the best running back in the NFL. You could also make a strong case that their trio of Cooper, Michael Gallup and CeeDee Lamb also ranks No. 1. And let's not forget about an offensive line that features Tyron Smith, Zack Martin and La'el Collins.
No NFL team boasts such a complete offensive lineup. And when you factor how much Dallas has invested in that supporting cast, does it really require an expensive quarterback to score points? Sure, Prescott's mobility and overall arm talent exceed Dalton's. But hamstringing their salary-cap situation and investing more than $100 million guaranteed in Prescott doesn't provide nearly the same value as letting Dalton—who has a history of success when given strong weapons—be a $7 million starter.
Jerry Jones didn't become a billionaire by making bad business decisions. He's an incredibly passionate owner who deeply desires to bring a Super Bowl title back to Dallas. If he intends on hoisting another Lombardi Trophy during his lifetime, the 77-year-old would be smart to realize that Andy Dalton can capably run Mike McCarthy's offense and make use of the NFL's strongest supporting cast. And with a contract that carries a maximum value of just $7 million, Andy Dalton would provide the Cowboys with more bang for their buck than Dak Prescott ever will given his exorbitant price tag.