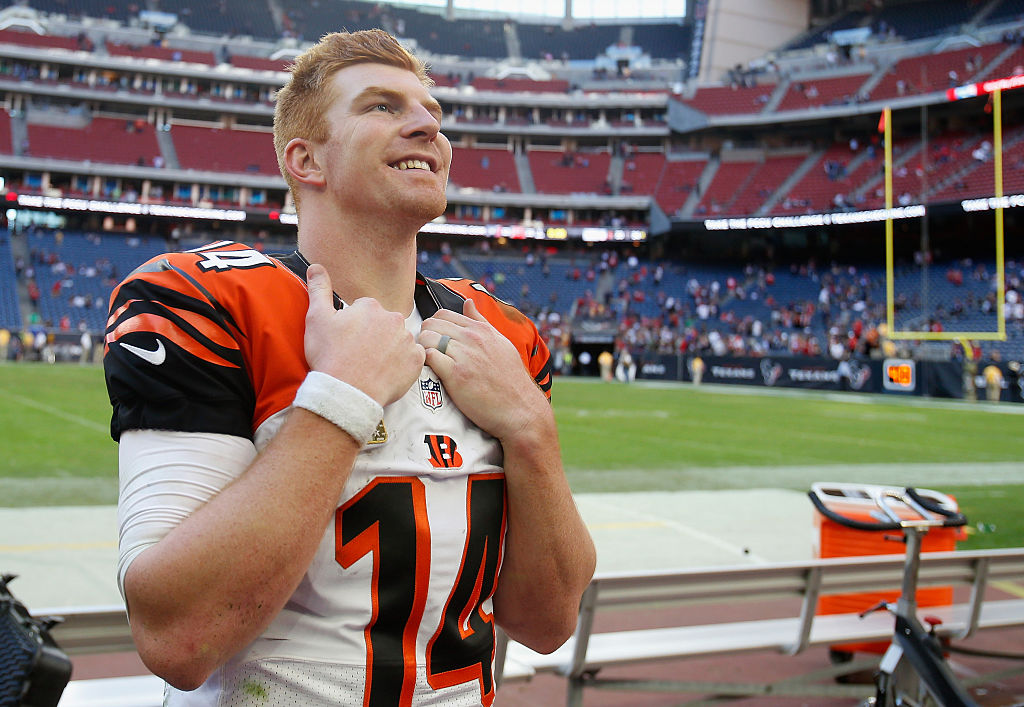 Andy Dalton a Good Fit to Back up Dak Prescott With the Dallas Cowboys
Former Cincinnati Bengals quarterback Andy Dalton is a good fit for the Dallas Cowboys to back up Dak Pescott.
It didn't take long for former Cincinnati Bengals quarterback Andy Dalton to land with a new team. The Dallas Cowboys signed the recently released Dalton on Saturday. According to ESPN's Adam Schefter, the deal is for one year and is worth up to $7 million with $3 million guaranteed.
Andy Dalton heads back to Texas
Although he spent all nine of his years in the NFL with the Cincinnati Bengals, Dalton is returning home. Born in Katy, Texas, Dalton played his college ball at Texas Christian University where he was the starting quarterback all four seasons.
At TCU, he threw for 10,314 yards and racked up 71 touchdowns, while completing better than 61 percent of his passes. He really burst onto the scene in his junior year when he threw for 23 touchdowns and 2,756 yards. He followed that up with an even better senior year with 27 touchdowns and 2,857 yards.
Dalton went on to be selected by the Cincinnati Bengals in the second round of the 2011 NFL draft. He was the fifth quarterback selected in the draft. Cam Newton was taken first overall by the Carolina Panthers. Jake Locker (No. 8), Blaine Gabbert (10), and Christian Ponder (12) were selected ahead of Dalton, who was taken with the 35th overall pick.
Dalton steady in Cincinnati
Although Andy Dalton seems to get a bad rap as a quarterback, his career in Cincinnati was petty good. He compiled a 70-61-2 record in his career, despite going 2-11 this past season. He began his career in Cincinnati with five straight winning seasons.
Dalton has never won a playoff game. In fact, he's struggled when it has come down to postseason play. He was 0-4 as a playoff starter and threw just one touchdown in those four games. Dalton was picked off six times in the playoffs and completed just 55.7 percent of his passes.
With the Bengals, he is the team's all-time leader in touchdown passes with 204 and completions with 2,757. He is a three-time Pro Bowler and had his best statistical season in 2013 when he threw for 33 touchdowns and 4,293 yards. He didn't make the Pro Bowl that season. Dalton became expendable when the Bengals selected LSU quarterback Joe Burrow with the first pick in the 2020 NFL draft.
A good fit in Dallas
It's no surprise Andy Dalton was scooped up quickly. Rumors had the New England Patriots or Jacksonville Jaguars possibly bringing him in. the Cowboys, however, wasted no time in signing him. Dalton initially won't be anything but a backup to Dak Prescott.
Dalton's experience gives the Cowboys some much-needed insurance at the quarterback position. Prior to the signing, Dallas' other quarterbacks were Cooper Rush and Ben DiNucci. Neither quarterback had any valuable NFL experience.
For a player with nine years of NFL experience, Dalton comes with a relatively low price tag. Prescott is still seeking a long-term deal to remain in Dallas, but clearly has a hold on the starting job. Dalton is simply there if something were to happen to Prescott. He's a veteran insurance policy and Cowboy fans can breathe a little easier if they were to have to turn to their backup quarterback.