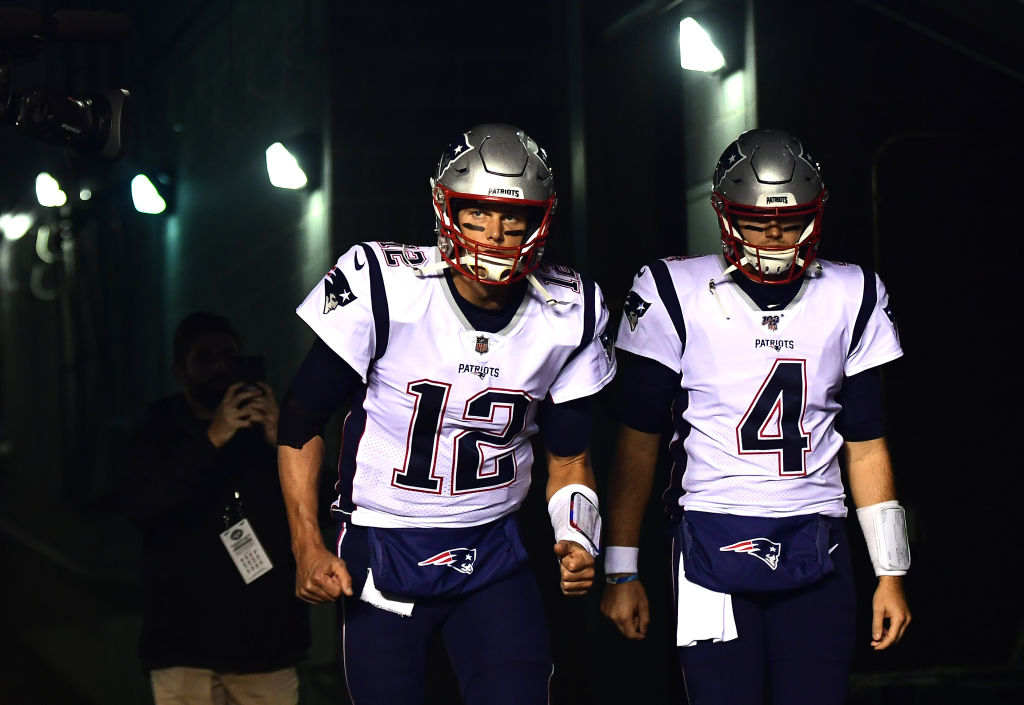 Why Jarrett Stidham Will Succeed as Tom Brady's Heir for the Patriots
Jarrett Stidham may be young, but he has all the tools to succeed Tom Brady as the Patriots' franchise quarterback.
Jarrett Stidham threw a pick-six on his first NFL drive. That didn't exactly inspire confidence in Bill Belichick's drafting acumen. But smart New England Patriots fans know it takes time for players to develop. After all, Julian Edelman wasn't an overnight success story. James White barely saw the field as a rookie before becoming a Super Bowl hero. Even Tom Brady needed time to develop before seizing the starting job once Drew Bledsoe got injured.
Patriots fans may be understandably nervous about the future of the NFL's most successful franchise. That's part of the problem with Brady's departure. New England has never truly had a question mark at the most important position in football for 20 years. But fear not, Patriot Nation. Belichick already has Brady's replacement on the roster, and his name is Jarrett Stidham.
Jarrett Stidham was a top QB recruit before landing at Baylor
A former receiver turned quarterback, Jarrett Stidham developed into a star at Stephenville High. The Texas native only threw a single interception as a senior and signed with Baylor as a highly-coveted five-star recruit. In fact, 247Sports rated him as the No. 1 dual-threat quarterback and No. 13 overall player in the country.
As a true freshman, Stidham earned ample playing time after the Bears' starter went down with an injury. He completed 68.8 percent of his passes for 1,265 yards (11.6 yards per attempt). Most impressively, he posted a stellar 12:2 touchdown-to-interception ratio. However, he decided to transfer to the SEC.
Patriots QB showed plenty of flashes at Auburn
After sitting out a year, Stidham became the starter at Auburn. He didn't disappoint. Despite playing with an average cast of weapons outside of Kerryon Johnson, he led the Tigers to an impressive 10-4 record. Once again, he showed tremendous accuracy and decision-making. He threw 18 touchdowns and just six interceptions while adding another four rushing TD.
The most impressive part of Stidham's first year was his performance in primetime SEC matchups. After a rough outing against LSU, he ripped off a three-touchdown effort against Texas A&M. He followed up with another clean game against Georgia (69.6 completion percentage and three TD). And he most notably completed 75 percent of his passes in a stunning upset over Alabama. By the end of the 2018 season, Stidham looked like a future first-round pick.
Unfortunately, he regressed slightly in his final year at Auburn. However, the Tigers' offensive system didn't suit Stidham's strengths. And looking at his receivers and running backs, it's easy to see why he failed to elevate his game in his final collegiate season. Excuses aside, Stidham said all the right things in the pre-draft process and has never tried to blame his former teammates or coaches for his draft-stock slide.
Bill Belichick has been building for life after Tom Brady
When the Patriots selected Stidham in the fourth round of the 2019 NFL draft, it definitely raised some eyebrows. New England hadn't selected a quarterback that high since making Jacoby Brissett the 91st overall pick in 2016. To add more fuel to the fire, Brady negotiated a raise that would allow him to become a free agent at the end of the 2019 season.
In actuality, the Stidham pick was only the latest personnel move Belichick made to prepare for life after Brady. Don't forget that he drafted a left tackle and a running back with his first two picks in 2018. Before Stidham came off the board, the Patriots used their top pick on wide receiver N'Keal Harry. New England drafted three more offensive pieces (running back Damien Harris, offensive tackle Yodny Cajuste and guard Hjalte Froholdt) before making Stidham the 133rd pick.
In the last two draft classes alone, Belichick drafted 10 offensive players, including five in the first three rounds. New England also found a potential gem in undrafted free agent Jakobi Meyers. This offseason, the Patriots surprisingly used the franchise tag on Joe Thuney—a move that could help provide protection for their new franchise QB.
Jarrett Stidham's teammates are confident in his abilities
While the Patriots still need to fortify their offense, especially at the tight end position, there seems to be a concerted effort to build a new, young nucleus on offense. The crown jewel, of course, is Jarrett Stidham. In the 2019 preseason, he completed 67.8 percent of his passes for four touchdowns and just one interception. He also ran for 88 yards and easily had the best preseason performance of any rookie quarterback in Belichick's tenure. After beating out Brian Hoyer for the backup job, he threw just four passes in the regular season.
Despite his inexperience, he earned the confidence of one of the Patriots' most respected veterans. Recently retired tight end Ben Watson spoke candidly about Stidham's future. And considering he spent both the beginning and end of his career catching passes from Tom Brady, it's safe to say he's an expert in elite quarterback play:
"I've seen a lot of guys who come in with a lot of hype who didn't pan out. I've seen guys who came in under the radar and turned into superstars," Watson told Fox Sports 1's "First Things First" on Tuesday. "Stidham has all that there needs to be for somebody who's going to be successful. He's a student of the game. You hear that a lot, but what that really means is that when we're in the meeting rooms, he's paying attention."

Those words should carry weight for Patriots fans. The 20-year dynasty began on the back of a quarterback who many doubted could make an NFL roster, let alone become the greatest quarterback of all time. Jarrett Stidham possesses all the physical tools necessary to excel. He seems to have the attitude and mental acumen to master New England's system. Perhaps Josh McDaniels and Belichick will even alter the offense to play to his dual-threat capabilities. There's still much to prove, but Patriots fans should be confident that Jarrett Stidham will thrive as Tom Brady's heir.