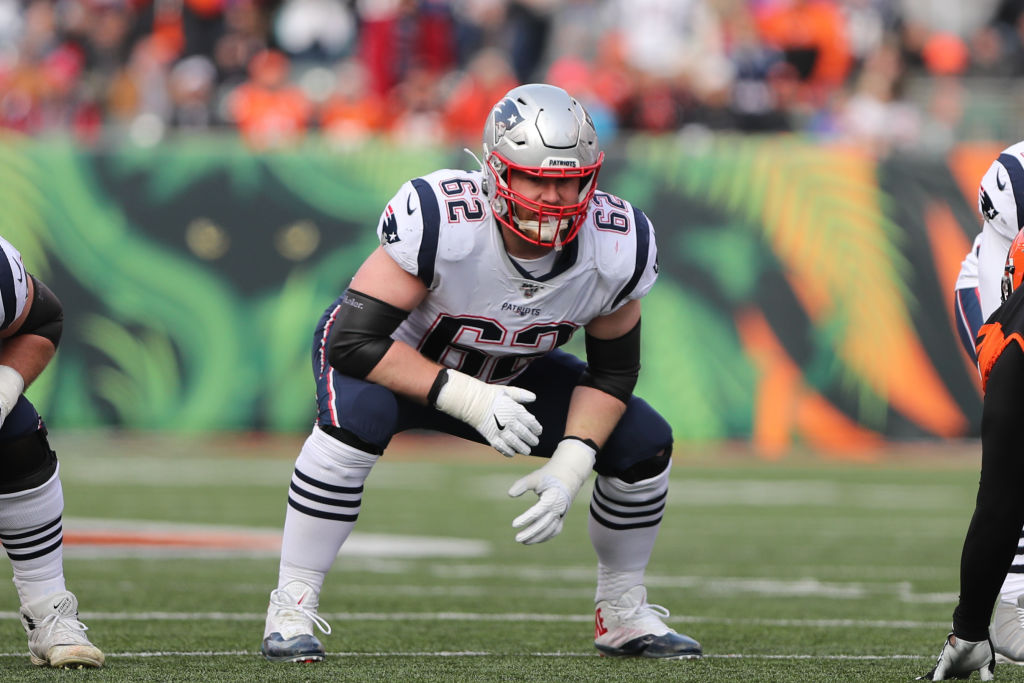 Why Joe Thuney Could Be a Valuable Trade Chip for Patriots
The Patriots used the franchise tag on Joe Thuney. Will they sign him to an extension or use him as a trade chip to upgrade on offense?
Joe Thuney embodies "The Patriot Way" in every sense of the phrase. From arriving as a mid-round draft pick to developing into the NFL's preeminent iron man, Thuney ranks as one of the best draft picks of the Bill Belichick regime.
The New England Patriots smartly (and surprisingly) placed the franchise tag on their stalwart left guard on Monday. While most of the focus has been on Tom Brady's future, Thuney's departure seemed like a foregone conclusion. But after tagging him, the Patriots can attempt to work out a long-term deal. And if that route doesn't work, Thuney could turn out to be a valuable trade chip for a team in desperate need of impact playmakers.
Joe Thuney has started every game since his rookie season
For Belichick, one of a player's greatest assets is availability. And in the case of Thuney, literally no other player in the NFL has been more available and reliable since he entered the league in 2016. Though he was touted for his versatility coming out of North Carolina State, Thuney has remained entrenched at left guard since his rookie season. His steadying presence has been critical for a team that has undergone some shuffling at left tackle following the free-agent departures of Nate Solder and Trent Brown in consecutive offseasons.
From an on-field standpoint, Thuney's agility and ability to climb to the second level has been a major part of New England's running game. In pass protection, his sound technique and quick footwork have helped him shut down some of the league's top interior rushers. In Super Bowl LIII against the Rams, Thuney helped hold two-time Defensive Player of the Year Aaron Donald to just five tackles and no sacks.
Patriots place franchise tag on Joe Thuney
As a third-round pick, Thuney played the first four years of his career on a modest contract. The 2019 second-team All-Pro was expected to draw significant interest in free agency and would have likely been off the board on the first day. Of course, the Patriots threw a wrench in that plan by placing the franchise tag on the 27-year-old.
By tagging Thuney, the Patriots kept their coveted lineman off the market…for now. While there have been early reports that the Patriots would like to work out a long-term extension, that may not be possible given New England's limited cap space. And with another highly paid guard already on the roster in Shaq Mason, the Patriots may not be able to devote that much money to a single position.
What could the Patriots receive in a trade for Joe Thuney?
If Thuney and the team can't come to terms, he instantly becomes a valuable trade chip. The NFL has a major offensive line shortage—a situation the Patriots should capitalize on. With teams signing offensive linemen to massive deals on the first day of free agency, a few that missed out would likely give Belichick a call to find out his asking price.
Ultimately, the Patriots could shoot for a second-round pick. That draft capital would be a fair price to pay considering the new team would also have to give Thuney a market-setting contract extension. For the Patriots, that second-rounder would be incredibly valuable. New England already traded its 2020 second-rounder to the Falcons for Mohamed Sanu. That loss of draft capital could be crippling for a team that needs to upgrade at wide receiver, tight end, defensive line and potentially quarterback.
Alternatively, New England could also look for a player-for-player swap. That might be more difficult because Thuney needs a new deal, but the Patriots have never shied away from the trade market. Either way, the next few days will be interesting to watch. If New England's financial flexibility allows for it, Thuney should be a Patriots lifer. On the other hand, he could simply be another asset for Belichick to cash in.