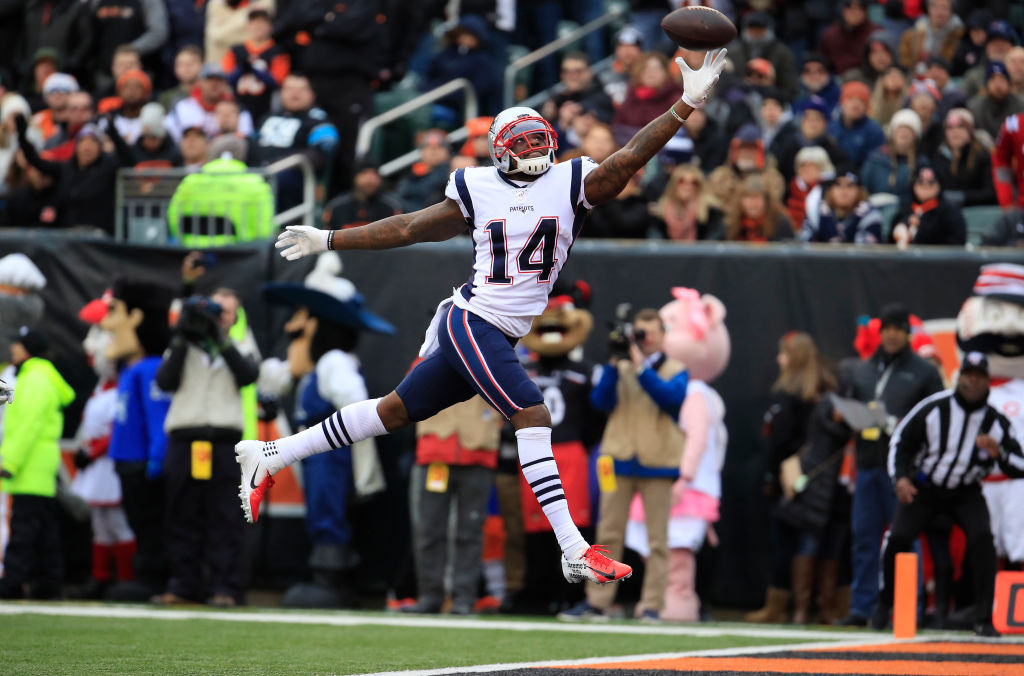 Why Hasn't Mohamed Sanu Clicked with Tom Brady and the New England Patriots' Offense?
Mohamed Sanu was supposed to be Tom Brady's new go-to receiver, but things haven't worked out. Why hasn't Sanu hit his stride in New England?
In the modern NFL, Tom Brady, Bill Belichick, and the New England Patriots have been a model of consistency. No matter which players take the field on Sunday, the club always seems to put together a winning season and make a run at the Super Bowl title. This season, however, has been a little different; the offense is struggling, and the in-season addition of Mohamed Sanu didn't seem to help.
The wide receiver, however, recently explained why things haven't clicked yet in New England. Even Tom Brady can't make a new player comfortable overnight.
Even with Tom Brady, the Patriots offense has struggled
Tom Brady is arguably the greatest quarterback of all-time. But this season, he hasn't been putting up massive numbers; in fact, the entire New England Patriots offense has struggled.
In terms of pure counting numbers, New England currently ranks 16th in total yards per game. When you split the offense up, the Pats are ninth in passing yards per game and 19th in rushing yards per outing. Things simply haven't clicked, and even Tom Brady is feeling the frustration.
While Brady and Belichick have made patchwork offenses look like world-beaters, this season's roster seems to be a bit too unbalanced. Without Rob Gronkowski, opposing defenses don't have a great deal to worry about; they can keep an extra man in the box against the run, knowing that the only real receiving threat is Julian Edelman. Mohamed Sanu was supposed to help share the burden, but things haven't worked out.
Mohamed Sanu's issues adjusting to New England
At the end of October, the New England Patriots traded for Mohamed Sanu. While the move looked great on paper—giving Tom Brady a solid possession receiver seemed like a no brainer—things haven't worked out as we imagined.
Sanu has appeared in seven games with the Patriots, catching 23 total passes for 172 yards. While he's been bothered by a nagging ankle injury, the veteran wideout has struggled with another issue: after spending the last three seasons in Atlanta, he's still adjusting to a new offense.
"I haven't really scratched the surface yet of what I know I can do," the receiver explained, via ESPN's Mike Reiss. "Getting adjusted to things people have known for years, or months, you have to catch up. It's a lot of little details of things. I've been getting right up to speed. It's just little things you can't teach; they just have to be done. It's the difference between knowing and doing."
Don't count Mohamed Sanu out in the postseason
While Mohamed Sanu hasn't found his footing in New England, don't count him out in the playoffs. The Patriots' coaching staff likes what they're seeing from the veteran receiver.
"Our system is different than the ones he's played in before, so he's done a great job of trying to acclimate to what that terminology is and what his role is each week. He is still continuing to grow in our foundation," offensive coordinator Josh McDaniels said. "I'm happy with what he's doing, the direction we're headed, and the progress hopefully we can continue to make with him. That's a big thing for us moving forward."
Once the postseason begins, there's no one better at designing a specific, one-off gameplan than Bill Belichick. He'll create a scheme to give Mohamed Sanu opportunities; it will be up to the receiver to take advantage of those chances.
If history has taught us anything, it's that you bet against the Patriots at your own risk.