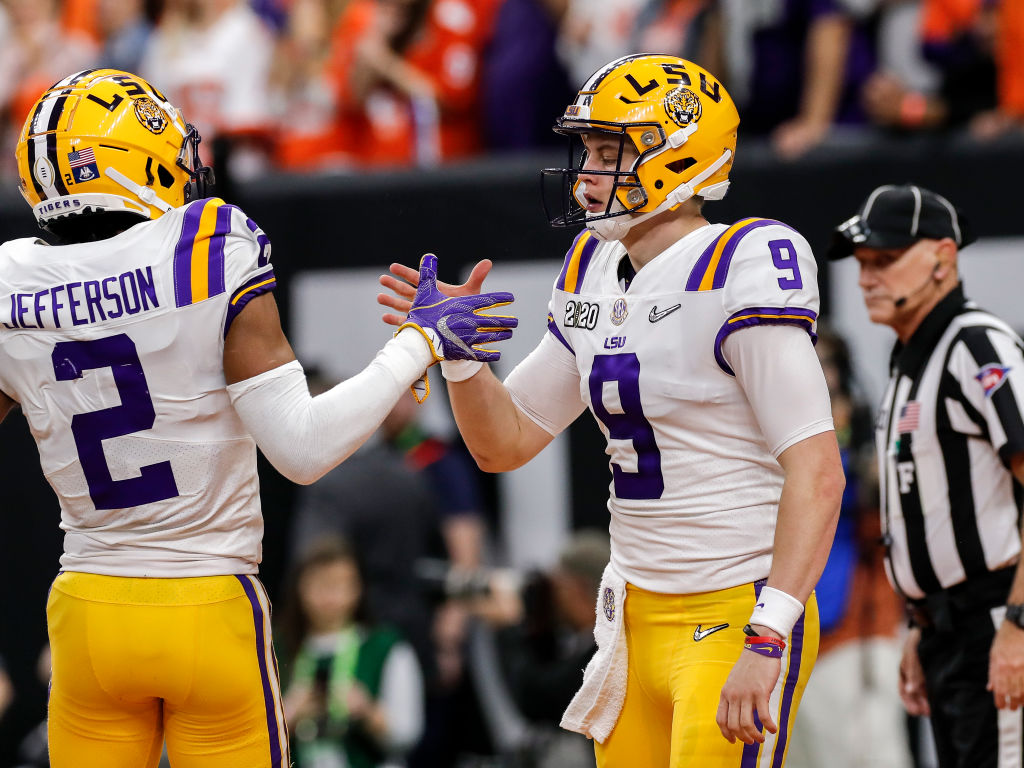 Joe Burrow and LSU's Record-Setting NFL Draft Class Can Earn $124 Million
With Joe Burrow heading to the Bengals, LSU's record-setting 14-man NFL draft class could make up to $124 million in rookie contracts.
From winning the Heisman Trophy to leading the LSU Tigers to a national title to going No. 1 overall in the 2020 NFL draft, it's been an unforgettable year for Joe Burrow. He cashed in on an unexpectedly dominant senior season and will now try to transform the Cincinnati Bengals into a playoff contender. While Burrow deservedly garnered widespread attention for his rise from late-round NFL draft prospect to first overall pick, he's simply the crown jewel of a record-setting LSU draft class that will break the bank with nearly $124 million in rookie contracts.
Joe Burrow changes his stripes from Tigers to Bengals
Coming off an uninspiring junior campaign in which he threw just 16 touchdowns, Joe Burrow entered the 2019 college football season with little hype. All of that changed when LSU hired Joe Brady as its passing-game coordinator. Together, the two Joes transformed an archaic Tigers offense into the most explosive unit in the history of college football. Unlike Aaron Rodgers, the talented quarterback had plenty of weaponry to work with. Burrow spread the ball effectively to future first-rounders Justin Jefferson and Clyde Edwards-Helaire. The Heisman winner totaled 5,671 passing yards, 60 touchdowns and a ridiculous 76.3 completion percentage.
Burrow's breakout season culminated in LSU's first national championship since 2007. Highly-respected by NFL scouts and evaluators, the record-setting signal-caller watched his draft stock fly through the roof. Checking all the boxes in terms of maturity, leadership, toughness and accuracy, Burrow put NFL teams at ease in a draft class with big questions at quarterback. With teams rightfully concerned about Tua Tagovaoila's extensive injury history, the LSU star rose to QB1. The Bengals wisely turned down trade offers for the top pick and ensured Joe Burrow would change his gold and purple stripes for orange and black.
LSU set an SEC record with 14 players drafted
Considering all of their collective accomplishments, the Tigers saved one more record for the 2020 NFL draft. Once Burrow went off the board, he didn't have to wait long for another LSU standout to join him as a first-round pick. Four more Tigers went off the board on Thursday, including K'Lavon Chaisson, Justin Jefferson, Patrick Queen and Edwards-Helaire.
It only got better from there. On Day 2, another quintet of Tigers found NFL homes. Safety Grant Delpit went 44th overall to the Cleveland Browns. Fellow defensive back Kristian Fulton went 17 picks later to the Tennessee Titans. LSU's dominant interior offensive line duo of Damien Lewis and Lloyd Cushenberry became third-round selections.
On the final day of the 2020 NFL draft, four more LSU players got life-changing phone calls. The Redskins took a fourth-round flyer on Saadhiq Charles after finally trading disgruntled left tackle Trent Williams. Even LSU's long-snapper got drafted when the Miami Dolphins made Blake Ferguson the 185th player taken.
Burrow and LSU teammates can make up to $124 million on rookie deals
A record-setting team on the field, the LSU Tigers managed to make history off the field, too. Ed Orgeron's team set an SEC record with 14 players drafted. That represented a massive jump from the school's disappointing three-man class in 2019. Overall, the SEC proved why it's widely considered the strongest conference in college football by setting a record with 15 first-round picks.
For Burrow and the rest of LSU's 14-man NFL draft class, big paydays are coming. According to Spotrac, the Bengals' savior will ink a $36 million contract that includes a whopping $23.9 million signing bonus. That represents just a fraction of the class's earning potential. Based on Spotrac's projections, LSU's record-setting draft class will sign rookie contracts totaling $124 million. The Tigers' five first-rounders will make a combined $85.6 million on their initial deals, including $50 million in signing bonuses.

Of course, Coach Orgeron also banked off his team's incredible season. In February, LSU gave its championship-winning head coach a six-year, $42 million contract extension that includes an $8.7 million salary in 2020.