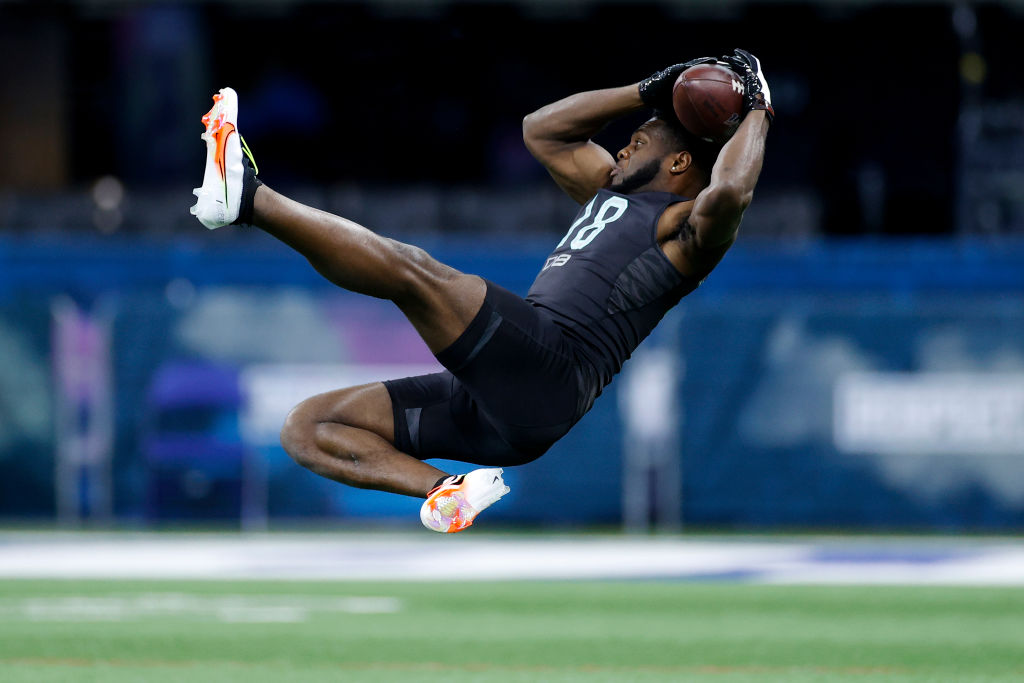 Dolphins' Noah Igbinoghene Has $11 Million Olympic Genes
Noah Igbinoghene parlayed his Olympic genes into an $11 million first-round selection by the Miami Dolphins in the 2020 NFL draft.
When they say the apple doesn't fall far from the tree, that couldn't be more true for Noah Igbinoghene. The speedy cornerback has unique Olympic roots that helped him become a highly coveted NFL draft prospect. On Thursday, the product of perhaps the most athletically gifted parents parlayed his Auburn career into a first-round selection by the Miami Dolphins.
While Tua Tagovaoila understandably received all the attention on draft night, Igbinoghene has the talent, drive and pedigree to develop into a defensive weapon for Brian Flores. And thanks to his Olympic genes, he turned a solid SEC career into an $11 million NFL contract.
Noah Igbinoghene's Olympian roots
While some players like Tom Brady have overcome athletic limitations to become NFL stars, others have utilized genetic gifts to ascend to elite status. Though Noah Igbinoghene has yet to play an NFL down, he has a leg up on the league given his Olympian roots. According to Yahoo Sports, the Dolphins' third first-round pick is the son of Nigerian track and field athletes who competed in the Olympics.
Igbinoghene's mother, Faith Idehen, earned bronze in the 1992 Olympic 4x100m. That group earned the first medals for Nigerian women. Their celebration was also went down in history — after a scoreboard-watching wait, they shrieked, jumped and group-hugged.
As if that wasn't impressive enough, both of Igbinoghene's parents spent their college careers dominating the same conference as their son, the SEC. His father, Festus, competed for Mississippi State before placing 35th in the triple jump at the 1996 Olympic Games in Atlanta. His mother also starred in the SEC at Alabama before becoming an Olympian. Even Noah Igbinoghene himself spent years as a track star. According to Yahoo Sports, he placed eighth in the long jump at the 2019 SEC Championships.
Dolphins took Igbinoghene with 30th pick in 2020 NFL draft
The Dolphins entered the 2020 NFL draft with a trio of first-round picks. They patiently waited as Tua fell right into their laps at No. 5. Thirteen picks later, they took Austin Jackson from USC to protect their new franchise quarterback. After trading down with the Green Bay Packers so they could select Jordan Love, Miami made Noah Igbinoghene with the 30th overall pick.
At first, the selection seemed a bit of a head-scratcher. Miami signed Byron Jones to a record-setting deal to pair with homegrown star Xavien Howard. However, given Flores' New England background, he knows all too well about the importance of a strong secondary. By selecting the former Auburn star, the Dolphins got a highly athletic nickel corner who boasts 4.48 speed and a 37-inch vertical. NFL draft expert Lance Zierlein spoke highly of Igbinoghene in his scouting report:
Stocky but explosive receiver-turned-cornerback whose play generates both intrigue and concern. He's extremely physical from snap to whistle with the strength to alter route timing from press. He's a good athlete with a plus burst to close. He's naturally aggressive to ambush catch tries. Staying in phase on the vertical plane is a challenge and pattern recognition is surprisingly average. Improvement is likely with more experience and technique, but playing with downfield poise is not guaranteed. He's good in run support and offers early special teams help as he continues to learn his craft.

Zierlein compared the Dolphins' latest secondary addition to Darqueze Dennard, who went 24th overall in the 2014 NFL draft to the Cincinnati Bengals.
Former Auburn star gives Miami a top-notch secondary
By going 30th overall, Noah Igbinoghene cashed in on his Olympic genes. According to Spotrac, the 20-year-old should receive an $11.25 million contract that includes a solid $5.74 million signing bonus. As a first-round pick, his four-year contract will also include a fifth-year option. Needless to say, football pays much better than track.
As a raw prospect with tremendous upside, Igbinoghene may not play right away. However, he provides the Dolphins with yet another athletic chess piece on a much-improved defense. This offseason, general manager Chris Grier spent heavily in free agency to upgrade a talent-deficient unit. With Kyle Van Noy, Shaq Lawson, Elandon Roberts and Emmanuel Ogbah in the fold, Miami should boast a stout front seven.
And by capping off their sensational first round by selecting Noah Igbinoghene, the Dolphins have one of the most complete secondaries in football. Don't sleep on them challenging for a playoff spot in 2020.