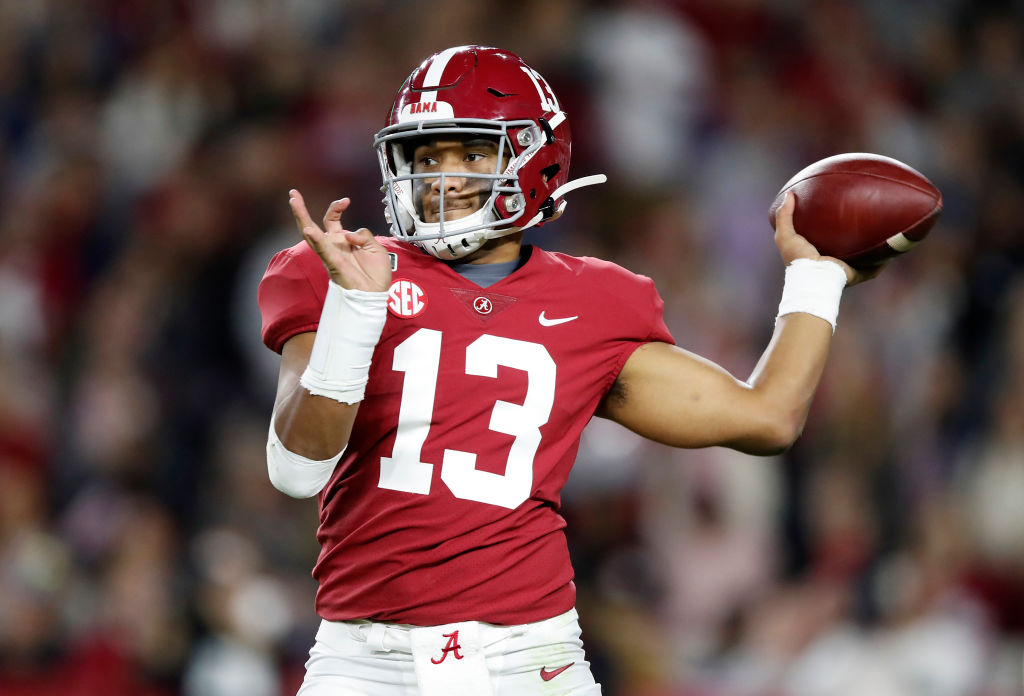 Here's How Tua Tagovailoa Becomes Alabama's Greatest NFL Quarterback
Tua Tagovailoa will be following some great Alabama quarterbacks into the NFL when he suits up for the Miami Dolphins.
Tua Tagovailoa becomes the fifth-best NFL quarterback ever out of the University of Alabama as soon as he posts his first game with 300 yards and three touchdown passes. He moves up to No. 4 the day he repeats that feat.
Breaking into the top three of all-time Crimson Tide signal-callers in the Sunday league will be a little tougher for Tagovailoa, however, because Alabama has quite the history of NFL quarterbacks.
Tua Tagovailoa's college career was short but impressive
The Miami Dolphins made Tua Tagovailoa the fifth overall pick in the 2020 NFL draft on Thursday, casting aside concerns about the left-hander's medical history, specifically the hip injury that ended his 2019 season after nine games.
With 37-year-old Ryan Fitzpatrick presumably the Dolphins' starter this fall, there's no need to rush Tagovailoa onto the field. Once he does see action, however, the expectations will be high because of what he showed at the NCAA Division I level.
After rescuing Alabama in the second half of the national title game vs. Georgia after the 2017 season, Tagovailoa was superb in 2018 with 43 touchdown passes and just six interceptions in 15 games. He was on his way to even better numbers last fall when he was injured with Alabama comfortably ahead of Mississippi State, resulting is surgery the following week.
The Jets had success with one Alabama quarterback
A ranking of NFL quarterbacks coming out of Alabama ahead of Tua Tagovailoa would have to begin with Bart Starr and Ken Stabler, but the New York Jets got some quality play out of the next guy on the list: Joe Namath.
Namath lost as many games as he won as a pro starter, but he was a playmaker and a two-time AFL Most Valuable Player. Leading the Jets to an upset of the Baltimore Colts in Super Bowl III made him a hero for life to New Yorkers even though he threw more interceptions (220) than touchdowns (173) as a pro.
Namath was 29-4 as an Alabama starter for Bear Bryant, helping the team to the 1964 national championship.
It won't take much for Tua Tagovailoa to move past Richard Todd, another New York Jets draft pick, to become the fourth-best Crimson Tide QB in the pros. Todd was only 48-59-1 as an NFL starter from 1976-85 and was an interception machine, including 30 picks in 1980.
He finished his career with 124 touchdowns, 161 interceptions, and a 67.6 quarterback rating. That amounted to a major disappointment based on a college resume that including a 33-3 record and three straight SEC championships.
Bart Starr and Ken Stabler were NFL greats
Ken Stabler retired after the 1984 season and died in 2015, so it was curious that he wasn't enshrined into the Pro Football Hall of Fame until 2016. Like Richard Todd, Stabler had a 30-interception season on his resume, but his positives far outweighed the negatives while personifying the Oakland Raiders' swagger of the 1970s.
Joe Namath displayed similar bravado, but Stabler had better talent around him and put it to use, going 69-26-1 as the Raiders' starter and 96-49-1 overall. He suffered from the same upside-down touchdowns-to-picks ratio as Namath but was a more accurate passer and matched Broadway Joe in Super Bowl victories.
Unless and until Tua Tagovailoa proves otherwise, the gold standard of Alabama quarterbacks in the pros has to be Bart Starr, the right man to run a team in a different era.
It's plausible that Tua Tagovailoa will throw for more yards in six seasons than Starr did in 16 (24,718), but Starr ran the Green Bay Packers offense with admirable precision. He never led the NFL in passing yards, but he did lead in completion percentage and passer rating four times.
Comparing statistics for quarterbacks from drastically different eras is futile. If Tagovailoa is ever to be mentioned in the same breath as Starr, it can only be after he's started closing in on Starr's five NFL championships.