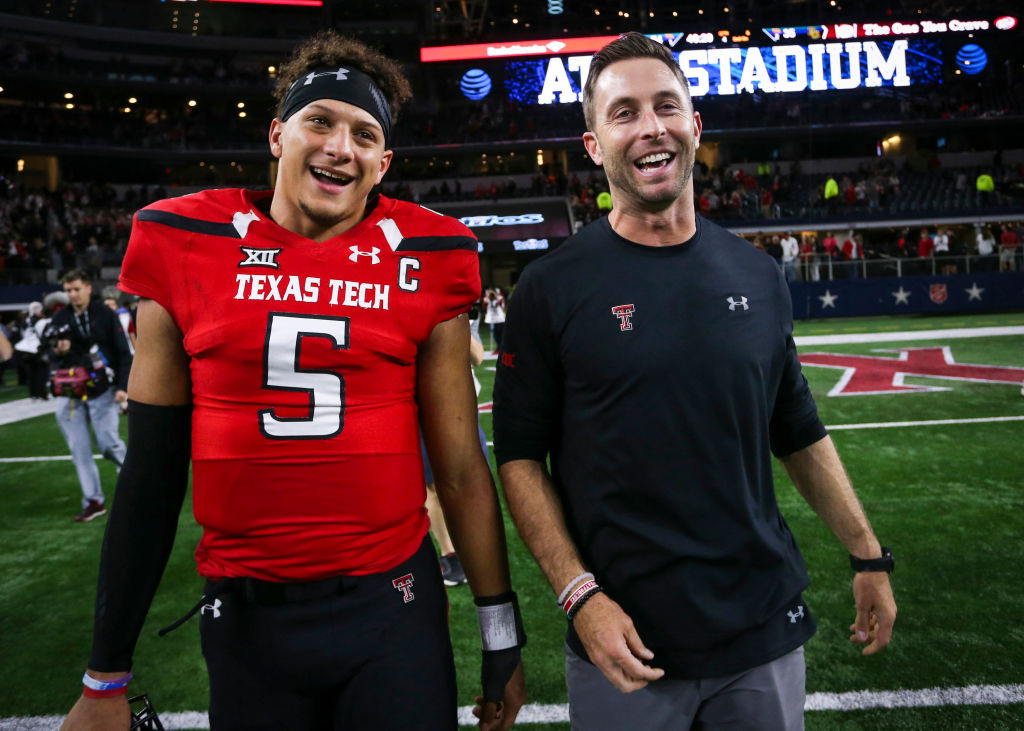 Kliff Kingsbury's $4.45 Million Mansion Even Made Patrick Mahomes Jealous
Kliff Kingsbury made Patrick Mahomes jealous when viewers got to see him conduct the NFL draft from his $4.45 million mansion.
The virtual version of the 2020 NFL draft gave viewers an inside look into how NFL coaches and executives live. While Roger Goodell handled the new-look draft from a rather bland and boring setting, other NFL powerbrokers stunned record-setting TV viewers with what they call home. If there was an NFL draft winner for the sickest "home office", it was none other than Arizona Cardinals coach Kliff Kingsbury. In fact, his $4.45 million mansion gained so much attention that even Patrick Mahomes couldn't contain his awe over his former coach's ridiculously gorgeous NFL draft headquarters.
Kliff Kingsbury's path from Tom Brady backup to NFL head coach
Kliff Kingsbury has essentially spent his entire life dedicated to the game of football. He made a name for himself as a record-setting gun-slinger at Texas Tech under Air Raid architect Mike Leach. Kingsbury parlayed his prolific college career into a sixth-round draft selection by the New England Patriots. He briefly spent time as one of Tom Brady's backups before dabbling in NFL Europe and the CFL.
Despite never replicating his college success at the next level, Kliff Kingsbury more than made up for it as a coach. He returned to Texas Tech and had the chance to coach future NFL stars in Patrick Mahomes and Baker Mayfield. Though his Red Raiders teams couldn't stop anyone on defense, Kingsbury earned national attention as a creative offensive mind capable of succeeding in a new era of football. The Cardinals hired the offensive guru last offseason before making Kyler Murray the No. 1 overall pick.
Arizona's offense took a significant leap forward in the first year of the Kliff Kingsbury era. And after stealing DeAndre Hopkins from the Houston Texans, the Cardinals entered the 2020 NFL draft as one of the league's most interesting teams.
Cardinals selected Isaiah Simmons in 2020 NFL draft
Armed with the No. 8 overall pick, the Cardinals watched as three quarterbacks went off the board in the first six picks. That pushed several premium defensive players down the board. And after the Carolina Panthers took Auburn defensive tackle Derrick Brown, Arizona wasted no time adding arguably the most talented defender in the entire draft in Clemson linebacker Isaiah Simmons.
Calling Simmons a linebacker doesn't do his game justice, though. A true athletic freak, the 6-foot-4, 238-pound playmaker ran a blazing 4.39 at the combine to go along with a 39-inch vertical. Capable of playing anywhere and in any scheme, Simmons should be an excellent addition opposite sack artist Chandler Jones.
While the excitement over adding Isaiah Simmons certainly drew plenty of attention, that wasn't even the best part about the Cardinals' NFL draft. That honor belonged to Kliff Kingsbury and his insane $4.45 million mansion that looked like the ultimate bachelor pad to conduct NFL draft business.
Patrick Mahomes loved Kingsbury's $4.45 million NFL draft setup
Because of the coronavirus pandemic, this year's NFL draft looked much different than previous versions. Instead of seeing coaches and executives huddled in the war room inside a team facility, viewers got an inside glimpse into what NFL coaches and decision-makers call home. Let's just say Kliff Kingsbury won that contest hands down with his insanely gorgeous (and pricey) mansion.
The 40-year-old Kingsbury has had a few years to build up his net worth over the 24-year-old Chiefs superstar. However, Patrick Mahomes should be able to afford an even better version of Kingsbury's $4.45 million mansion in no time. Kansas City's franchise quarterback should sign a massive record-setting contract extension soon. And if Travis Kelce's prediction is right, Patrick Mahomes should have no trouble affording expensive real estate on a $50 million annual salary. For now, though, we can all join the Super Bowl MVP in appreciating Kliff Kingsbury's ridiculous NFL draft setup.