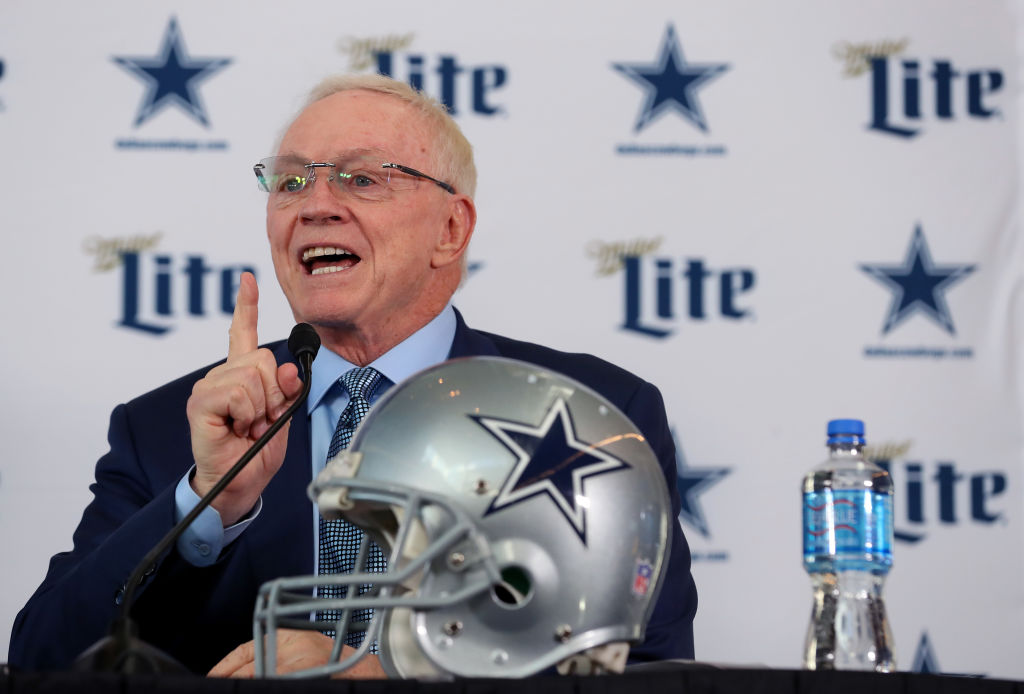 Cowboys Fans Love That Jerry Jones Didn't Let Another Randy Moss Regret Happen
Jerry Jones didn't make the same NFL draft mistake as he did with Randy Moss. Instead, the Cowboys found Dak Prescott another No. 1 WR.
Jerry Jones has had his fair share of NFL draft misses as the owner and football overlord of the Dallas Cowboys. But one of his biggest draft-day mistakes had nothing to do with a player he picked. Rather, it involved a player he didn't pick. With Michael Irvin nearing the end of his Hall of Fame career, the Cowboys desperately needed a new No. 1 receiver. And who better to take over for The Playmaker than a freakishly gifted wideout by the name of Randy Moss.
Only instead of upholding his promise to make Moss the newest member of the Cowboys, Jerry Jones regrettably went back on his word. Luckily for Dallas fans, the NFL's most powerful owner didn't repeat that mistake in the first round of the 2020 NFL draft.
Jerry Jones passed over Randy Moss in 1998 NFL draft
The Cowboys entered the 1998 NFL draft with a clear need at wide receiver. Armed with the eighth overall pick, Dallas seemed destined to replace one Hall of Famer with a supremely talented and younger version. Jerry Jones, who has always been drawn to superstars, went so far as to promise Randy Moss that he'd be the Cowboys' pick when they came on the clock. Instead of making a seamless transition from Irvin to Moss, Jones departed from that course and selected linebacker Greg Ellis—a fateful move that Jones himself still regretted years later in a piece on The Dallas Morning News: 
"I think that has been ingrained in him," Jones said. "I apologize, I apologize, I apologize. I don't believe that's going to do any good. He's too much of a competitor. He's a real competitor, and I've known all my life that when people say you can't do it or when people pass over you saying somebody else can do it, all that does is inspire you. We probably awoke a sleeping giant if it meant that much to him. Certainly, he's made us pay, and I'm sorry we've got to play him."

Ellis proved to be a fine addition. He racked up 77 sacks in 11 years with the Cowboys while earning one Pro Bowl selection. However, he certainly couldn't measure up to a motivated Moss. The NFL's preeminent deep threat fell to the 21st pick before the Minnesota Vikings paired him with Hall of Fame wideout Chris Carter. Moss immediately became a matchup nightmare and posted six straight 1,000-yard campaigns to start his NFL career.
After a brief banishment to Oakland, Moss and Wes Welker became an unstoppable duo for the New England Patriots. The six-time Pro Bowler retired with 982 receptions, 15,292 yards and 156 touchdowns before getting inducted into the Pro Football Hall of Fame in 2018. Needless to say, Jerry Jones and the Cowboys made a massive mistake by passing over Randy Moss.
Cowboys smartly selected CeeDee Lamb on Thursday night
More than 20 years after regrettably passing on a Hall of Fame talent, Jerry Jones got the opportunity to acquit himself. And boy did he do just that. Even after signing Amari Cooper to a $100 million contract this offseason, Jones pulled the trigger on uber-talented wideout CeeDee Lamb with the 17th overall pick of the 2020 NFL draft. Somewhat of a surprising selection given the Cowboys' strong receiver tandem, Jones didn't flinch at the chance to add a potential All-Pro wideout with his top draft pick.
Of course, the Lamb selection won't make up for the Moss miss, but Jones made the right call by taking the best player on the board. The Oklahoma wideout racked up 173 catches, 3,292 yards and 32 touchdowns in three seasons with the Sooners. The 6-foot-2, 198-pounder showcased tremendous ball skills and run-after-the-catch ability and should be a fantastic fit opposite Cooper. The pick certainly made Cowboys fans happy.
Dak Prescott boasts the NFL's best arsenal of weapons
With Lamb in the fold, the Cowboys officially put the rest of the NFL on notice. Thanks to Jerry Jones' smart draft move Thursday night, Dallas boasts the league's best set of weapons. Cooper and 2019 breakout star Michael Gallup (66/1,107/6) already ranked as one of the NFL's best receiver tandems. Adding Lamb to the mix simply strengthens one of the Cowboys' best position groups.
The Cowboys' embarrassment of riches also includes Ezekiel Elliot, who should benefit from the Lamb addition. Given the team's depth at receiver, Elliot shouldn't face too many eight-man boxes, which only bodes well for the workhorse running back. Of course, the biggest benefactor of the CeeDee Lamb pick has to be Dak Prescott. Though the Cowboys have yet to work out a long-term deal with the former fourth-round pick, both Prescott and Jones should be excited about the long-term outlook of the offense.
Cowboys fans may not be ready to let Jerry Jones off the hook over the Randy Moss draft fiasco, but the CeeDee Lamb pick could help the Cowboys capture their first Super Bowl title since 1995.