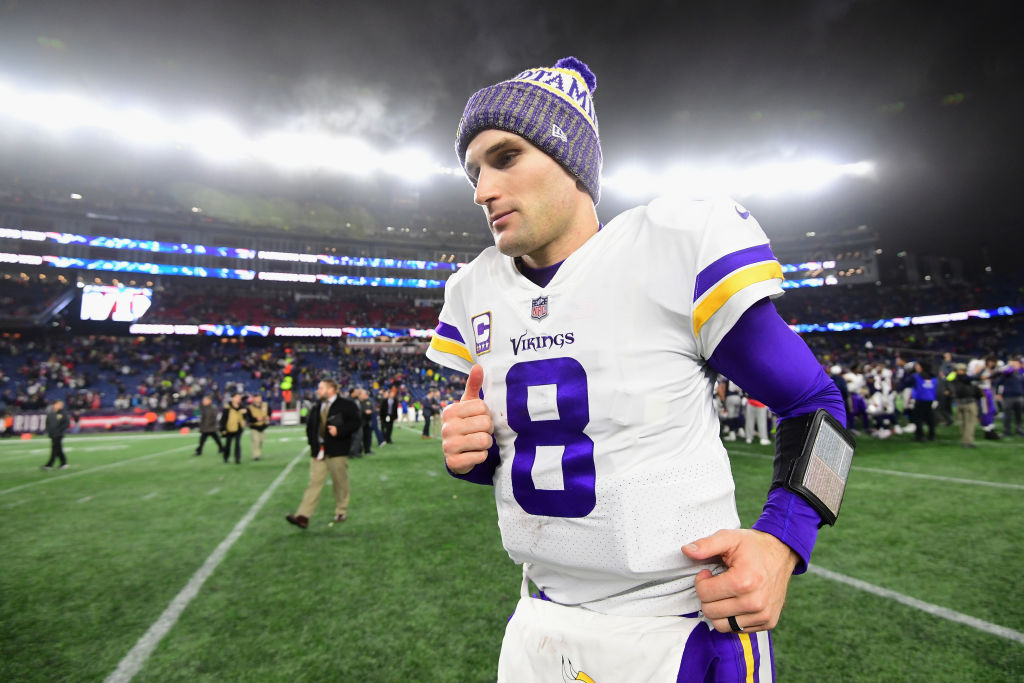 How the Kirk Cousins Contract Ruined Minnesota's Super Bowl Chances
The Vikings gave Kirk Cousins the first fully guaranteed NFL contract. That $84 million deal has cost the Vikings a shot at a Super Bowl.
Kirk Cousins made NFL history by signing the first fully guaranteed contract. Unfortunately, that $84 million investment by the Minnesota Vikings has yet to result in a Super Bowl championship.
In fact, the Vikings didn't even make the playoffs in Cousins' first season. Last year, they fell well short in their quest to return to the Super Bowl for the first time since 1976.
Minnesota once boasted one of the NFL's best rosters, but the Cousins contract has eaten up precious cap space. And after cutting several veterans on defense Friday, the Cousins contract has managed to ruin the Vikings' 2020 Super Bowl chances before they even began.
Kirk Cousins signed the NFL's first fully-guaranteed contract
After taking over the reigns from Robert Griffin III in Washington, Cousins proved that he could be a franchise quarterback. Strangely, the Redskins never believed in him enough to sign him to a long-term deal. So after playing two straight seasons on the franchise tag, Cousins finally hit free agency and looked to cash in. And boy did he do just that.
Even though Case Keenum admirably led the Vikings to the 2017 NFC Championship, Minnesota opted to let him walk in favor of Cousins. What happened next was unprecedented.
Cousins sacrificed length for security and signed a fully-guaranteed three-year, $84 million deal to become the face of the Vikings. In the first year of the deal, the former Michigan State star threw for 4,298 yards, 30 touchdowns and just 10 interceptions while completing 70.1 percent of his passes. Yet, the Vikings went just 8-7-1 and missed the playoffs.
Kirk Cousins and Vikings came up short in 2019 playoffs
Last season, the Vikings made it a mission to build their offense around Dalvin Cook. That decision paid off, as the young running back racked up nearly 1,700 total yards and 13 touchdowns.
Cook's success helped set up the highly successful play-action passing game. With defenses devoting more attention in the box, Cousins finished fourth in the NFL with 1,235 play-action passing yards. He finished the regular season with a stellar 26:6 touchdown-to-interception ratio and a career-high 107.4 passer rating.
Once the playoffs arrived, the Vikings' offensive limitations started to show. Cousins was largely held in check against the New Orleans Saints before he hit Kyle Rudolph for a controversial game-winning touchdown in overtime. However, San Francisco overwhelmed Minnesota's offensive line (six sacks), and Cousins finished with just 172 passing yards, one touchdown and one interception.
Cap situation led to key cuts on Vikings defense
One of the most critical aspects of the Cousins contract is its effect on the salary cap. Because the team cannot get out of his deal, it cost them several established veterans on defense.
Minnesota cut defensive tackle Linval Joseph and cornerback Xavier Rhodes, which freed up about $20 million in cap space. While both players faded in 2019, they had been key cogs on one of the league's best defenses for years. The Vikings also have to decide what to do with free agent defensive end Everson Griffen. The productive pass rusher has spent his entire career in Minnesota but could command a hefty contract on the open market.
To make matters worse, the entire starting secondary outside of Harrison Smith is set to hit free agency. Safety Anthony Harris may not be a familiar name, but the former undrafted free agent has developed into an excellent all-around safety. He will also be a hot commodity for teams needing a big boost in the secondary. Cornerbacks Trae Waynes and Mackensie Alexander—both of whom were early draft picks—could be playing elsewhere in 2020.
Now in a contract year, Cousins will also be looking for a new deal. But even if the team finds a way to bring him back. the cost has already been paid. With little cap space and key starters in need of new deals, the Cousins contract has hampered the Vikings' ability to maintain a championship-caliber squad.
The free agency period has yet to begin but it feels like the Vikings have already lost. Ultimately, that $84 million contract cost Minnesota a chance at a Super Bowl run.