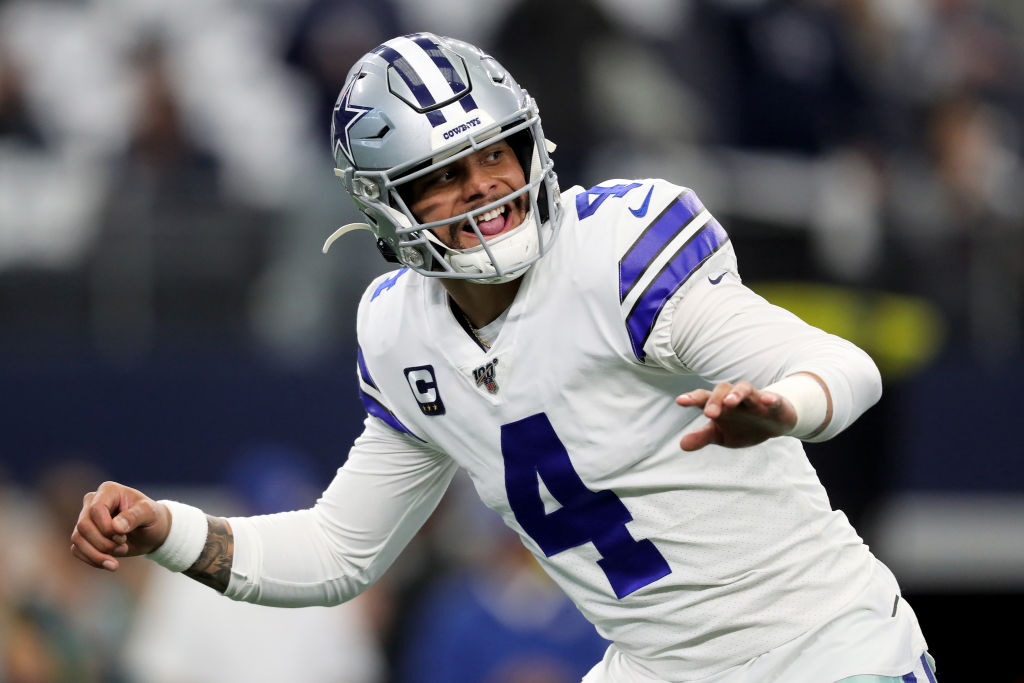 Dak Prescott Just Made $4.6 Million From the Cowboys Without Trying
Dak Prescott still hasn't signed a contract extension with the Cowboys. The star QB just got a nice $4.6 million boost without trying.
Dak Prescott and the Dallas Cowboys have been at a contract standstill most of the offseason. The two-time Pro Bowler has been one of the NFL's biggest bargains since entering the league as a fourth-round pick in the 2016 NFL draft. Seeking a long-term deal that would make him the league's highest-paid quarterback, Prescott and Jerry Jones have failed to hammer out a long-term extension to this point.
Dallas smartly placed the franchise tag on its talented signal-caller in March. And while there have been reports of positive discussions between Prescott and the Cowboys, there doesn't appear to be an imminent deal coming. Fortunately for Dak Prescott, he just made another $4.6 million from the Cowboys without even trying.
Dak Prescott's Cowboys career
While he hasn't quite achieved Tom Brady status, Dak Prescott has vastly outplayed his draft slot. The former Mississippi State standout entered the NFL with questions about his fit at the next level. When Tony Romo's career abruptly ended with a back injury, Prescott stepped in seamlessly and led the Cowboys to a 13-3 record as a rookie. Combined with Ezekiel Elliot, Dallas boasted two franchise building blocks on offense that eerily reminded many of the early days of Troy Aikman and Emmitt Smith.
Though Prescott's numbers sharply declined in his second season, he has rebounded with two strong campaigns. He made his second Pro Bowl in 2018 despite missing key batterymate Travis Frederick. With the All-Pro center back in the lineup last year, Prescott enjoyed the most productive season in his four-year NFL career.
Routinely targeting Amari Cooper, the 6-foot-2, 238-pound signal-caller set career-highs in passing yards (4,902) and touchdowns (30). The mobile quarterback also added 277 yards and three more scores on the ground. However, Dallas went just 8-8 and ended up firing longtime coach Jason Garrett after missing the playoffs for the second time with Prescott under center.
Star quarterback is seeking record-setting contract
Before the 2019 season, Prescott reportedly turned down an offer from the Cowboys that would have paid him $33 million per season. He bet big on himself and it paid off. However, the impending free agent never got a chance to market his services, as the Cowboys wisely used the franchise tag on their Pro Bowl passer.
Prescott then had to watch as Dallas made Cooper a $100 million receiver. The Cowboys reportedly increased their contract offer to around $35 million annually. That figure would potentially make Prescott the NFL's highest-paid player, which would be questionable for a quarterback with a 1-2 playoff record and no All-Pro selections.
Even though that $35 million APY would seem to satisfy Prescott's desire to become a top-paid QB, the length of the deal caused an issue. As is the case with many of their contract extensions, the Cowboys sought a five-year agreement; Prescott only wanted four.
Prescott got a huge pay boost on Tuesday
Whether the Cowboys and Dak Prescott hammer out a lucrative contract extension remains to be seen. In all likelihood, the two will meet in the middle and enter a long-term marriage. But even without signing a new deal, Prescott managed to get a nice $4.6 million pay boost thanks to the NFL's exclusive franchise tag system.
According to Ian Rapoport, Prescott's exclusive franchise tag number got recalculated based on the league's top-five quarterback salaries. Originally, the Cowboys were slated to pay their star quarterback $26.824 million in 2020. Once the restricted free-agent period ended and the numbers got tabulated, the price increased by $4.585 million to $31.409 million.
That single-season salary would put Prescott amongst the top-seven highest-earning quarterbacks. Ironically, that $31.4 million number is within striking distance of the magical $35 million figure that would make him the richest player in the NFL. Ultimately, Jerry Jones and Dak Prescott will have to figure out the final numbers on a long-term deal. But for now, if Prescott ends up signing his franchise tag tender, he'll have made an extra $4.6 million without even trying.