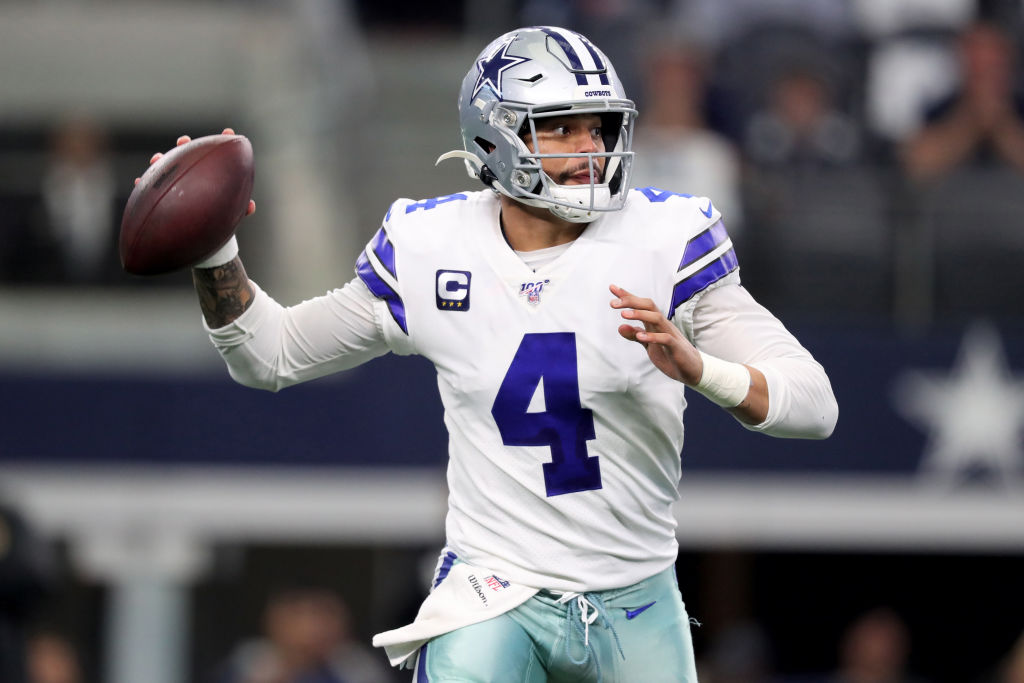 Dak Prescott Will Become Most Overpaid Player in NFL History
Dak Prescott and the Dallas Cowboys are negotiating a long-term deal that will make the quarterback the highest-paid player in the NFL. That's a massive mistake.
Dak Prescott has given the Dallas Cowboys more than they could have dreamed for when they selected him with the 135th overall pick in 2016. The former fourth-rounder was forced into the starting lineup as a rookie and has never turned back. With 64 starts, two Pro Bowls and two NFC East crowns on his resume, Prescott understandably wants a massive long-term contract.
At the same time, the Cowboys have won just a single playoff game in four years. Prescott has topped 23 passing touchdowns just once in his career. And looking at some of his contemporaries who are in line for new deals, Prescott falls well short of their accomplishments and talent. But if the Cowboys intend on signing Prescott to a record-setting contract, they will be making a massive mistake.
Cowboys prepared to make Dak Prescott the highest-paid player in NFL
All offseason, the focus in Dallas has been on Dak Prescott's impending free agency. After earning less than $3 million on his rookie contract, he rightfully deserved a raise. The Cowboys found themselves in a tenuous position since they needed to retain both Prescott and his top wide receiver, Amari Cooper. Ultimately, the Cowboys signed Cooper to a $100 million deal while slapping the franchise tag on Prescott.
Negotiations have been ongoing, but one report on Thursday highlighted a major development. According to ESPN's Ed Werder, the Cowboys and Prescott aren't close to a contract resolution, but the deal is expected to make him the highest-paid player in the NFL. That would be yet another twist in the negotiation plot, as the Cowboys previously offered Prescott a massive contract. Currently, Russell Wilson leads the NFL with a $35 million average annual salary.
Prescott ranks below other elite QBs
While Prescott ranks as one of the best NFL draft value picks, his sudden leap to elite status is questionable at best. He did get thrust into the fire after Tony Romo's career ended abruptly. And for the most part, Prescott has performed very well…in the regular season. In four years, he's thrown 97 touchdowns and 36 interceptions while leading the Cowboys to a 40-24 record.
However, from a talent and production standpoint, Prescott is much more of a top-10 quarterback than one of the NFL's two or three best. Prior to 2019, he averaged about 22 passing touchdowns per season. He never eclipsed the 4,000-yard mark. And he actually posted his best quarterback rating as a rookie before watching that number fall to 86.6 in 2017. Prescott is coming off his best season, but even then it's fair to question his status amongst the league's elite quarterbacks.
Patrick Mahomes, who is also due for a record-breaking deal, just won a Super Bowl championship in his second season as a starter. Lamar Jackson won the MVP in his first year as a starter and will be eligible for a new deal after the 2020 season. And of course, Deshaun Watson is also in line for a huge payday. Whether that comes from Bill O'Brien and the Texans is another story. But those are three young, dynamic quarterbacks who all have much stronger cases to become the NFL's highest-paid player.
Cowboys have fallen short in playoffs
The Cowboys have had the NFL's best bargain for four years. Yet, despite Prescott's stellar regular-season record, Dallas has never advanced past the NFC Divisional Round. Prescott did lead the Cowboys to an NFC East crown as a rookie, but they lost in heartbreaking fashion to Aaron Rodgers and the Green Bay Packers.
After missing the playoffs in 2017, Prescott did lead his team to another playoff berth in 2018 despite missing star center Travis Frederick. Though Dallas managed to defeat Seattle, Prescott did not play well. He finished the game with one touchdown and one interception and a pitiful 6.85 yards per attempt. Against the Rams, he went 20-of-32 for 266 yards with one passing touchdown and another on the ground. But once again, the Cowboys came up short in the playoffs.
The Cowboys' playoff failures can't be solely attributed to Prescott. At the same time, he's not the only reason they've won 40 games in four years. He's a very good quarterback—maybe even a top-five one. But the Cowboys are about to make Prescott the most overpaid player in NFL history by handing him a record-breaking contract.