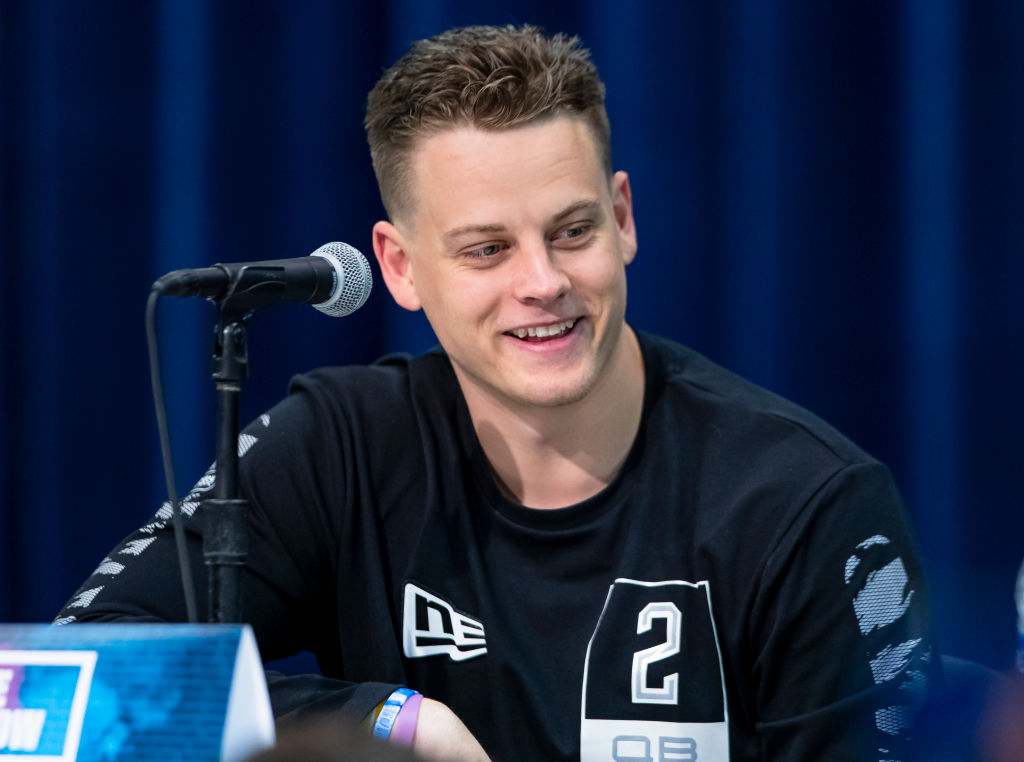 Joe Burrow Starts His NFL Career $700,000 in the Hole
New Cincinnati Bengals quarterback Joe Burrow lost out on a lot of money because of NCAA rules.
His selection in the NFL draft on Thursday officially makes quarterback Joe Burrow a professional athlete and opens the money faucet. He could have his NFL contract signed with the Cincinnati Bengals within a matter of weeks while finishing a variety of endorsement deals, too.
And that's good because a recent study suggests that Burrow lost out on $700,000 in easy money in the past year because of NCAA rules.
Joe Burrow has already been getting deals done
LSU quarterback Joe Burrow took his first step toward a lucrative NFL career in January when he signed with WME, the former William Morris Agency, to represent him. The move has already paid dividends in the form of deals with Lowe's, Bose, Nerf, and Buffalo Wild Wings.
Lowe's has already put Burrow to work making video calls to company employees to thank them for their work during the coronavirus pandemic.
Conspicuously absent is any deal between Burrow and one of the major shoe or apparel companies like Under Armour or Adidas, a situation likely to be remedied soon. Kyler Murray announced his Nike endorsement deal the day before selected No. 1 overall in the 2019 NFL draft.
NCAA rules cost Joe Burrow plenty
An interesting study by Athletic Director U and Navigate Research estimates that Joe Burrow lost out on $700,000 in the past year because he was not able to cash in on his name, image, or likeness (NIL) while playing college football. The issue of NIL opportunities came to the forefront last year when California passed a law giving college athletes in the state the right to profit from the use of their name, image, or likeness.
The same study calculated that North Carolina basketball player Cole Anthony, all but certain to be a lottery pick in the NBA draft, missed out on $476,000 in endorsement potential in his freshman year. With approximately 600,000 Instagram followers, he would have been positioned to make about $4,000 per post promoting a product.
The calculation for Burrow, Anthony, and other college stars began with studying last year's agreement by Electronic Arts to pay $40 million to more than 29,000 current and former college athletes over video game rights and then evaluating apparel licensing deals like the arrangements Nike and Under Armour have with individual colleges and assigning shares to individual players.
But the most interesting component of the estimate comes from putting a value on social media. Cross-referencing the endorsement deals of 100 top professional athletes around the world with the number of people following them on social media led the people conducting the study to value each Instagram follower at 80 cents apiece.
That works out to $700,000 for Burrow, $440,000 for Alabama quarterback Tua Tagovailoa, and $390,000 for Oklahoma quarterback Jalen Hurts.
Looking back and looking ahead
Joe Burrow is coming off a magnificent season at quarterback for LSU's undefeated national championship team. He broke the single-season record for FBS schools by throwing 60 touchdown passes and rolled up an amazing 5,671 yards. He threw for five touchdowns in the College Football Playoff title game as LSU downed Clemson, 42-25.
More big numbers await Burrow now that he's a Cincinnati Bengal. With compensation spelled out under the collective bargaining agreement between the NFL and the players union, he will be signing for approximately $37.2 million over four years, which includes $24.6 in guaranteed signing bonus money.