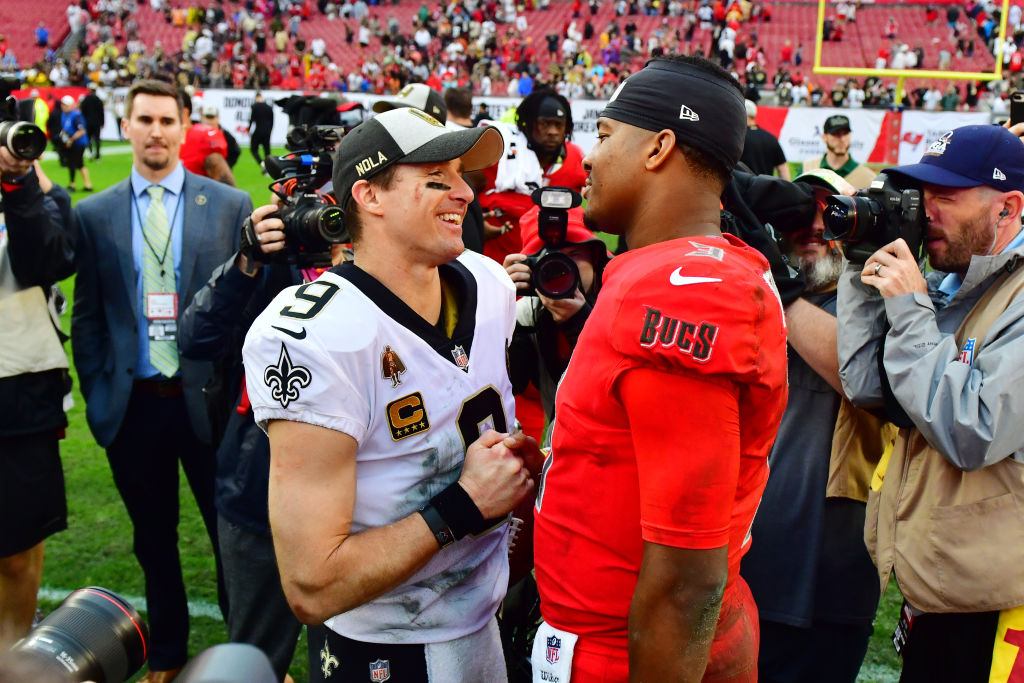 Jameis Winston Won a $1.1 Million Drew Brees Internship With the Saints
Jameis Winston has gone from the No. 1 overall pick by the Buccaneers to a $1.1 million intern with the Saints. Can he resurrect his NFL career?
If you've ever had an internship, you know all too well about the long hours and little to no pay. So why do people subject themselves to such punishment? It's all about the promise of securing a high-paying job one day. By inking a $1.1 million deal with the New Orleans Saints, Jameis Winston just signed up for the world's best-paying internship. Only, the former No. 1 overall pick will have to impress the NFL's most detail-oriented and demanding boss: Drew Brees.
Jameis Winston failed to develop with the Buccaneers
Coming out of Florida State, Jameis Winston seemed to have all the tools to become a franchise quarterback. The 2013 Heisman Trophy winner led the Seminoles to a national championship in his first season as a starter. He threw 65 touchdowns in two seasons, though his 28 interceptions probably should have caused more concern. Still, the Tampa Bay Buccaneers took him first overall ahead of fellow Heisman winner Marcus Mariota.
The 6-foot-4, 231-pounder took over a Buccaneers team that had won just two games in 2014. With Winston under center, Tampa went 6-10 and impressively jumped from the 29th-ranked scoring offense to 20th. In fact, the Buccaneers improved their scoring mark every season under Winston. Tampa ranked finished 18th in scoring in 2016 and 2017 before bumping up to 12th. Last season, the Buccaneers ranked third in both scoring and yards with new head coach Bruce Arians calling the shots.
However, from an individual standpoint, Winston simply didn't develop. An ultra-aggressive playmaker, he mixed flashes of brilliance with bone-headed turnovers that resulted in the NFL's first 30-30 season in 2019. Despite leading the NFL with 5,109 passing yards, he cost the Buccaneers multiple wins with painstaking interceptions. Given the opportunity to sign Tom Brady, the Buccaneers let Winston walk after a dismal 28-42 record and a staggering 88 interceptions.
Saints signed former No. 1 pick to an absurdly cheap deal
There are only 32 starting quarterback jobs available. Unfortunately for Jameis Winston, he watched the few open spots get filled in free agency and the 2020 NFL draft. The Cincinnati Bengals smartly invested their future in Joe Burrow. Miami waited for Tua Tagovaoila to fall in their lap. And the Los Angeles Chargers—who seemed like a logical fit for Winston—snagged Justin Herbert with the sixth overall pick. That left the 2015 draft bust in the precarious position of having enough talent to warrant a second shot but seemingly no starting opportunity available.
Relegated to backup duty, the disappointing former top overall pick finally found a home when the Saints came calling. Shockingly, Winston signed a paltry $1.1 million contract that included a $148,000 signing bonus. That second mark is closer to an undrafted free agent's pay than a former first-round pick. By signing such an absurdly low deal, Winston ranks 52nd amongst average annual salaries for quarterbacks. Rather than viewing him as one of the NFL's lowest-paid backups, it makes more sense to look at him as the NFL's highest-paid intern.
Winston's internship under Drew Brees
If there's anyone who needs to take a trip to quarterback school, it's Jameis Winston. Luckily for the Buccaneers flameout, he'll get an opportunity to learn from arguably the best teacher in the game in Drew Brees. The Saints legend already has plenty of teaching experience in tutoring Teddy Bridgewater, and to a lesser degree, Taysom Hill. His newest intern, however, has the most upside of any of his pupils.
Expected to retire after this season, Brees knows this is his last shot at a second Super Bowl championship. By the same token, Winston should view his one-year internship under Brees as a once-in-a-lifetime opportunity to change his NFL future. So far, the newest member of the Saints seems to have his head in the right place, according to ESPN's Mike Triplett:
"When you have an opportunity to work with a coach who is as successful and as smart as Sean Payton and work with a quarterback who will be, whenever he decides to retire, he's probably getting escorted to the Hall of Fame, I don't think you really can beat that. Especially if you believe in yourself," Winston said. "If you believe in the ability that you have, really if you have faith that you will become a starting quarterback again, you take this opportunity in a heartbeat, to work with this amazing group of men."

In a perfect world, Jameis Winston will never see the field for the Saints in 2020. Instead, he'll spend his time studying a New Orleans system that has already made Bridgewater a $63 million starting quarterback. More importantly, he should attach himself to Brees' hip and immerse himself in the film room. Discovering the inner secrets to how Brees views the game and how he prepares can pay dividends down the road for a player who needs to prove he can mature and grow. Winston may not play a down for the Saints, but Brees and Sean Payton can help resurrect his NFL career.
For $1.1 million, Jameis Winston is about to embark on an internship experience unlike any other. Only time will tell if the Saints chose the right student for Drew Brees to teach.