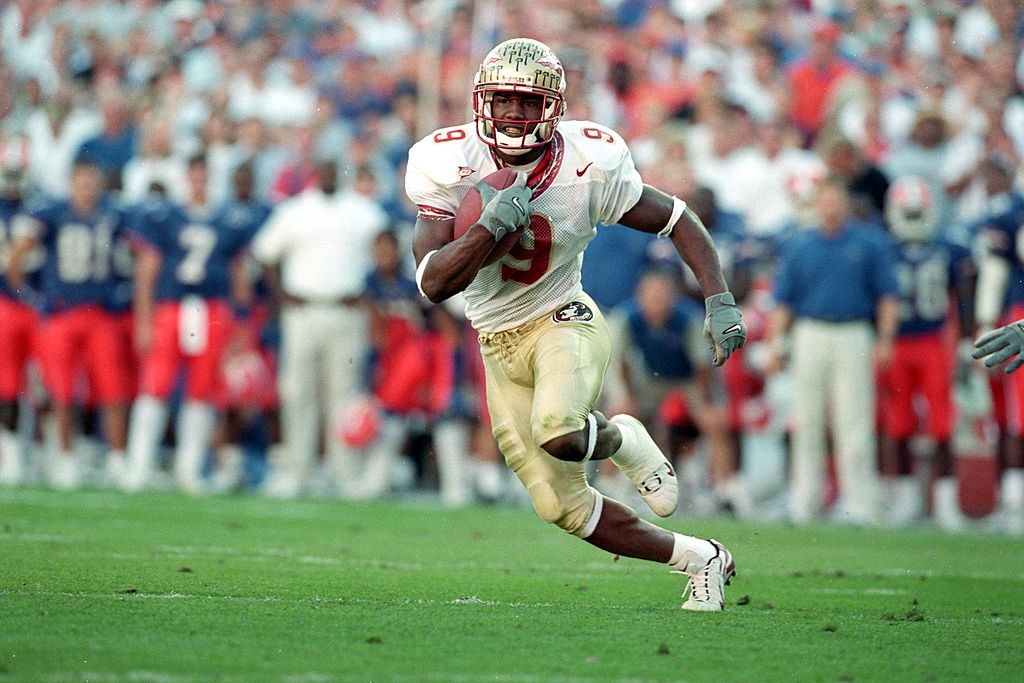 Peter Warrick Lost the 1999 Heisman Trophy Over $21
Peter Warrick was a star at Florida State. He was a favorite to win the 1999 Heisman Trophy before he got arrested for shoplifting.
When you mention Peter Warrick, most NFL fans remember him as a major letdown. Sure, he didn't live up to expectations with the Cincinnati Bengals. Then again, it would have been nearly impossible for Warrick to replicate the magical college career he had at Florida State. Yet, if you talk to anyone who watched college football in the '90s, the former FSU star ranks as one of the best players of his era.
Despite his prodigious talent and production, Warrick never got a chance to rightfully raise the Heisman Trophy in his senior season. Unfortunately, the only person he can blame is himself.
Peter Warrick was a superstar at Florida State
Peter Warrick was a star dating back to his days at Southeast High School. A three-sport athlete, the Bradenton, Fla., native led his team to two straight state titles and was also named the Player of the Year in basketball. Also a standout track athlete, Warrick signed with FSU as one of the most decorated recruits in college football history.
Under legendary coach Bobby Bowden, Warrick became one of the most electrifying playmakers in NCAA history. Though he measured in at just 5-foot-11, he played well beyond his frame. A dynamic punt returner and wide receiver, Warrick emerged as a legit star in 1997 when he caught 53 passes for 884 yards and eight touchdowns. He also averaged 16.7 yards on 29 punt returns and took one for a score.
The following year, the all-purpose threat posted a ridiculous 61/1,232/12 line and averaged 20.2 yards on 15 punt returns. Warrick earned his first of two consecutive consensus All-American honors for that outstanding season. And once his senior year rolled around, it looked like the former top recruit would cap off his illustrious college career with a Heisman Trophy and a national championship. Yet, he left FSU with just one of those.
Two-time All-American lost Heisman Trophy bid after getting arrested
In 1999, the Seminoles were at the top of college football. Bowden had been at FSU for over two decades and hadn't lost more than two games 1986. That year, the team featured future Heisman Trophy winner Chris Weinke at quarterback. Future NFL running back Travis Minor carried the backfield. Warrick headlined a wide receiver group that included future NFL Pro Bowlers Anquan Boldin and Laveranues Coles.
Warrick and the Seminoles were off to a 5-0 start when he and Coles were arrested and charged with grand theft. According to The New York Times, the two players partook in a scheme that allowed them to buy clothes from a Dillard's department store for less than the sticker price. When the two teammates got caught, they had paid just $21.40 for $412.38 worth of clothing.
FSU promptly suspended Warrick indefinitely, which was a major blow to his Heisman chances. In the first five games, he had already totaled 36 catches for 508 yards and four touchdowns. Coles got kicked off the team because he was already on probation for prior transgressions. Warrick ultimately played just nine games that year and totaled 71 catches, 934 yards and eight touchdowns. But his major mistake and subsequent missed time led to a sixth-place Heisman Trophy finish.
Warrick couldn't replicate college success with the Cincinnati Bengals
After totaling 207 catches, 3,517 yards and 32 receiving touchdowns in five years at FSU, Warrick took his talents to the NFL. The consensus top receiver in the draft went fourth overall to the Bengals—just one spot ahead of future star running back Jamal Lewis. Other top players selected after Warrick included Brian Urlacher (ninth overall), John Abraham (13th overall), Shaun Alexander (19th overall) and Keith Bulluck (30th).
Ultimately, Warrick never lived up to the hype in the NFL. He spent much of his Bengals career catching passes from journeyman Jon Kitna. Warrick's best year came in 2003, when he caught 79 passes for 819 yards and seven touchdowns. He played his last NFL season in Seattle, where he caught just 11 passes. After six years and no Pro Bowls or Super Bowl rings, Warrick never played another NFL down. The Bengals atoned for their mistake by drafting Chad Johnson in Warrick's second season.