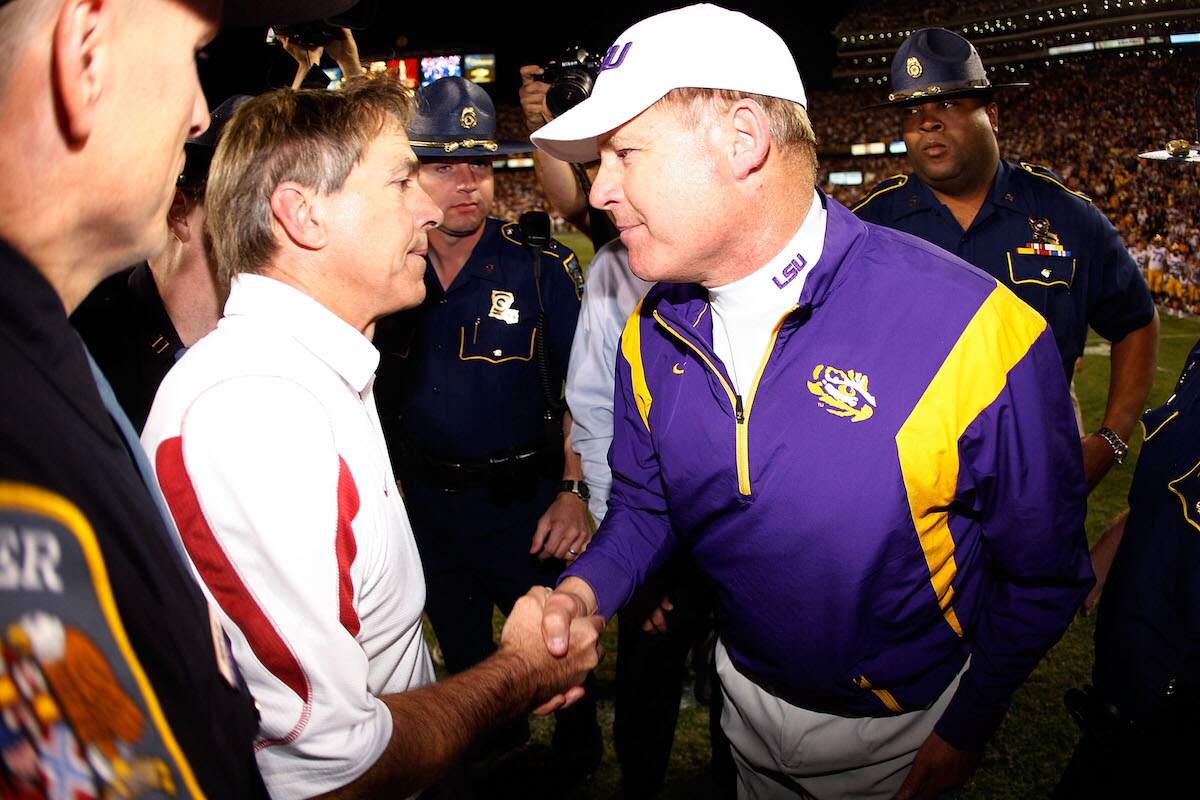 Which Conference Has Won the Most College Football National Championships?
It may seem straightforward, but determining which conference has won the most college football national championships is pretty complicated.
While it might seem like a pretty straightforward process, determining which colleges and conferences hold the most college football national championships is pretty complicated.
It wasn't until 1936 that the AP Poll began ranking college football teams, which helped determine championship status. In addition, the Bowl Championship Series, later replaced with the College Football Playoff era in 2014, wasn't instituted until 1998. 
Given the fact that the College Football Playoff era has only been around for less than a decade, it's easy to see why determining which teams have earned national championship status can get touchy. To help with the confusion, let's look at the history of the college football national championship and how the NCAA conferences stack up 
Colleges with the most football national championships
The very first college football season was held in 1869. The inaugural season was just eight days long and consisted of only two games. In both games, Princeton faced off against Rutgers. Ultimately, the Princeton football team took top honors as the national champions. 
While Princeton won the first college national championship, they did not stay top dogs for long. Their dominance began to wane as the 20th century kicked off. However, Princeton still remains among the top five when it comes to the colleges with the most college football national championships.
Among the powerhouses of the late 1800s, Princeton has 15 championships to its name, with Yale having 18 of its own. However, neither team has won a national championship since the 1920s, and it's a safe bet that neither one will again. 
In the modern era, the Alabama Crimson Tide reigns supreme with 16 national championships. The Crimson Tide won its first national championship in 1925, but unlike Yale or Princeton, it continues to maintain its athletic dominance into modern times. Thus, it's quite likely that Alabama will soon find itself as the winningest college football team in history when it comes to national championships. 
Per NCAA, the six colleges with the most football national championships include Yale, Alabama, Princeton, Notre Dame, Michigan, and Southern California:
Yale, 18 championships: 1874, 1876, 1877, 1880, 1881, 1882, 1883, 1884, 1886, 1887, 1888, 1891, 1892, 1894, 1900, 1907, 1909, 1927
Alabama, 16 championships: 1925, 1926, 1930, 1961, 1964, 1965, 1978, 1979, 1992, 2009, 2011, 2012, 2015, 2017, 2020
Princeton, 15 championships: 1869, 1870, 1872, 1873, 1878, 1879, 1880, 1885, 1889, 1893, 1896, 1903, 1906, 1911, 1922
Notre Dame, 13 Championships: 1919, 1924, 1929, 1930, 1943, 1946, 1947, 1949, 1964, 1966, 1973, 1977, 1988
Michigan, 9 Championships: 1901, 1902, 1903, 1904, 1918, 1923, 1933, 1948, 1997
Southern California, 9 Championships: 1931, 1932, 1962, 1967, 1972, 1974, 1978, 2003, 2004
Which conference has the most college football national championships?
With Alabama having 16 national championships of its own, it's really no surprise the Southeastern Conference (SEC) is the conference with the most football national championships overall. Per Football USA, the SEC has a total of 39 football national championship titles to its name. 
However, some sports analysts like to compare stats starting with the 1936 Season or the AP Poll era. In any case, the SEC still holds the most college football national championships, having won a total of 30 titles since the AP Poll era began. Per Best Colleges, the teams that have contributed to the SEC's supremacy include: 
Alabama: 13 titles
LSU: 4 titles
Florida: 3 titles
Georgia: 3 titles  
Tennessee: 3 titles 
Auburn: 2 titles
Texas A&M: 1 title 
Ole Miss: 1 title 
Here's the rundown of how many college football championships the top 5 conferences have won since the AP Poll era began and when each of these conferences was founded. 
SEC (est. 1932): 30 championships 
Big Ten (est. 1896): 25 championships 
ACC (est. 1953): 15 championships 
Big 12 (est. 1994): 12 championships 
FBS Independent (est. 1978): 12 championships 
Pac-12 (est. 1915): 10 championships 
SEC bowl records from the last 10 years
While the SEC has the most national championships to its name, it comes in second place when it comes to its bowl record. Per 247 Sports, the conference with the best bowl record overall is the Mid-American Conference (MAC).  
Teams from the MAC have appeared in six bowl games. The MAC's overall bowl record is 4-2 (.667). In comparison, SEC teams have appeared in a total of 12 bowl games and have established a 7-5 (.583) record.