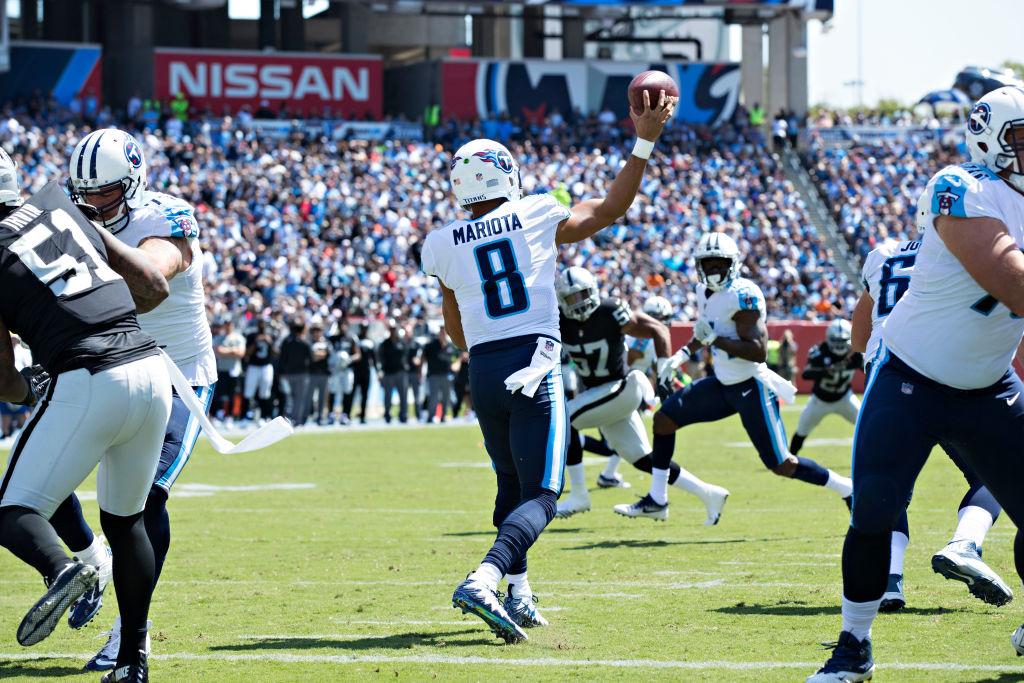 Marcus Mariota Can Earn $37.5 Million from Raiders
Marcus Mariota signed a two-year deal with the Raiders. If he succeeds in Las Vegas, he could earn up to $37.5 million.
Marcus Mariota may not have lived up to titanic expectations in Tennessee, but that doesn't mean the Raiders don't believe in him. In fact, Mariota's contract shows Jon Gruden and Mike Mayock think they can coax greatness out of the former second overall pick.
Never short on talent, Mariota struggled to find consistency in Tennessee due in large part to injuries. His decision to join the Raiders represented an opportunity to reset his career narrative. And if he's able to shake some of his durability issues and capitalize on his early-career success, Mariota may just push Derek Carr not only out of the starting lineup but out of Las Vegas altogether.
Marcus Mariota never became a franchise quarterback in Tennessee
The 2015 NFL draft saw two quarterbacks go in the first two picks. Jameis Winston famously went from starring at Florida State to throwing touchdown bombs (and interceptions) in Tampa. Mariota went to Tennessee, where he could utilize his dynamic talents to usher in a new offense. Unfortunately for Buccaneers and Titans fans, neither quarterback evolved into the franchise icon they envisioned.
As a 22-year-old rookie, Mariota completed 62.2 percent of his passes for 2,818 yards and 19 touchdowns. However, the Titans went just 3-9 in his 12 starts. Mariota did lead the Titans to winning records the next three seasons, but he rarely got to show his physical gifts at full strength. He never topped his 2016 total of 26 passing touchdowns again. In fact, he totaled just 31 from 2017-2019.
Last season, Mariota lost his starting job to Ryan Tannehill. And while he provided great leadership and maturity from the sidelines, he provided little impact on the field. Earlier this month, the Titans ironically gave Tannehill a stunning long-term contract while Mariota was left to explore his options on the market.
Raiders give Mariota nearly $20 million in contract incentives
With details of Mariota's deal finally released, it's interesting to see how the money breaks down. The Raiders gave Mariota a two-year, $17.6 million deal, which is top-of-the-line backup quarterback money. The first year includes a fully-guaranteed $7.5 million base salary.
More importantly, the incentives and escalators in Mariota's deal signal the Raiders believe he can turn his career around. According to Mike Garafolo, Mariota can earn up to $2.4 million if he plays at least 60 percent of the offensive snaps in 2020. In addition, he can earn $1.5 million in playing time and win incentives.
To sweeten the deal, the Raiders also included $10 million in playing time and win incentives in 2021. Mariota can earn another $2 million in postseason incentives, along with a $12 million salary escalator in 2021. Needless to say, Mariota has the potential to capitalize on this contract if he's able to earn a starting spot and excel.
Marcus Mariota signing could signal the end of the Derek Carr era
Earning a starting spot should be Mariota's No. 1 priority. And based on both his and Derek Carr's contracts, it's reasonable to assume that there should be a quarterback competition this summer.
Carr has two years remaining on his five-year contract extension that he signed in 2017. However, his 2020 and 2021 salaries contain no guaranteed money. Carr carries a $19.5 million base salary in 2020 and a $19.8 million salary the following year. The Raiders could free themselves of Carr via trade or release.
Mariota's high-upside contract suggests that the Raiders expect major improvements from the 2014 Heisman Trophy winner. And if Mariota can recapture his magical college form under Gruden, the Raiders may just make some noise in the AFC West in 2020 and beyond.