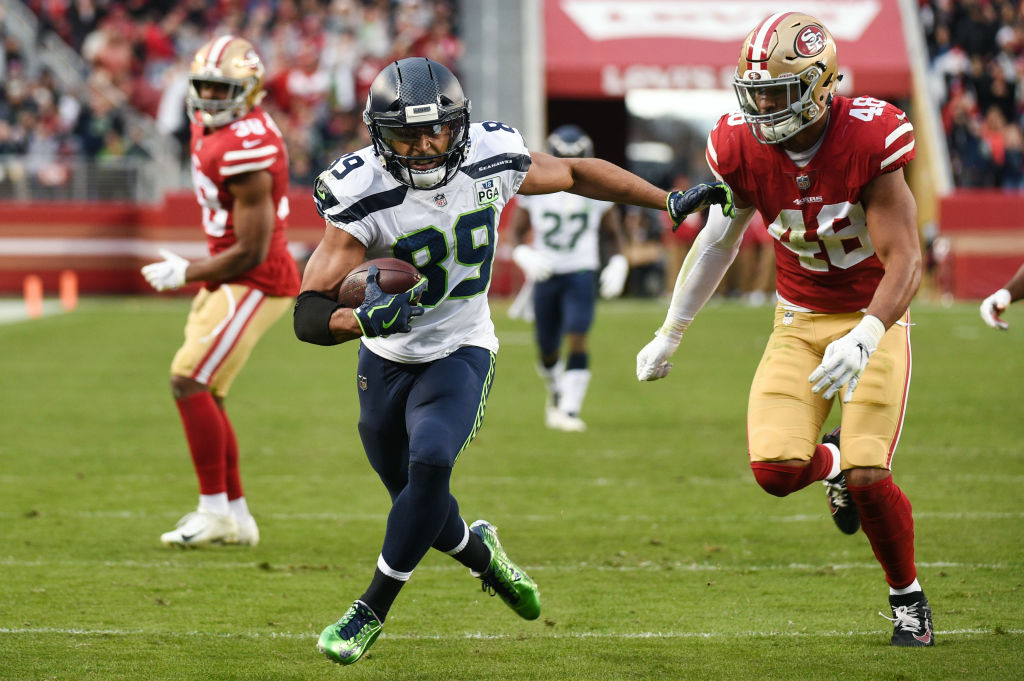 Doug Baldwin's $40 Million Seahawks Career Gives Undrafted Free Agents Hope to Cash In
Undrafted free agents have shockingly low salaries compared to NFL draft picks. Players like Doug Baldwin were still able to make millions.
Becoming an NFL draft pick represents an incredible achievement. Whether you're the first overall pick or Mr. Irrelevant, hearing your name called is truly a once-in-a-lifetime moment. But for NFL hopefuls who don't get selected in the seven-round marathon, their football journey isn't necessarily over. In fact, undrafted free agents like Doug Baldwin have benefitted from choosing their NFL destination and working hard to maximize their opportunities.
However, from a financial standpoint, undrafted free agents have to literally scratch and claw for thousands of dollars. While Joe Burrow may be banking, players who sign after the draft concludes are lucky to get a fraction of his game check in guaranteed money. Let's take a closer look at how much money an undrafted free agent makes and how Doug Baldwin ascended up the NFL salary scale.
NFL draft picks receive significant signing bonuses
Financially speaking, it pays to be a high NFL draft pick. Securing guaranteed money in the form of a significant signing bonus separates early-round picks from late-rounders and undrafted free agents. Joe Burrow, who went No. 1 overall to the Cincinnati Bengals, will receive a four-year contract totaling $36 million. More importantly, he will get a $23.8 million signing bonus. That second number represents life-changing money, especially for athletes who often have to scrape by in college. Second overall pick Chase Young will also score a massive signing bonus that should total $22.7 million.
NFL careers don't last long, so getting that guaranteed money provides protection in case of a career-ending injury or poor performance. Due to the NFL's rookie wage scale, first-round picks receive four-year contracts with a fifth-year option that can also lead to a lucrative payday. Even Day 2 and Day 3 NFL draft picks receive impressive signing bonuses compared to undrafted free agents.
According to Spotrac, the first 78 picks in the 2020 NFL draft will receive a minimum signing bonus of $1 million. Even Tae Crowder, who became the latest Mr. Irrelevant, will receive a $75,490 signing bonus as part of his $2.71 million rookie contract.
Undrafted free agents get minimal guaranteed money
While late seventh-rounders like Crowder receive a $2.71 million deal with a signing bonus that rivals most people's yearly salaries, UDFA don't even come close. Teams will pitch themselves to players available after the NFL draft concludes, but they have a limited pool of bonus money to offer. According to Spotrac, the bonus pool money for 2020 stands at $123,279, which is just north of the signing bonus total for the first pick of the seventh round.
In 2019, the New England Patriots unearthed a potential gem in UDFA wide receiver Jakobi Meyers. The former North Carolina State standout signed a three-year, $1.765 million deal that included just $60,000 guaranteed. His signing bonus totaled just $10,000. While he has a long way to go in becoming the next Doug Baldwin, Meyers caught 26 passes for 359 yards, which was a heck of a bargain considering first-round pick N'Keal Harry caught just 12 passes after receiving a $5.364 million signing bonus. For comparison sake, Terry Beckner Jr., the first pick of the seventh round, still received a $112,316 signing bonus on his four-year deal with the Tampa Bay Buccaneers.
Looking at the 2020 crop of undrafted free agents, the salary discrepancies are startling. Thaddeus Moss, the son of Hall of Famer Randy Moss, surprisingly didn't get selected in the 2020 NFL draft. A projected late-round pick, he had to settle for a far less substantial payout as an undrafted free agent. The former LSU tight end received a paltry $20,000 signing bonus from the Washington Redskins. So far, Luq Barcoo has received the highest amount of guaranteed money amongst the UDFA crop, but despite getting $160,000 guaranteed, he still only received a $20,000 signing bonus. That's not as bad as Gus Cumberlander, who received just $1,500 to sign with the New Orleans Saints.
Doug Baldwin's undrafted free agent journey led to lucrative career
Just because a player has to settle for an undrafted free agent contract doesn't mean he can't break the bank in the future. Countless stars began their careers as scrap-heap pickups before developing into valuable assets. Doug Baldwin stands out as one of the best examples. The former Seattle Seahawks star received a paltry $17,500 signing bonus after going undrafted out of Stanford. Yet, thanks to his tireless work ethic and dedication to his craft, he became an instrumental (and well-paid) member of the Seahawks.
In 2014, Baldwin signed a three-year, $13 million deal that included $6.2 million guaranteed. The 5-foot-10, 192-pound wideout then broke the bank two years later by signing a four-year, $46 million deal that featured $12 million guaranteed. While injuries ended his career after one Super Bowl ring and two Pro Bowl appearances, Doug Baldwin showed undrafted free agents that it's all about maximizing on your opportunities once you're in the NFL.