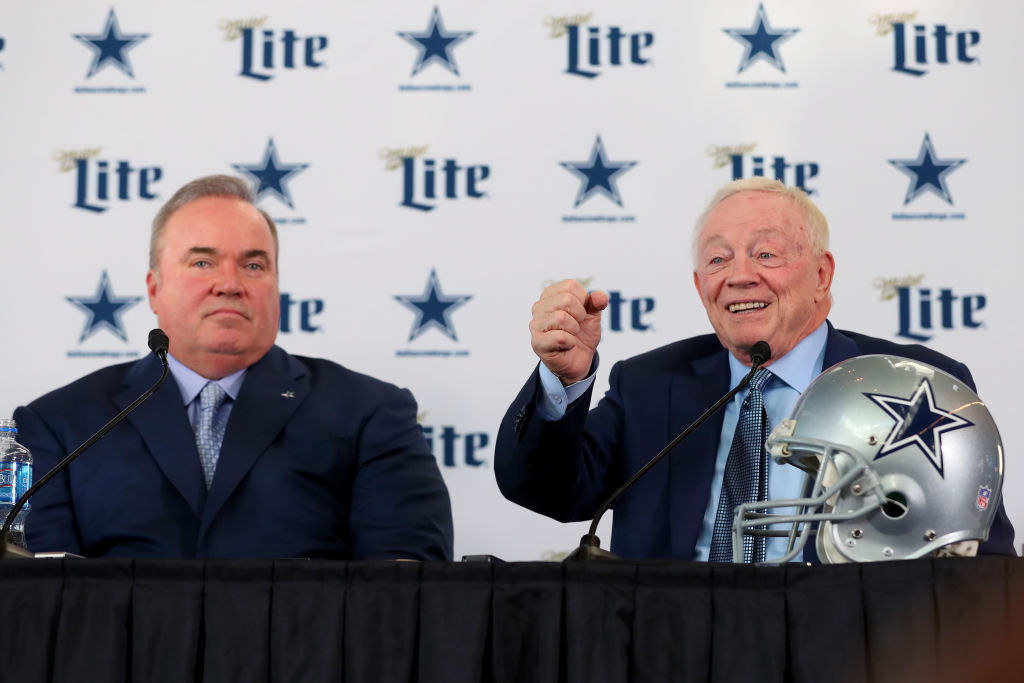 Cowboys Owner Jerry Jones Still Has Time to Right His $5 Billion Ship
Jerry Jones and the Cowboys haven't won a Super Bowl since 1996. Their outstanding 2020 NFL draft class could help them change that.
The last time Jerry Jones raised the Lombardi Trophy, Dak Prescott was in diapers. Since winning their last Super Bowl in 1995, the Dallas Cowboys have come up short in each of their 10 postseason berths. While the Cowboys may still be considered America's Team, they simply haven't delivered when it matters most. That can't sit well with the 77-year-old Jones, who's established a reputation as one of the most demanding and powerful owners in professional sports.
Sadly, Cowboys fans suffered a decade of mediocrity under Jason Garrett. Unfortunately, the head coach garnered more attention for his sideline clapping than any of his actual in-game decisions. But with Mike McCarthy at the helm and Dak Prescott under center (for now), Jerry Jones may finally have the right captain to steer his $5 billion ship straight to the Super Bowl. The only question is whether the Cowboys can deliver a Lombardi Trophy before time runs out.
Jerry Jones hasn't won a Super Bowl since 1995
Don't accuse Jerry Jones of not trying. Since the Cowboys captured their last title nearly 25 years ago, he's never been shy about devoting resources to his $5 billion football empire. Over the years, Dallas has splurged on free-agent stars, made aggressive moves in the NFL draft and executed big-time trades. Still, none of those moves have resulted in a coveted Lombardi Trophy.
Coaching changes didn't solve the problem, either. Former New York Giants coach Bill Parcells made two playoff appearances in four years, but the Cowboys got bounced in the first round both times. Wade Phillips inherited a supremely talented team but couldn't do much better. Somehow Garrett managed to keep his job despite making the playoffs just three times in a decade. He routinely blew games with bone-headed decisions and finally got the boot last season after the Cowboys finished 8-8 for the fourth time under his watch.
Mike McCarthy will bring a fresh approach and credibility to Dallas
Finally realizing that his beloved coach and de facto son couldn't cut it, Jerry Jones made the smart decision to hire Mike McCarthy. The longtime Green Bay Packers coach got fired after Week 13 of the 2018 season. However, despite a shaky relationship with Aaron Rodgers, McCarthy went 125-77-2 in 13 years steering this ship in Green Bay. The 56-year-old delivered a Lombardi Trophy to the Lambeau faithful in 2010. Most impressively, he navigated the Packers to eight straight postseason berths.
That type of consistency should do wonders for a Cowboys organization that got routed off course under Garrett. McCarthy may not be the most innovative offensive mind, but he brings a championship pedigree and a level of accountability that should set the Cowboys up for a terrific 2020 season and beyond.
Cowboys nailed their 2020 NFL draft class
For all of their shortcomings, the Cowboys have actually drafted well in recent years. Most of their core is homegrown, which is a testament to their scouting process. Jerry Jones handled the 2020 NFL draft from his $250 million yacht and his selections should put the Cowboys on course for a Super Bowl run. Dallas landed the best receiver in the draft by taking CeeDee Lamb at 17. The big-bodied, high-pointing wideout should be an instant star playing opposite $100 million receiver Amari Cooper.
Jones found the perfect replacement for free-agent departure Byron Jones by taking Alabama corner Trevon Diggs at 51. He could have easily gone 15-20 spots earlier. In fact, according to Jon Machota of The Athletic, Jones never expected Diggs to even be available.
"We have well done, in-depth studies and charts that we all were reviewing (Friday) morning before the draft," Jones said. "All of our studies showed that he was in the one percentile. Diggs was in the one-percent chance of falling to us there. One."

Dallas also bolstered its defensive line depth by snagging Neville Gallimore in the third round and edge rusher Bradlee Anae in the fifth. From top to bottom, Jerry Jones and the Cowboys made terrific value picks and greatly improved their roster.
Jerry Jones still needs to iron out Dak Prescott's contract
Perhaps the only roadblock to the Cowboys' Super Bowl hopes is Dak Prescott's contract. Dallas hasn't finalized a long-term deal with its franchise quarterback. While the two-time Pro Bowler doesn't deserve to be the highest-paid player in the NFL, the Cowboys will likely have to acquiesce to his demands in order to ensure he'll be behind center for the next five years.
Ultimately, Jerry Jones has more than enough money to get a deal done with Dak Prescott. And once the contract is signed, sealed and delivered, the Cowboys will be on course to ride their talent-packed roster straight to Super Bowl LV.