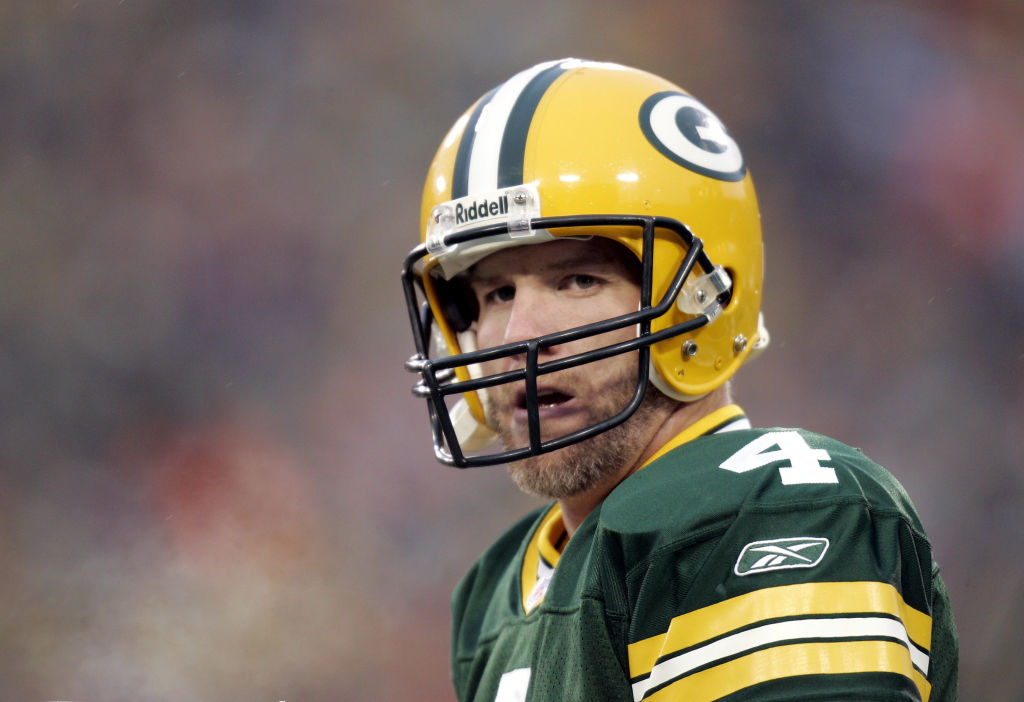 How Brett Favre Became the NFL's First $100 Million Player
Brett Favre became the first player in NFL history to win three straight MVP awards. That led to a record-setting contract from the Packers.
Brett Favre was truly one-of-a-kind. The gun-slinging Green Bay Packers legend won three NFL MVP awards and one Super Bowl championship in a truly awe-inspiring career. An inspiration for future generations of quarterbacks, Favre parlayed his prolific right arm into a highly lucrative 20-year career. A true trendsetter, the 11-time Pro Bowler certainly cashed in unlike any other player before him. In fact, Brett Favre became the NFL's first $100 million player—a historic moment that has set up countless stars after him for their own massive paydays.
Brett Favre developed into a star in Green Bay
A record-setting quarterback at Southern Mississippi, Brett Favre surprisingly fell to the second round of the 1991 NFL draft. Though the Atlanta Falcons made him the 33rd overall pick, they famously traded away the talented signal-caller to the Packers for a first-round pick just one year later. General manager Ron Wolf's leap of faith paid off, as Favre soon developed into the best quarterback in the league by his third season in Green Bay.
After breaking out with 33 touchdowns in 1994, Favre took his game to another level over the next three years. The absolute epitome of a risk-taker, the rocket-armed QB put together the greatest three-year stretch by any quarterback in NFL history. From 1995-97, Favre led the league in touchdowns and became the first player to win three consecutive NFL MVP awards. In 1996, the Packers defeated the New England Patriots in Super Bowl XXI. Desmond Howard took home the MVP trophy, but Favre still threw for 246 yards and two touchdowns in the 35-21 victory.
While he took a sizable step back in both 1999 and 2000, Favre had established a reputation as arguably the top QB in the NFL. And after earning less than $10 million per year as a three-time MVP, the Packers were about to pay a steep price to make their star QB happy.
Packers made Favre the NFL's first $100 million player
In 2001, Brett Favre made NFL history. It had nothing to do with throwing a touchdown or leading his team to the playoffs. Instead, it was all about his bank account. He signed a 10-year, $100 million contract that should have ensured he would finish his career with the Packers. Of course, we know how that story ended once Aaron Rodgers showed he had the tools to become the new face of the franchise.
According to Arnie Stapleton, the deal included a $10 million signing bonus. The structure of the contract, in essence, amounted to a six-year deal, as Favre said he didn't envision himself playing beyond 2006.
"I couldn't envision myself playing with another team," Favre said. "Don't want to. If that was to ever come up, I probably would just retire. I've made enough money to where I don't need to jump ship and go somewhere else. It was just important to me to stay here."
Ironically, he not only played until 2010, but he also ended up suiting up for two other franchises before finally calling it quits. At the time, however, it appeared the deal was the perfect way to reward one of the NFL's living legends. Favre's record-setting contract set the stage for one of his contemporaries to cash in just days later.
Patriots signed Drew Bledsoe to $103 million deal less than a week later
Ironically, the quarterback Favre beat in the Super Bowl just five years earlier ended up usurping his adversary's deal. Just six days after Green Bay signed its star quarterback to the NFL's first $100 million contract, Patriots owner Robert Kraft handed Drew Bledsoe a similar 10-year, $103 million deal. That represented a massive raise for the three-time Pro Bowler.
Looking back, it definitely seemed like a significant overpay for a quarterback who had posted quarterback ratings of 75.6 and 77.3. According to the Associated Press, the largest contract in NFL history seemed to guarantee that Bledsoe would never suit up for another team.
"I've expressed over and over again my desire to play my entire career with the New England Patriots," Bledsoe said. "It looks like that is a very real possibility."
But just like Brett Favre in Green Bay, Drew Bledsoe lost his job to a young, unproven kid. After two games and one gigantic hit from Moe Lewis, Bledsoe watched Tom Brady take over and lead the Patriots to their first Super Bowl championship in franchise history.