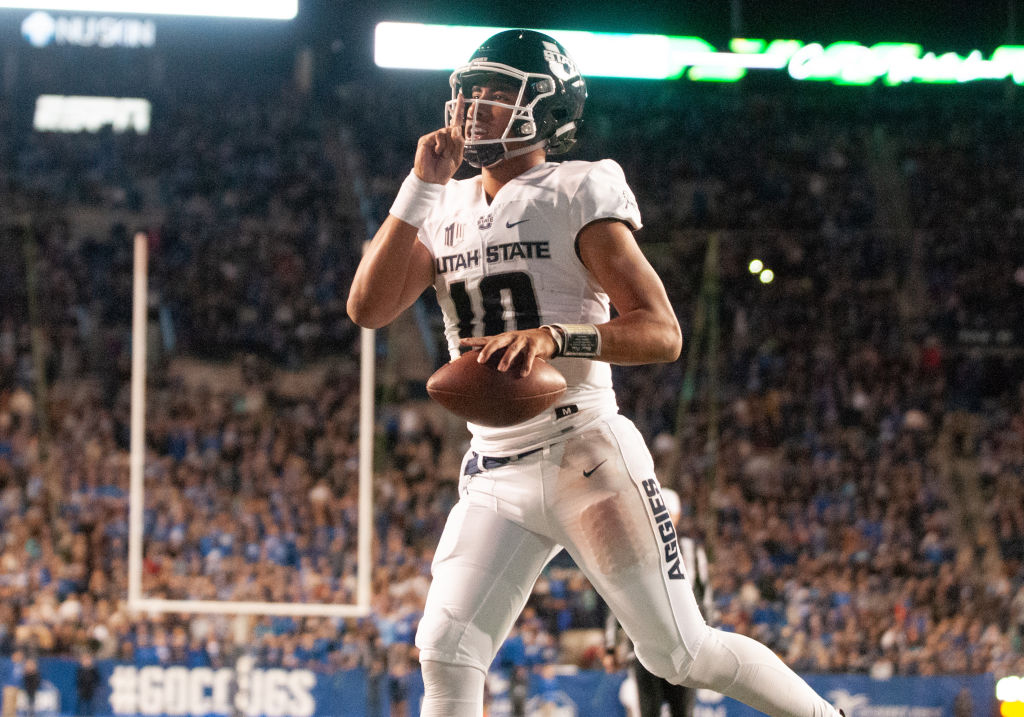 The Green Bay Packers Haven't Botched a First-Round Pick Like This Since Taking Tony Mandarich
Let's make this perfectly clear: This has nothing to do with Jordan Love the player or Jordan Love the person. The Green Bay Packers simply blew their first-round selection in the 2020 NFL draft Thursday night. Sure, Love could turn out to be a great NFL player, but barring some unforeseen and nonsensical trade or …
Let's make this perfectly clear: This has nothing to do with Jordan Love the player or Jordan Love the person. The Green Bay Packers simply blew their first-round selection in the 2020 NFL draft Thursday night. Sure, Love could turn out to be a great NFL player, but barring some unforeseen and nonsensical trade or benching of Aaron Rodgers, Love won't make an impact with the team for another few years.
The book on Jordan Love
Jordan Love has the physical skills to become a star in the NFL, but the Green Bay Packers already have a star at Love's position who is at least still a top-5 quarterback in the league. Love, out of Utah State, is perfectly built for the position at 6-foot-4, 223 pounds with good arm strength and mobility.
Love guided Utah State to a 7-6 record during the 2019-20 season, his junior year. His sophomore season was better than last season as he threw for 32 touchdown passes and 3,567 yards during the 2018-19 campaign. He also completed 64 percent of his passes. Last year, Love threw for 3,402 yards with 20 touchdowns while completing 61.3 percent of his throws.
The knock on Love has been his aggressiveness. He might be too aggressive which forces him into some bad throws. He might not be the best decision-maker out there, but that could come with experience. Love is talented and athletic but just landed with the wrong team through no fault of his own.
Aaron Rodgers needed help, not a slap in the face
Again, Jordan Love likely won't be the bust Tony Mandarich was back in the 1989 draft, but his impact, or lack thereof, might be the same. Aaron Rodgers, despite being 36, still has plenty of gas left in the tank. Rodgers still managed to throw for 26 touchdowns with just four interceptions while racking up better than 4,000 yards.
Rodgers has Davante Adams and not much else at the wide receiver position. While Adams missed significant time last year with a toe injury, Rodgers still had the Packers one game away from reaching the Super Bowl. Yes, Rodgers struggled in the first half of the NFC title game against the San Francisco 49ers, but the two-time MVP is still going strong.
Green Bay wasted a first-round pick and what's even worse is that the Packers traded up to get Love, a player they don't need at the moment. General Manager Brian Gutekunst blew this. Rodgers needed help, not a slap in the face. The team is a piece or two from a championship, but Gutekunkt has decided to play for 2024 instead of 2020.
Many Green Bay Packers fans hate the Love pick
Back in March, Aaron Rodgers addressed the possibility of the Green Bay Packers selecting a quarterback in the 2020 NFL draft. "I'm a realist," Rodgers told ESPN. "I know where we're at as an organization, and I know where I'm at in my career. No matter who you bring in, they're not going to be able to beat me out anytime soon."
When the Packers announced they had traded up and then selected Rodgers' possible replacement, Packers fans were set off. And it wasn't just Packers fans. Stephen A. Smith couldn't believe the pick, tweeting "I understand the draft is just getting started, and that J-Love has some talent. But how about prioritizing help for my man @AaronRodgers12."
Packers fans weren't as kind. Some were calling for Brian Gutekunst's firing. Some were just calling it downright dumb. The selection of Jordan Love may bode well for the future, but when the team is a game from playing in the Super Bowl, it's very tough to understand why a team drafts for the future, and trades up to do so, with its first-round pick.