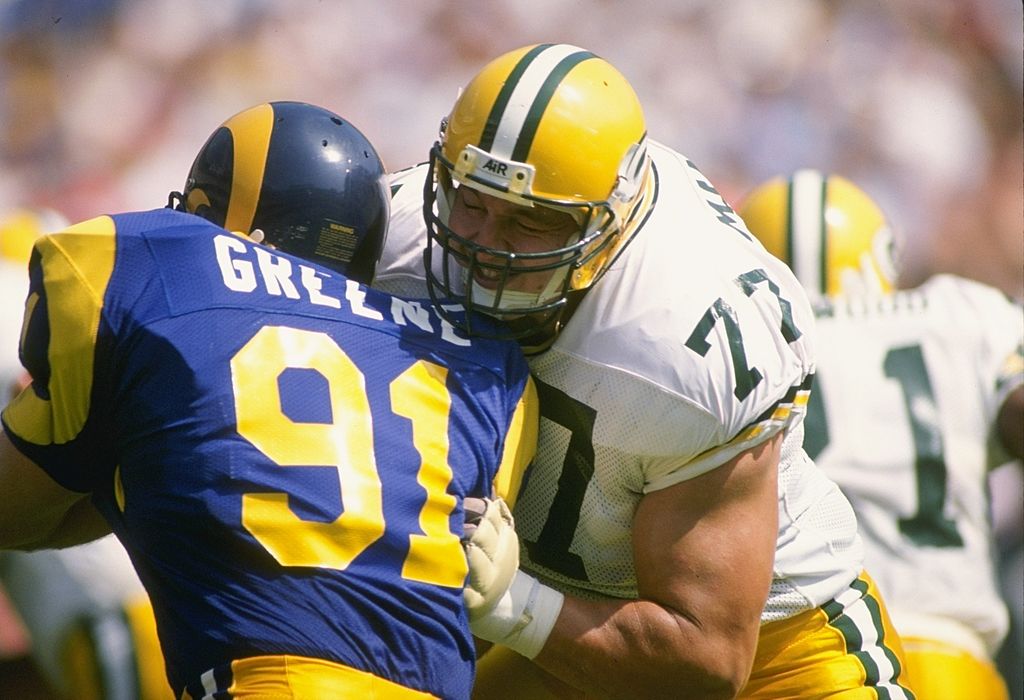 Tony Mandarich Blames Alcohol, Painkillers for His Well-Publicized NFL Flop
Former Green Bay Packers offensive lineman Tony Mandarich blames painkillers and alcohol for his well-publicized bust label.
He's certainly the biggest bust in the 1989 NFL draft. He's the biggest draft flop in Green Bay Packers history. Some will even argue that Tony Mandarich is the NFL's all-time biggest bust. Whatever the label, Mandarich definitely didn't live up to his football expectations when the Packers selected him right behind Troy Aikman, whom the Dallas Cowboys drafted with the first pick in 1989. 
Tony Mandarich's hype coming out of Michigan State

Tony Mandarich played himself into what Sports Illustrated referred to as the best offensive lineman ever, a subhead that was written under the headline 'The Incredible Bulk" in an edition previewing the 1989 NFL draft.

At Michigan State, Mandarich simply dominated his opponents. At 6-foot-6 and 315 pounds, Mandarich made sure nobody got next to his team's quarterback. He was big. He was strong. He was fast. 

Former Michigan State coach George Perles, who was an assistant coach with the Pittsburgh Steelers during a time when the Black & Gold won four Super Bowls, said Mandarich could've started on the Steelers when he was a junior in college.

"As a junior, he could have started on any of our Super Bowl teams, Perles said. "He may be the best offensive tackle ever. He's certainly the best since the game changed the blocking rules. Before that, you had to play without your arms, and it didn't matter how strong your bench press was. [Mandarich has pressed 545 pounds.] He's faster than any offensive lineman in pro football. There's probably nobody faster in the world at his weight. This is a different player. We'll never have another."
His struggle with steroids, alcohol, and painkillers

Initially, Mandarich stated he never took anabolic steroids while at Michigan State, but after his woeful time in the NFL, he finally admitted steroid use in college. Mandarich, however, said he never used steroids in the NFL, but instead was addicted to painkillers and alcohol.

Mandarich said during his career at Michigan State, he probably got tested five times, and on a few of those tests, he cheated. He said he stopped using steroids in the NFL because of the league's strict drug testing. Instead, he turned to painkillers and alcohol. 
"I was taking 40, 50, 60 painkillers a day, and drinking," he said of his time in the NFL. He knew he was a drug addict.
In an interview with ESPN back in 2009, Mandarich said "steroids will be attached to my name probably for the rest of my life, as will the word 'bust.'"
A bust with the Green Bay Packers
In an NFL draft that everyone had the Dallas Cowboys taking Troy Aikman with the first pick, everyone else had Mandarich going second to the Packers. That well-stocked draft also consisted of Barry Sanders, Deion Sanders, Andre Rison, Derrick Thomas, and several other future NFL stars.

Mandarich's time in Green Bay got off to a tough start as he didn't want to play in a small media market. He called Green Bay a 'village' and held out.
After returning to camp a few days before the beginning of the season, Mandarich already had the bust label attached. Tim Harris, Green Bay's defensive end, said he couldn't believe the hype as Harris cruised past him in practice.
"I just remember going through him like a hot knife through butter, laughing at him," Harris told ESPN. "I was thinking at the time, 'Wow, what a big bust. We put a million dollars in this guy.'
The Packers released Mandarich after three seasons. After a brief break from the NFL to get some help for his substance abuse, he returned to the league to play three seasons with the Indianapolis Colts.