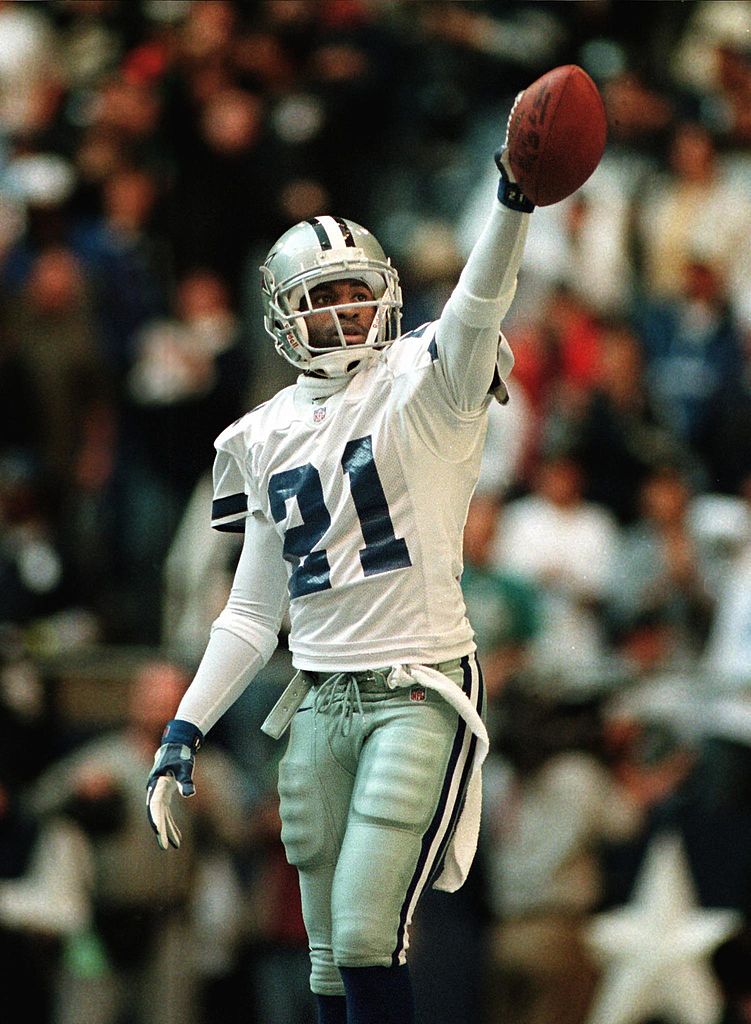 Deion Sanders' Suicide Attempt in 1997 May Have Saved His Life
Deion Sanders, a former two-sport professional athlete, may have had his life saved by his suicide attempt back in 1997.
No pun intended, but back in 1997, Deion Sanders was still in the prime of his life. The man they call Prime Time was still making a living playing in both the NFL and Major League Baseball, yet he felt empty.
The emptiness was so deep he didn't feel like living anymore. In his autobiography Power, Money & Sex: How Success Almost Ruined My Life, Sanders recalls the time when he tried to end his life because he felt he was 'running on fumes.'
Deion Sanders was a two-sport professional athlete
Drafted fifth overall by the Atlanta Falcons out of Florida State in the 1989 NFL draft, Sanders spent 14 successful seasons in the league with five different teams. The flashy, trash-talking cornerback certainly backed up his talk with his play as he was named All-Pro nine times and was an eight-time Pro Bowl player.
Sanders, known for high-stepping into the end zone and for wearing a bandana, was named Defensive Player of the Year in 1994 with the San Francisco 49ers. Prime Time was also named to the NFL's 100th Anniversary All-Time Team. He was also a two-time Super Bowl champion.
Sanders, however, began his professional sports career by playing baseball. He was originally drafted in 1985 by the Kansas City Royals in the fifth round but didn't sign with the team. In 1988, Sanders was drafted in the 30th round of the MLB draft by the New York Yankees. He signed with the team and made his big-league debut in May of 1989.
Baseball was more of a part-time role for Sanders, who played parts of nine MLB seasons with four different teams. Sanders is the only player to ever take part in a Super Bowl and a World Series. He's also the first to ever hit an MLB home run and score an NFL touchdown in the same week.
The suicide attempt back in 1997 that led to his strong faith
During a time when Sanders was still juggling two professional sports and a personal life, Sanders, in his autobiography, said he felt empty. His rock bottom came when he decided to try and end his life in 1997 by driving his car off a 40-foot cliff.

"I was going through the trials and tribulations of life. I was pretty much running on fumes. I was empty, no peace, no joy. Losing hope with the progression of everything."

Deion Sanders
Despite the lengthy fall in his car, Sanders said he escaped without significant injury. It was at that time when he turned to a higher power.
"I finally just got on my knees and gave it all to the Lord," Sanders said.
"Slowly, but surely, I had to deal with my faith, deal with my strength," Sanders said. "I had to get a lot of Word in so that I could fight off the enemy. I wouldn't be where I am today without my faith. People argue about what faith is, and who Jesus is, but it works for me. I'm not going to sit here and argue about who is what, and what is what, I'm just going to say it works for me."
Sanders now says his faith is as strong as ever.
"Sports is sports; it's a game," he said. "My faith is everything. It's the gas that propels the courage, the truth, keeps me going."
Prime Time's life after athletics
Since his playing days, Deion Sanders has remained in the professional sports scene as an analyst for NFL Network. He's an on-location analyst for Thursday Night Football on CBS, NBA, and NFL Network, providing pregame, halftime, and postgame analysis.
Sanders has also been working as a high school football coach. It was widely reported in November that Prime Time was being considered for the head coaching position at his alma mater, Florida State.
Sanders was also hired as an assistant coach in 2004 with the Dallas Fury, a women's professional basketball team, and he's also been a devout Christian speaker.
How to get help: In the U.S., call the National Suicide Prevention Lifeline at 1-800-273-8255. Or text HOME to 741-741 to connect with a trained crisis counselor at the free Crisis Text Line.