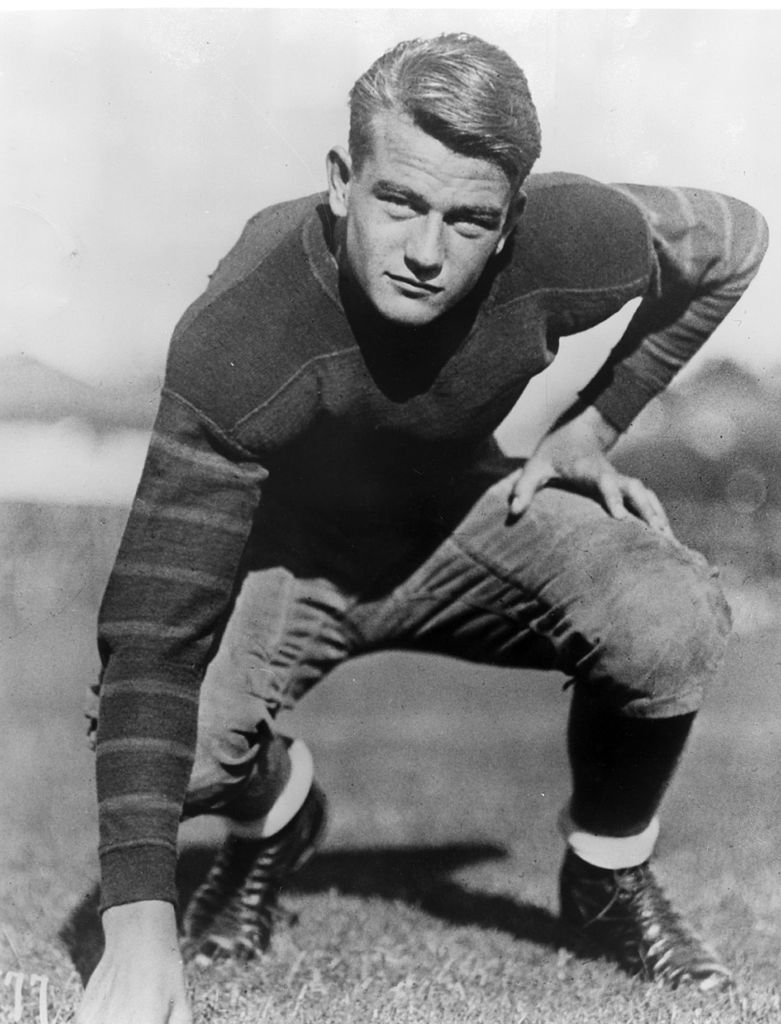 The Atlanta Falcons Tried to Draft Legendary Actor John Wayne When He Was 64 Years Old
The Atlanta Falcons had a strange way of trying to toughen up their team by attempting to draft 65-year-old John Wayne.
The Atlanta Falcons are no strangers to bold NFL draft moves. After all, this is a team eschewed all concepts of draft value by trading five picks to select Julio Jones in 2011. While that maneuver brought them a future Hall of Famer, the Falcons attempted to land another legend nearly 50 years ago. Of course, the player Atlanta coveted hadn't stepped foot on the USC football field in over 40 years, as he had carved out a pretty lucrative acting career. This is the story of how the Falcons tried to draft 64-year-old John Wayne.
John Wayne's football career at USC
Before Hollywood executives encouraged him to change his name, John Wayne was known better as Marion Morrison. And long before he became a legendary actor, he actually made his mark on the football field. Incredibly, Wayne parlayed his high-school talent into a football scholarship at USC. The Trojans' athletic program has produced a number of recognizable stars over the years, including Mark McGwire, Reggie Bush and O.J. Simpson. Of course, Wayne's football scholarship only covered his $280 tuition and one meal a day.
A 6-foot-4 tackle, Wayne played just two years for the Trojans. He suffered a broken collarbone while surfing and ultimately lost his scholarship. According to Rick Jewell, that led to some difficult times for the towering lineman.
Clarke remembered this as a hard time for Wayne. "Duke was in bad shape, financially. He owed money to the fraternity for his dues, room and board, and he didn't have a dime. The fraternity was urging him to pay up; he felt his football playing days were over because of his bad shoulder. So he did what he felt he had to do. He quit school and went to work at the studios."

Luckily for John Wayne, the end of his playing days opened the door to a lucrative big-screen career. Still, that didn't mean NFL teams forgot about his football past.
Falcons had just one winning season before 1972 NFL draft
In their early days as a franchise, the Falcons were, to put it lightly, awful. They made their NFL debut in 1966 and went just 3-11. The following year, they went 1-12-1 and posted a horrific point differential of -247. To put it into perspective, the Miami Dolphins had the NFL's worst point differential in 2019 at -188. Even the Cincinnati Bengals, who own the No. 1 pick in the 2020 NFL draft, had a point differential of just -141.
Fortunately for Falcons fans, they found a stud in 1968 in the form of future Hall of Fame defensive end Claude Humphrey. And with Bob Berry providing stability at quarterback, the Falcons began to head in the right direction. Atlanta improved to 6-8 in 1969 before taking a small step back in 1970.
However, the team appeared poised to take the next step after posting its first winning record in 1971. That year, the Falcons ranked 13th in points scored and points allowed and were led on offense by two of the greatest names in NFL history: Cannonball Butler and Dick Shiner. So with the team on the cusp of a possible breakout, the 1972 NFL draft loomed large for a team in need of that special player who could put them over the top.
Falcons drafted John Wayne before NFL disallowed the pick
Seeking their first playoff birth in franchise history, the Falcons entered the 1972 NFL draft looking for that one ingredient that would catapult them into the postseason. At that time, the NFL draft lasted for 17 rounds, and by the time the Falcons were back on the clock with the 431st pick, the team decided to go big and bold with its final selection. According to ESPN, Falcons coach Norm Van Brocklin screamed out to his staff, "Do we want the roughest, toughest, S.O.B. in the draft?!"
When his staff agreed, Van Brocklin called the NFL and said the Falcons were selecting John Wayne out of Fort Apache State. Of course, NFL commissioner Pete Rozelle disallowed the pick, as Wayne was 64 years old. Not even the TB12 method could have gotten the Academy Award-winning actor ready for game day.
After their failed attempt to make 64-year-old John Wayne their 17th-round draft pick, the Falcons settled for another USC player in Bill Holland. Like Wayne, the running back never played an NFL snap.