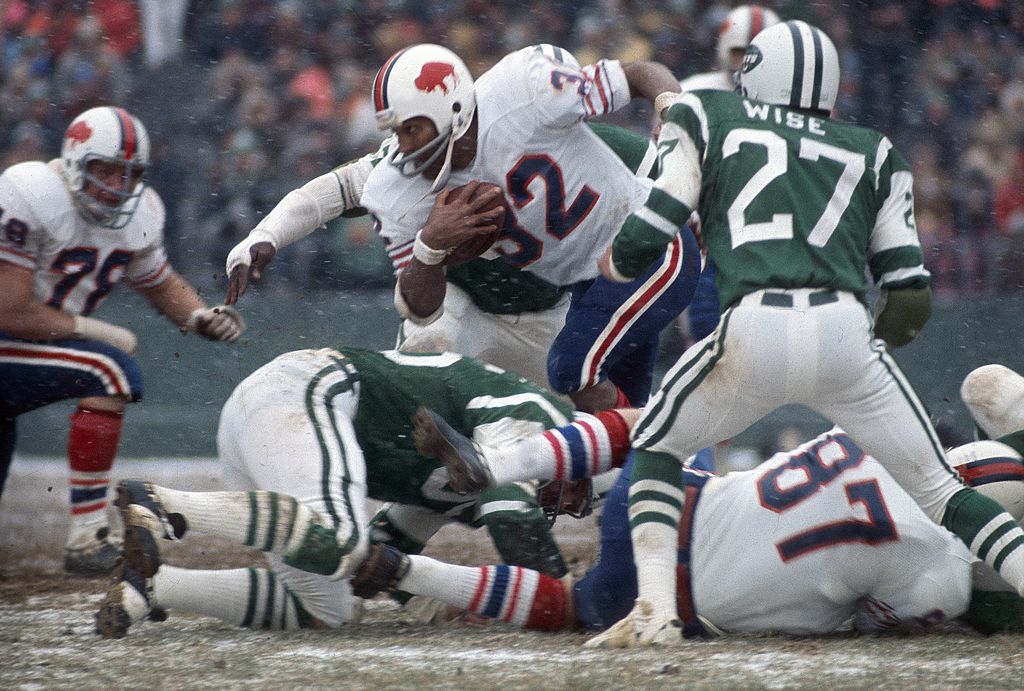 Long Before His Infamous Trial, O.J. Simpson Made NFL History
O.J. Simpson might be primarily known for his legal issues, but he made NFL history during his time as a running back.
Over time, some athletes can transcend the bounds of sports and become figures in popular culture. One of those former pros is O.J. Simpson. While he's more known for his infamous white Bronco chase and subsequent trials, Simpson initially burst onto the scene as an exciting football player.
O.J. Simpson, however, wasn't merely a benchwarmer filling out an NFL roster. Although he didn't spend a great deal of time in the league, he still made plenty of history.
O.J. Simpson's career at USC
While O.J. Simpson showed plenty of football talent during his time in high school, his grades prevented him from heading to a bigtime college program. Instead, he plied his trade at the City College of San Francisco, dominating the gridiron and improving his grades.
When the time came to leave junior college, Simpson chose to enroll at USC; that move immediately paid dividends. The running back racked up 1543 yards and 13 touchdowns during his first season with the Trojans, chewing up 5.3 yards per carry. His next campaign, however, would be even more impressive.
During his senior season, Simpson proved to be even more effective. He finished the year with 1880 rushing yards and 23 touchdowns, taking home the Heisman Trophy with unprecedented ease.
Making NFL history with the Buffalo Bills
When the 1969 AFL-NFL draft rolled around, the Buffalo Bills held the first overall pick. They selected O.J. Simpson and, after some protracted negotiations, signed the running back to a massive deal.
While Simpson's professional career didn't take off at first, everything changed when Lou Saban took over the team. The new head coach realized he had an incredible talent on the roster; from then on, O.J. Simpson was the Buffalo Bills offense.
Simpson promptly led the NFL in rushing in 1972, finishing the season with 1,251 yards. The next campaign, however, he took things even further piling up an unprecedented 2,003 yards; he was the first man to break the 2,000-yard rushing plateau and was the only player to achieve the feat in 14 games. The running back would post a few more strong seasons, including a 1,817-yard campaign, before tailing off, but he never matched the magic of his MVP-caliber 1973.
In all, O.J. Simpson played 11 professional seasons with the Bills and San Francisco 49ers. He piled up 11,236 yards and 61 rushing touchdowns during that career; the running back has since been inducted into the Pro Football Hall of Fame and was a member of the NFL 100 All-Time Team.
For better or worse, O.J. Simpson is still in the public eye
During his prime, O.J. Simpson found fame as both an athlete and an actor. While his knack for finding the spotlight has never faded, he's not making positive news anymore.
Simpson, of course, was involved in an infamous murder trial in the 1990s; while he was acquitted of criminal charges, he was eventually found guilty of wrongful death and battery in civil court. He's also had issues regarding taxes, stealing cable, and armed robbery over the years. These days, things seem to have settled down, as Simpson resides in Las Vegas, where he spends most of his time golfing and tweeting.
These days, O.J. Simpson exists primarily in the sphere of pop culture through the lens of a white Bronco and a leather glove. Long before he started breaking the law, however, he was breaking NFL records; ideally, he would have stuck to the latter pursuit.