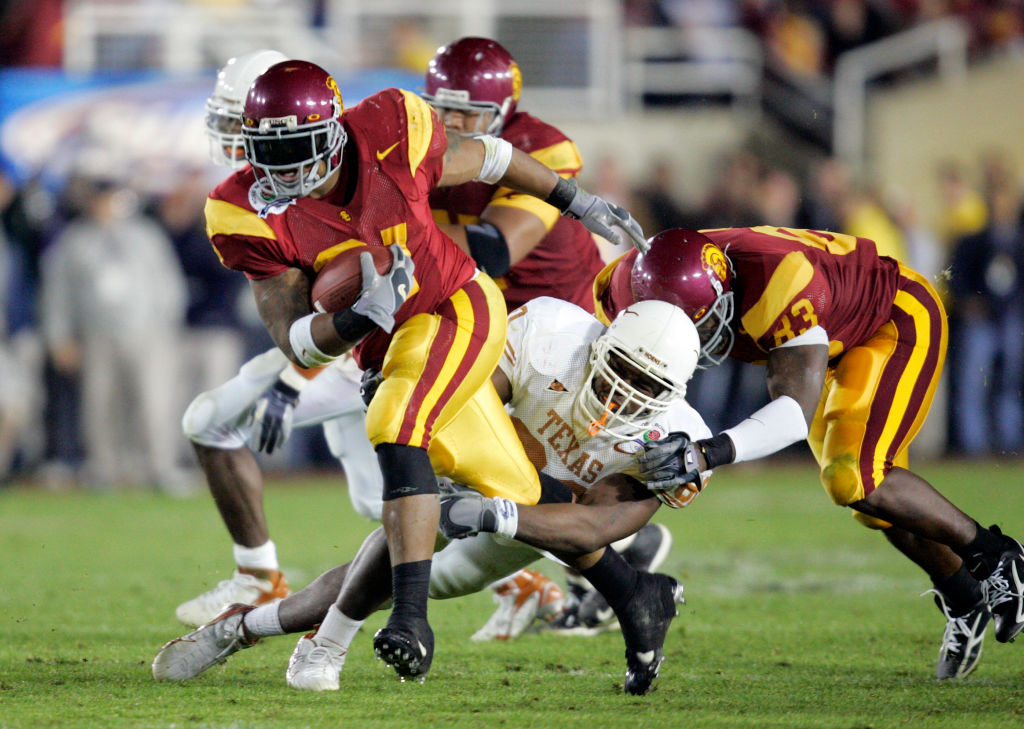 LenDale White's Journey From USC Legend to NFL Flameout
LenDale White dominated as a power running back at USC before getting drafted by the Tennessee Titans in the 2006 NFL draft.
When LenDale White carried the ball, everyone watched. At USC, the 6-foot-1, 235-pound bruiser teamed up with Reggie Bush to form one of the greatest backfields in college football history. Naturally, White took his talents to the NFL. Early on, the Titans looked like they had found the league's next great power back.
Yet, after experience success in a similar two-headed running back tandem with the Tennessee Titans, White's career evaporated. Weight issues, injuries and concussions led to his demise. And just like that fateful fourth-and-two carry against Texas, LenDale White's career stopped dead in its tracks.
LenDale White and Reggie Bush formed unstoppable duo at USC
A Denver native, White played for Chatfield Senior High under former NFL receiver Dave Logan. He put together a fabulous high school career that included a spot on the 2003 U.S. Army All-American team. By the time he signed with the USC Trojans, he had accumulated nearly 8,000 rushing yards.
As true freshmen, White and Bush showed glimpses of their potential. With Bush operating as the big-play, do-it-all threat, White stuck with what he did best: getting downhill. He finished his freshman year with 754 rushing yards and 13 touchdowns; Bush had just 521 and three, respectively. The "Thunder and Lightning" combination continued to dominate, with White actually carrying the load.
In his sophomore season, the Pac-10 star ran for 1,103 yards and 15 touchdowns on 203 carries. He saved his best for last, outdueling future NFL legend Adrian Peterson in the Orange Bowl in a 55-19 USC victory. Of course, White's junior season ended in much more dramatic and heartbreaking fashion. After leading the nation with 24 touchdowns, he got stuffed on a short-yardage play against the Longhorns in what's considered to be the greatest college football game of all time. To make matters worse, Bush—the Heisman Trophy winner that season—was left watching from the sidelines.
Tennessee Titans drafted former Trojans star in 2006
The Titans drafted White with the 45th pick in the 2006 NFL draft. Ironically, Bush ended up going second overall after the Texans surprisingly took Mario Williams with the top pick. Three other running backs went in the first round that year. Laurence Maroney went 21st to the Patriots, DeAngelo Williams went 27th and Joseph Addai went 30th.
In his rookie season, White received just 61 carries. The Titans actually coaxed a 1,200-yard season out of veteran Travis Henry before turning over the reins to their second-round pick in 2007. Like he did at USC, White excelled as the primary ballcarrier. He started all 16 games and ran for 1,110 yards and seven touchdowns on 303 carries. With Vince Young at quarterback, the Titans went 10-6 but lost in the Wild Card round to the San Diego Chargers.
Even though he was an instant hit, White found himself in another running back tandem when the Titans drafted Chris Johnson in 2008. As the thunder to Johnson's lightning, White finished tied for third with 15 rushing touchdowns. Amazingly, he accomplished that on just 200 carries. However, the following year, Johnson became just the sixth player to rush for 2,000 yards and White got just 61 carries.
White lasted just four years in the NFL
Falling out of favor, White got traded to Seattle in April 2010. Having the opportunity to reunite with former college coach Pete Carroll could have been a career-saving move. But the former USC star failed a drug test and got cut before ever suiting up for the Seahawks. He signed a two-year contract with his hometown Broncos in August. Unfortunately, White tore his Achilles in the preseason and never played another NFL down.
As a bigger back, White certainly sustained a ton of damage. And in 2017, the truth about his health came to light in Zach Helfand's piece in the Los Angeles Times. The running back estimated he'd suffered between 20 to 30 concussions but only had one diagnosed:
"You lose consciousness and then all of a sudden it's like shoooo-ooooof," White says, making a slurping noise, his eyes growing wide as he described the sensation. "Like, that's how it sounds, like shhhhhhloooof, and then all of a sudden you hear the play again." He'd wander around in a haze, Young directing him to the right spot until he regained his senses.



White had to overcome addictions to pain pills and deal with his demons but has managed to turn things around with alternative treatments. The 2005 All-American still holds the USC record with 52 career rushing touchdowns.