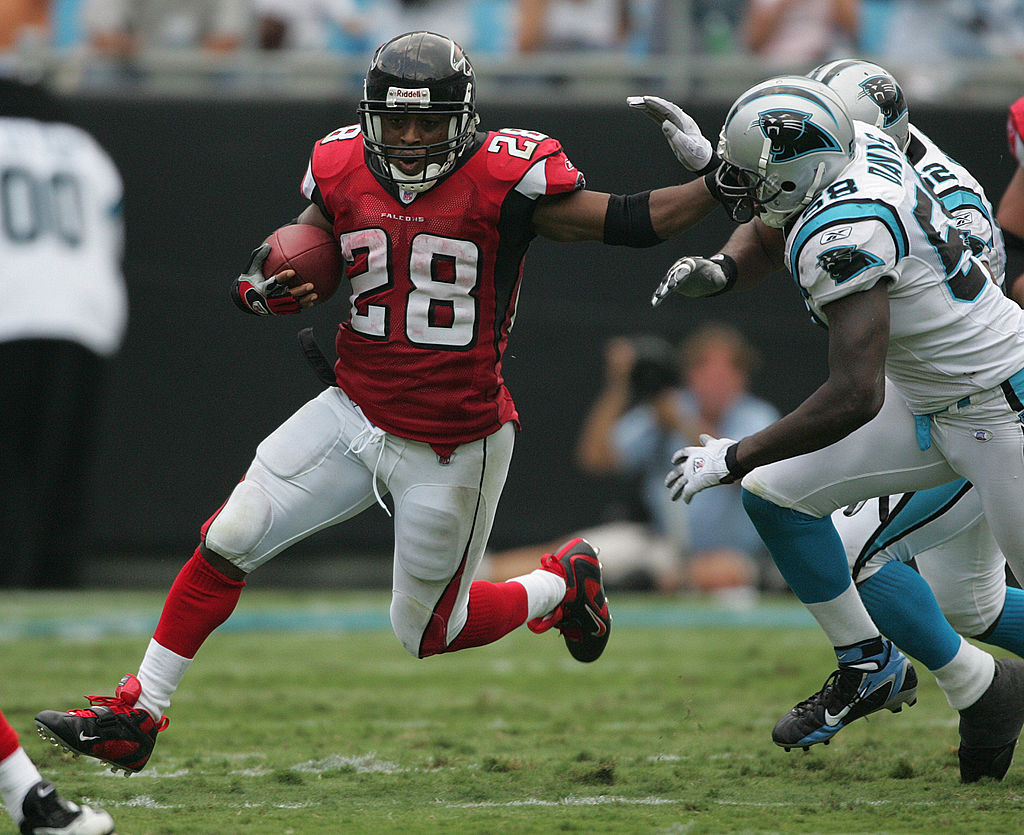 Warrick Dunn Made $36 Million and Bought the Falcons
Warrick Dunn is one of the greatest players in Falcons history. He ended up using some of his NFL fortune to buy part of his former team.
In an era where running backs still mattered, Warrick Dunn established a reputation as one of the NFL's best. For 12 years, he tantalized fans with his ability to burst through the line and also catch passes out of the backfield. A two-time Heisman candidate at Florida State, Dunn began his NFL career in Tampa before becoming a fan favorite with the Atlanta Falcons.
The relationship worked well for both sides. And after amassing nearly $36 million in NFL earnings, Dunn made the marriage permanent by purchasing an ownership stake in the Falcons.
Warrick Dunn's college career
Warrick Dunn signed with the FSU as one of the top recruits in the country. He joined a talented Seminoles squad that featured dynamic quarterback Charlie Ward, as well as future first-round picks Derrick Brooks and Devin Bush. Dunn spent his freshman year in a reserve role before truly breaking out as a sophomore.
The dynamic running back ran for 1,026 yards and added another 308 receiving yards in his first year as a starter. FSU dominated the ACC with its nearly unstoppable attack. Dunn finished ninth in the 1995 Heisman voting after scoring 16 total touchdowns.
His senior season included another 1,000-yard campaign and a fifth-place Heisman finish. The Seminoles also gained another playmaker with the emergence of future Heisman hopeful Peter Warrick. By the time Dunn wrapped up his collegiate career, he had totaled nearly 4,000 rushing yards, 1,314 receiving yards and 49 total touchdowns.
Former FSU standout became a Falcons legend
In desperate need of a franchise running back, the Buccaneers selected Warrick Dunn with the 12th pick of the 1997 NFL draft, While Hall of Fame tight end Tony Gonzalez went right after him, Dunn certainly gave Tampa fans plenty to cheer about. He proved to be an immediate hit and earned his first of three Pro Bowl selections as a rookie. Dunn earned a second trip to Hawaii in 2000 when he ran for 1,133 yards while also totaling 422 yards on 44 receptions.
However, with the Buccaneers building their offense around Michael Pittman, Dunn signed with the Falcons. Atlanta had just drafted Michael Vick and needed to upgrade its backfield. Adding Dunn proved to be the right call. In six seasons, he totaled nearly 6,000 rushing yards.
More importantly, he served as a vital check-down option for the free-wheeling Vick. Dunn totaled 281 catches with the Falcons before reuniting with the Bucs for his final NFL season. By the time he retired, he had totaled nearly 11,000 yards on the ground and more than 4,000 as a receiver. While he never earned a first-team All-Pro selection, he certainly played a pivotal role for the two NFC south squads.
Dunn invested NFL earnings in his former team
Money mattered to Warrick Dunn. In fact, he went on a five-day holdout before signing his initial six-year, $8.86 million deal with the Buccaneers. That contract included a $3.5 million signing bonus—a small sum by today's running back contract standards.
He truly cashed in on his Falcons deal, when he more than doubled his rookie deal. Atlanta made the unrestricted free agent one of the NFL's highest-paid backs on a six-year, $28.5 million deal with a $6.5 million signing bonus.
Dunn's NFL earnings helped him achieve tremendous financial success after retiring. Unlike other athletes, he put his fortune to good use. Dunn's Homes for the Holidays program has helped build more than 170 homes for needy families.
Of course, the football lifer couldn't stay far away from the game that afforded him the opportunity to help countless people. So in 2009, the former Falcons star purchased a minority ownership stake in the franchise that put him on the path to financial freedom. Today, Celebrity Net Worth estimates Warrick Dunn is worth $11 million.