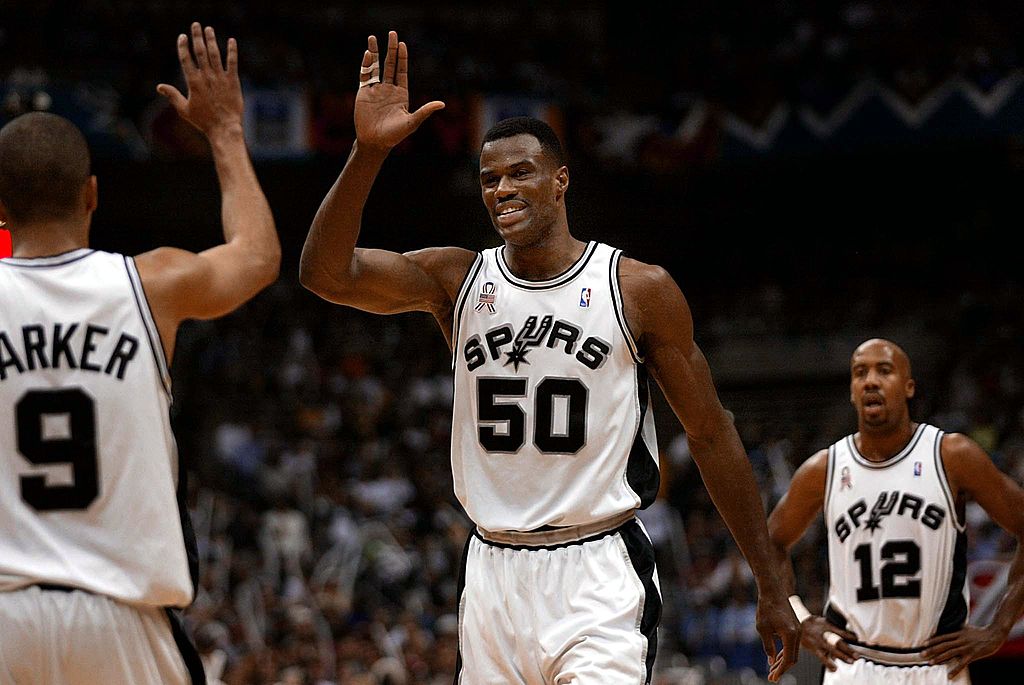 David Robinson Made so Much Money He Bought the Spurs
David Robinson turned a lucrative NBA career with the San Antonio Spurs into an interesting investment: Becoming an NBA owner.
David Robinson achieved the American dream. From serving his country to starring for the Spurs to capturing two Olympic gold medals, The Admiral did it all. But for all of his on-court accomplishments, Robinson's success off the court has helped him accumulate an impressive net worth.
The Spurs legend has managed to build up quite the financial portfolio since his playing days ended in 2003. A noted investor, Robinson has made millions through smart business deals. But Robinson's most unique investment turned out to be one very close to home for the two-time NBA champion.
David Robinson was a Naval Academy star
Before he became an NBA legend, David Robinson earned national attention as a basketball star at the United States Naval Academy. That certainly came as a surprise considering he had never played organized basketball until his senior year in high school. Despite his inexperience, Robinson literally grew into the most dominant player in Naval Academy history.
The long-limbed, powerful center completely took over the college basketball scene in the mid-'80s. In his sophomore season, Robinson averaged 23.6 points, 11.6 rebounds and 4.0 blocks for a 26-2 Navy squad. He followed up with two more stellar seasons, including a ridiculous junior campaign in which he set the NCAA single-season record with 5.9 blocks per game.
By the time he wrapped up his college career, Robinson had earned National College Player of the Year honors and been named the Colonial Athletic Association's Player of the Year three straight years. The Admiral then set his destination for the NBA and he definitely didn't disappoint.
1995 MVP won two NBA titles with the Spurs
Despite going No. 1 overall in the 1987 NBA draft, Robinson did not suit up until the 1989-90 season due to service commitments. However, once he joined the Spurs, he immediately turned the franchise into a contender. His arrival couldn't have come at a better time, as San Antonio won just 21 games the year prior.
With Robinson anchoring the frontcourt, the Spurs pulled off an incredible turnaround. The Admiral led the Spurs to a 56-26 record—the largest single-season improvement in NBA history at the time. As a 24-year-old rookie, Robinson averaged 24.3 points, 12 rebounds and 3.9 blocks while leading the Spurs to the Western Conference Semifinals.
Over the next six seasons, The Admiral established a reputation as the NBA's most impactful center. He took home MVP honors in 1995 after averaging 27.6 points, 10.8 boards and 3.2 blocks. Unfortunately, he missed nearly the entire 1996-97 season with a broken foot that ultimately helped the Spurs land future Hall of Famer Tim Duncan. The towering duo teamed up to win two championships before Robinson retired after the 2002-03 season.
Robinson's lucrative post-NBA career
For all of his success on the basketball court, David Robinson has managed to do even better off of it. According to Spotrac, the Hall of Famer made $118 million during his 19-year NBA career. Robinson earned a career-high $14.8 million salary in 1998-99, which certainly looks small compared to modern NBA salary standards. Yet, the incredibly smart businessman managed to turn that small fortune into an even more robust one.
Robinson launched a highly successful private equity fund called Admiral Capital. According to Celebrity Net Worth, the fund raised $115 million after its 2007 launch. Robinson's aptly named company then went on to acquire $350 million worth of real estate assets. He ended up starting another fund in 2015 with a fundraising goal of $175 million.
While real estate may be more lucrative, Robinson didn't miss out on an opportunity to invest in the league that made him millions. In 2004, The Admiral purchased a 1.88 percent equity stake in the Spurs. According to Forbes, the Spurs are worth about $1.8 billion today. Besides being an NBA Hall of Famer, David Robinson can also call himself a part-owner of one of the league's most successful franchises.