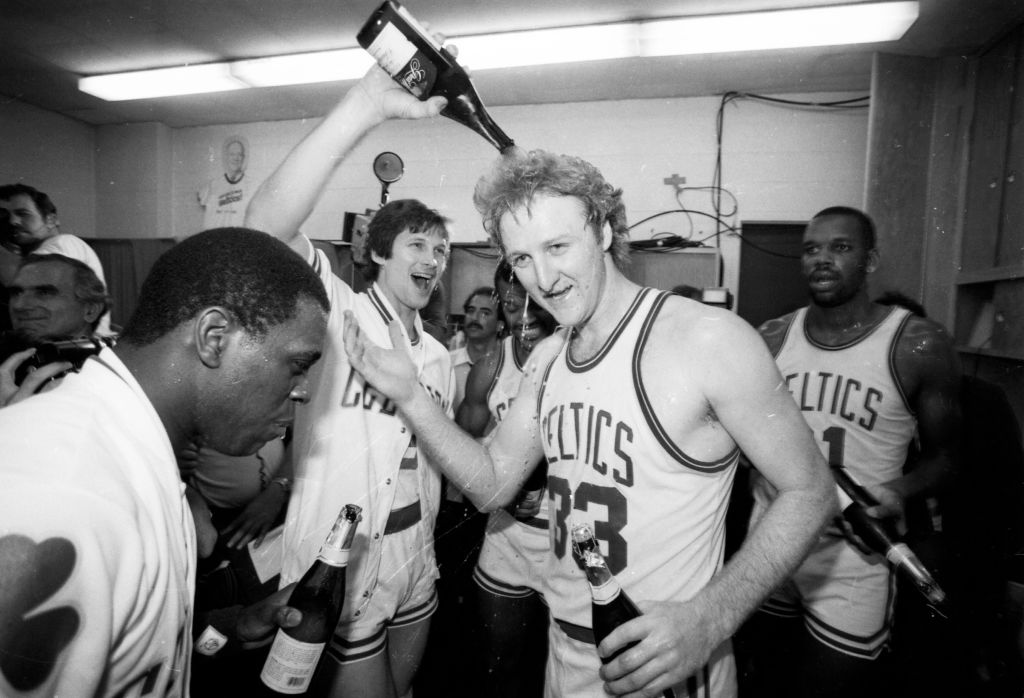 Larry Bird is Always on Twitter Even Without Having an Account
Larry Bird was such a popular and respected NBA star that Twitter named its iconic logo after the Boston Celtics legend.
Larry Bird may have played just 13 NBA seasons, but the Boston Celtics legend has made a long-lasting impact both on and off the court. A consensus top-10 NBA player of all time, Larry Legend established a reputation as one of the toughest, craftiest and cockiest players in NBA history.
A three-time NBA champion, Bird dominated opponents with a unique skill set for a man of his size. Decades later, he's still one of the NBA's most popular legends. And as it turns out, Larry Bird's fame led one iconic social media company to name its signature logo in his honor.
Larry Bird and his Hall of Fame NBA career
Five NBA teams passed over Larry Bird before the Celtics made him the sixth pick of the 1978 NBA draft. Their loss turned into Boston's ultimate gain…eventually. Bird actually returned to Indiana State University for his junior season, where he lost to Magic Johnson's Michigan State team in the NCAA Championship.
But once Bird officially joined the NBA, he became an instant star. The 6-foot-9, 220-pound forward averaged 21.3 points, 10.4 rebounds and 4.5 assists for a 62-21 Celtics team that ultimately lost in the Eastern Conference Finals. However, after drafting future Hall of Famer Kevin McHale in 1980, Bird led Boston to the first of three NBA titles in his career.
For the first nine years of his stellar career, Bird averaged 25.1 points per game and led the league in free-throw percentage three times. Besides his scoring prowess, Bird earned a reputation as one of the slickest passers in league history, particularly for the power forward position. Unfortunately, recurring back injuries forced Larry Legend to retire after his age-35 season. When he hung 'em up, Bird had career averages of 24.3 points, 10.0 rebounds and 6.3 assists per game.
Celtics legend won 2012 NBA Executive of the Year
Although he no longer could contribute on the court, Bird did not venture far from the NBA. He became a special assistant for the Celtics upon retiring until 1997. The Indiana native then returned to his home state to become the head coach of the Indiana Pacers. Despite having no coaching experience, Bird won the 1998 NBA Coach of the Year Award after leading the Pacers to a 54-28 record and a spot in the Eastern Conference Finals. Two years later, the Pacers advanced all the way to the NBA Finals before falling to the dynamic duo of Shaq and Kobe.
Bird ultimately resigned as Pacers head coach after the difficult defeat. However, he didn't stay away from the game for too long. By 2003, he became the Pacers' president of basketball operations. Over the next decade, he helped transform Indiana into a viable playoff contender. Under his direction, the Pacers drafted several future stars, including Danny Granger (2005) and Paul George (2010). Bird also helped trade for future All-Star center Roy Hibbert. A consummate winner, Bird took home the 2012 NBA Executive of the Year Award for his efforts. He eventually stepped down from his role with the Pacers in 2017.
Twitter co-founder named company logo after Larry Bird
Larry Bird has legions of loyal fans around the world. And while many Boston sports diehards can conjure up their favorite memories of Larry Legend, no one immortalized him more than Twitter. And no, we're not talking about a couple of tweets. We're talking about the actual company.
Launched in 2006, Twitter has become one of the most popular social media platforms in the world. But few people actually know their signature bird logo actually has a name: Larry T Bird. Twitter's co-founder, Biz Stone, is a Boston native, so it only seemed natural that the company's logo was named after the local legend.
The truth behind Larry T Bird came to light as a result of a photo shared by Twitter platform and API manager Ryan Sarver back in 2012. Of course, the real Larry Bird still does not have an official Twitter account.