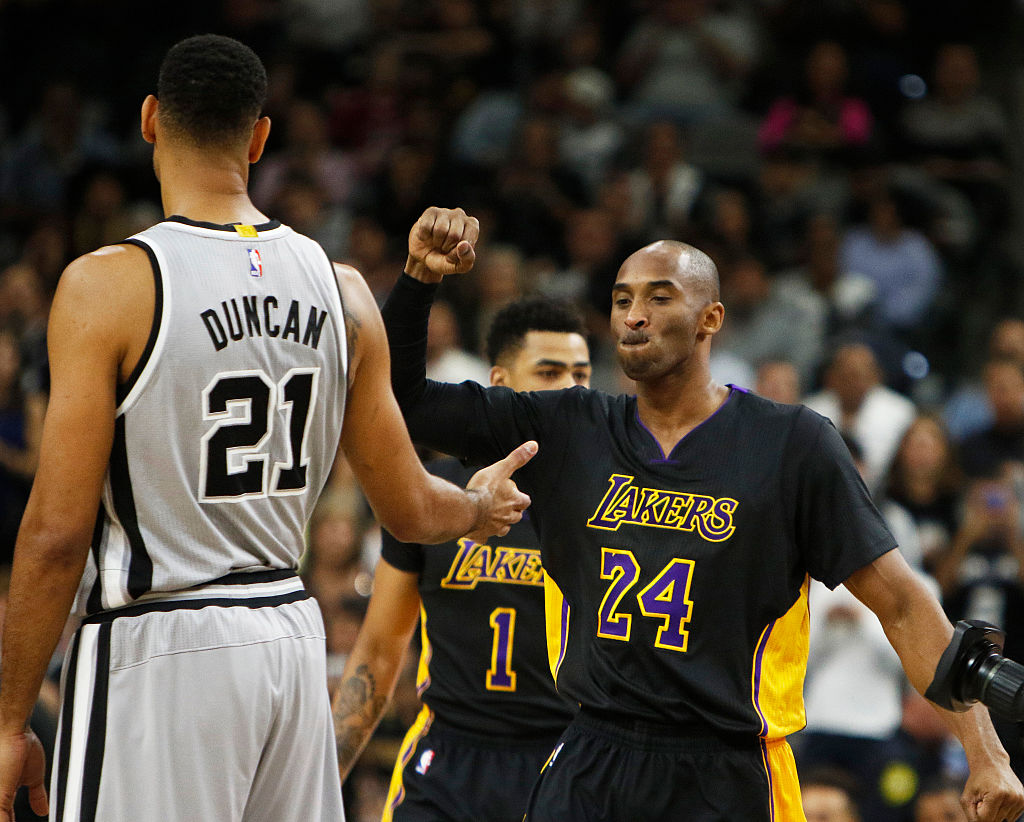 Tim Duncan Was So Nice He Taught Opponents How To Beat Him
Tim Duncan was a dominant force for the Spurs who still took the time to teach his opponents how to beat him during NBA games.
Bring up Tim Duncan in conversation and it's impossible to find anything bad to say. One of the most humble superstars in professional sports, the former No. 1 overall pick spent his entire 19-year NBA career with the San Antonio Spurs. From the day he joined the NBA, Duncan dominated defenders with an array of post moves that complemented his signature backboard jumper.
One of the most skilled big men in NBA history, the 15-time All-Star never let his individual success trump the team's goals. Duncan's mastery of basketball fundamentals separated him from the brute bashers of his era. In fact, his rare combination of humility and skill led to some interesting on-court encounters. In some instances, Tim Duncan the NBA star became Tim Duncan the player-coach. Ironically, it wasn't always his teammates that received Duncan's advice.
The Hall of Fame inductee actually tried to teach his opponents how to beat him.
Tim Duncan spent his entire career with the Spurs
No player epitomized consistency better than Tim Duncan. From the day he stepped on an NBA court, he graced fans with his cool-headed play under the intense pressure of being the No. 1 overall pick. The 6-foot-11, 250-pounder joined future Hall of Famer David Robinson to form one of the best frontcourt duos of all time. As a rookie, Duncan averaged 21.1 points, 11.9 rebounds and 2.5 blocks. He helped transform the Spurs from a 20-win team in 1996-97 to a 56-26 playoff squad.
In just his second season, Duncan carried the Spurs to their first NBA title in franchise history. The following year, he earned his second All-Star selection after averaging 23.2 points and 12.4 boards. That year marked the first of 12 consecutive All-Star berths. Incredibly, Duncan averaged at least 20 points and 11 rebounds in each of his first eight NBA seasons.
By the middle of his career, Duncan had taken over as the face of the franchise. The Spurs moved him to center, where his passing skills helped open up ample opportunities for Tony Parker and Manu Ginobili. With Duncan as the anchor, the Spurs won NBA titles in 2003, 2005, 2007 and 2014. By the time he finally retired, Duncan had earned 15 All-Star nominations, five championship rings and two MVP awards. From both an individual and team perspective, he accomplished everything possible.
Two-time NBA MVP gave opponents tips during games
Never afraid to share his secrets, Duncan actually gave us a glimpse of his future coaching prowess many years ago. However, it didn't necessarily involve his teammates. And it wasn't in any official capacity.
Instead, the former Wake Forest standout tried to give pointers to his opponents. That's a rarity in sports, as most players are hyper-competitive and wouldn't dare give the opposition a chance to succeed. Yet, Duncan was never shy about giving in-game lessons to the unfortunate souls who had to deal with one of the NBA's all-time greats.
Former Washington Wizards forward Etan Thomas explained his humbling encounter with "Coach" Duncan in which the Spurs star offered his advice on how to adjust his jump hook:
So we're playing the Spurs and I get the ball on the post. I inside pivot and sweep to the middle for my jump hook and he blocks it. So as we are running down the court he says to me "that was a good move but you have to get more into my body so you can either draw the foul or I can't block it". So I didn't know if he was talking noise or what so just kind of looked at him confused and said ok. Then, a few plays later I did it again got more into his body and he couldn't block it. I missed the shot and he looked at me and said much better and kept playing lol. I remember calling my boy Zee Chilton and telling him this story lol Tim Duncan is honestly one of the nicest guys in the NBA and the best power forward ever in NBA history. Respect
While Thomas averaged just 5.7 points in his nine-year NBA career, he definitely didn't forget Duncan's selfless act.
Duncan elected to historic 2020 Hall of Fame class
On Saturday, the NBA unveiled its 2020 Hall of Fame class. And to no one's surprise, Tim Duncan made the cut. The Spurs legend joined fellow transcendent big man Kevin Garnett and the immortal Kobe Bryant in what could be the greatest Hall of Fame class in NBA history.
Duncan's playing days are obviously long over, but he hasn't ventured far from the court. The Spurs hired their legendary star as an assistant coach in July 2019. Hopefully this time he coaches up his own players rather than his adversaries.